Read Time:
4 Minute, 48 Second
In Umbria, a place of extraordinary beauty lies, as things so often do in Italy, at the top of a small hill. Unsurprisingly there was a wall around it. The two things, walls and hills, oft go together, especially in the central region of the country which saw so much infighting during the Middle-Ages. This place in Umbria gave the world the patron saint of animals; do you know who it is? It is a UNESCO World Heritage Site. It is the part-time home of my uncle in-law which will be elaborated on further: the city of Assisi!
I know very little of the founding of Assisi, only that it was a town that was close enough to the regional capital of Perugia that one can see it from the walls. Saint Francis was born here, and the whole city revels in that fact. My uncle Paolo is a monk of the Franciscan minor Order, and he often stays in Assisi his old school. Paolo is a missionary in the Amazon, an 80-year old tradition among the monks — to go and spread the gospel, but also just help the poorest kind of people one can imagine. During the quite-modern problem of the COVID-19 pandemic, Paolo and the order have been a significant help to Tikuna villagers. A few days before we left for Assisi and Valdicastro [See the last blog post], we met one of Paolo's brothers, Gino. Gino had lived in the Amazon for 51 years, and I am proud to say that I used my modern fancy credit card to buy Gino a train ticket from our home in Lombardia, to Assisi where he lives. We met him there in Assisi and got to sit down with the few monks there for lunch, which was a wild experience that taught me a delightful little factoid about their order.
The order itself is an offshoot of the Franciscan Order, known as the Capucin Order. Capuchin monkeys were named by Portuguese explorers who thought they resembled the monks with their chocolate brown robes with hoods and their tan undershirts. That's how the monkeys got their name. Furthermore, a young man of the Order Capuchin who is studying there, would naturally receive the diminutive form of the proper noun from older monks, in other words saying "little _" which in Italian is made by placing ino or ina at the end of a masculine and feminine noun respectively.
What would happen then, if you made the word "Capucin" diminutive? That's right, it would be…. Cappuccino! which are sometimes called "Cappuccio" for short. A cappuccino is, like the monk and the monkey, brown and tan, so it would all make sense.
Anyway, back to Assisi. The beautiful greyish-notes that within the light-tan and brown stone that made up all the buildings gave the city its own totally unique color, and it was staggeringly beautiful, especially when one could escape the tourists for a moment. We went around with Fra Gino, who gave us many interesting tidbits about the city. For example, every house had, in the days of Saint Francis, two doors: one wider and one skinnier. Gino explained to us that the skinny doors were the "doors of the dead" from which the family would only exit if they were bearing a dead person from the house. When Saint Claire, also born in Assisi, went to follow Saint Francis against the wishes of her parents, she used the dead man's door as if to tell her parents what so many teens of my generation could relate to: "I'm leaving and I'm never coming back".
The main sites in Assisi are the three major basilicas: that of Saint Francis himself, another for Saint Claire, and lastly for Saint Rufus, using his English name. Wrought in the traditional Franciscan method of using a tan color so light as to appear nearly white (one might say beige but I wouldn't) and all three were very beautiful. It was a strange sight outside Saint Claire's to see all these tour groups lined up behind a friar in full raiment. Other sites include the view of the Umbrian countryside, which could be called B+ or A in terms of rustic central Italy, and which can be seen from any number of points. A large castle towers over the city, and a short drive beyond the walls will put on at the Hermitage of the Prisoner, where Saint Francis stayed for some time.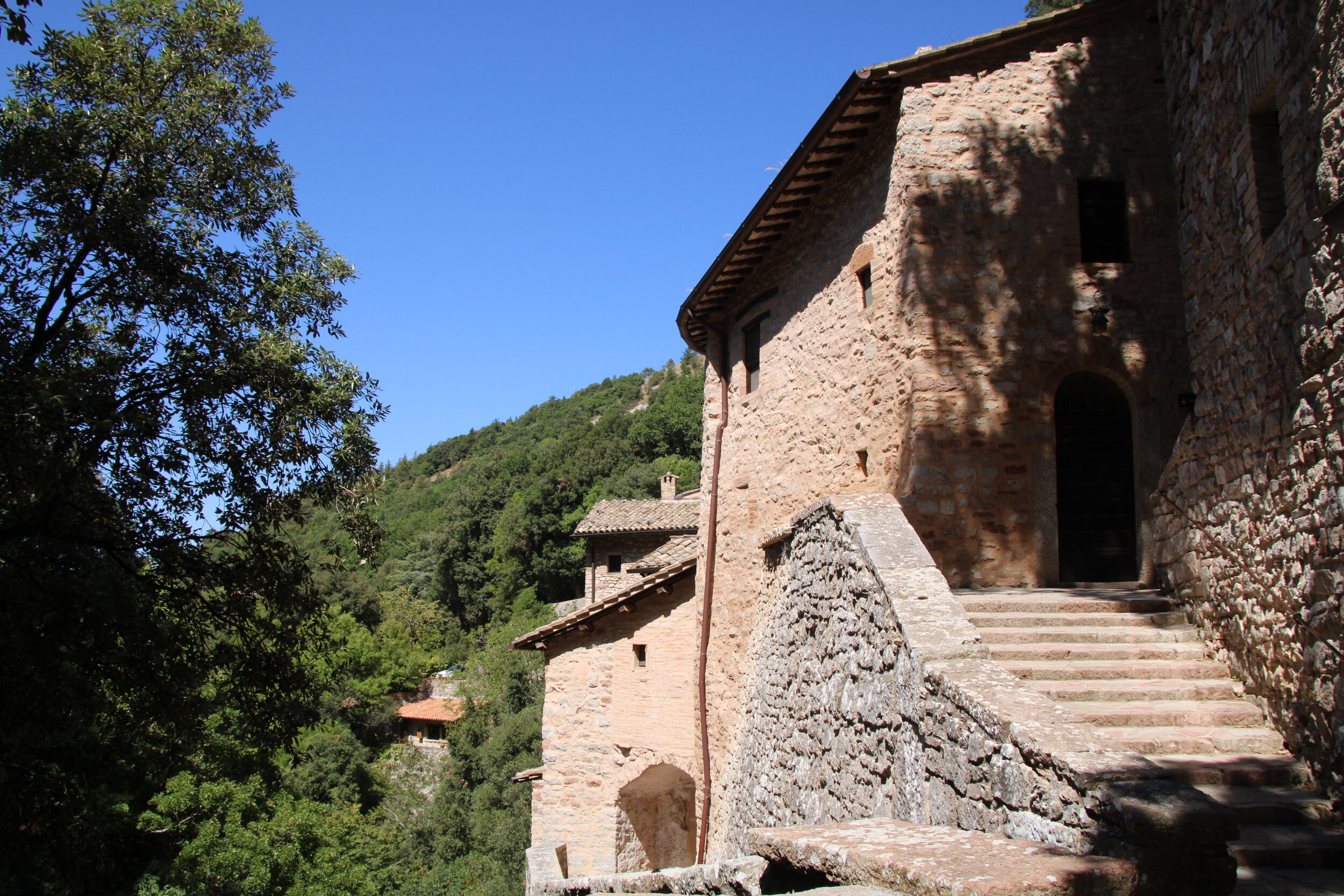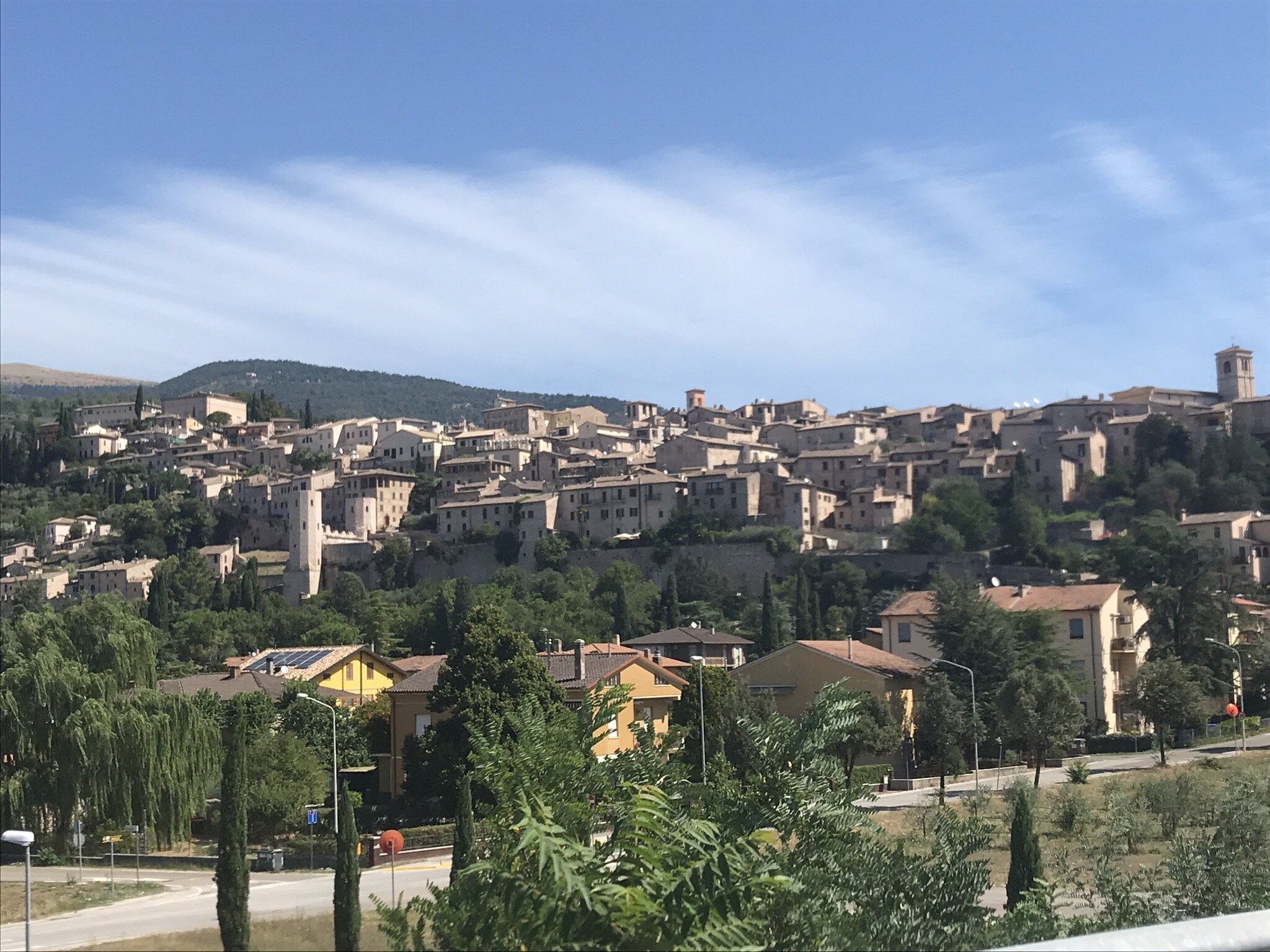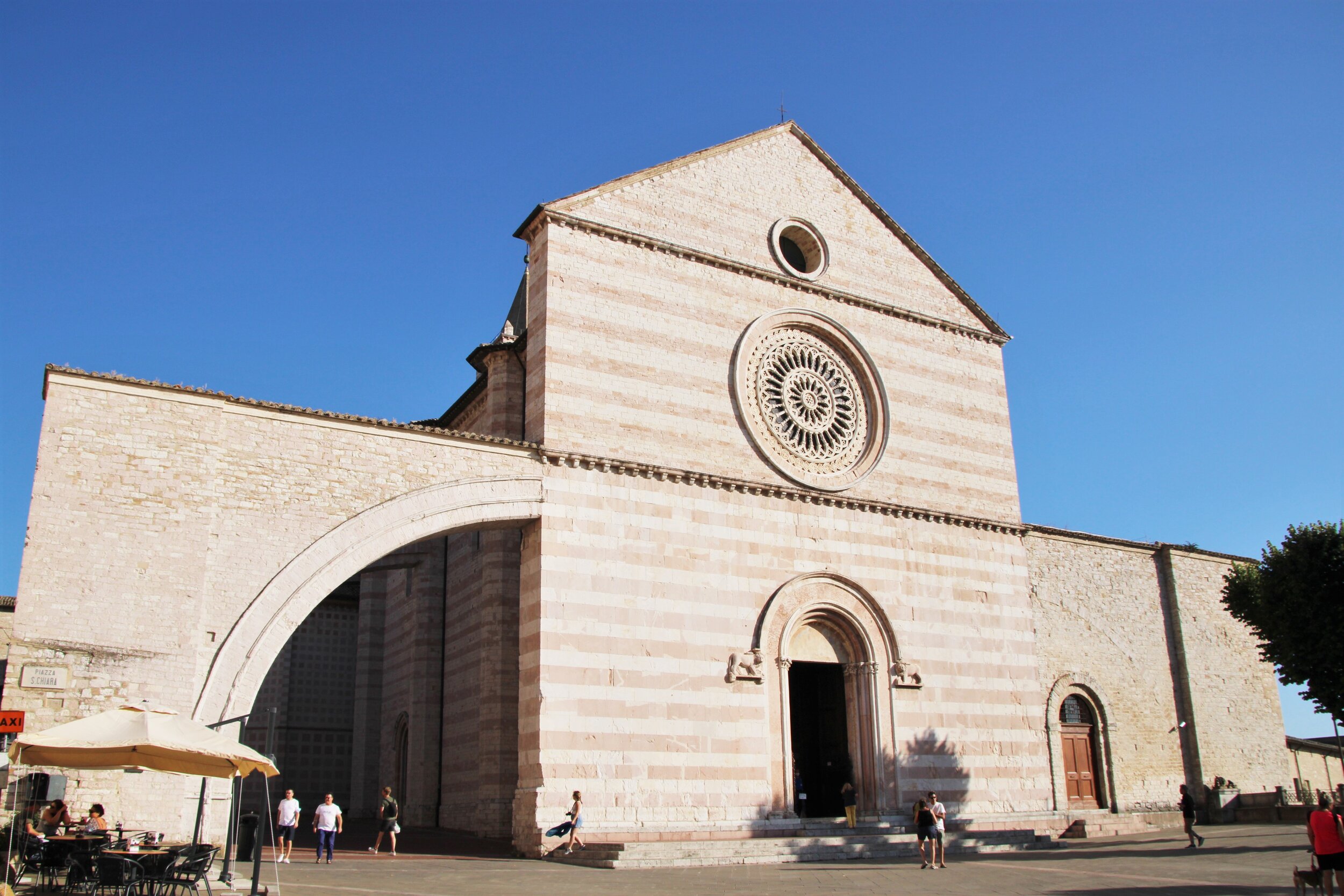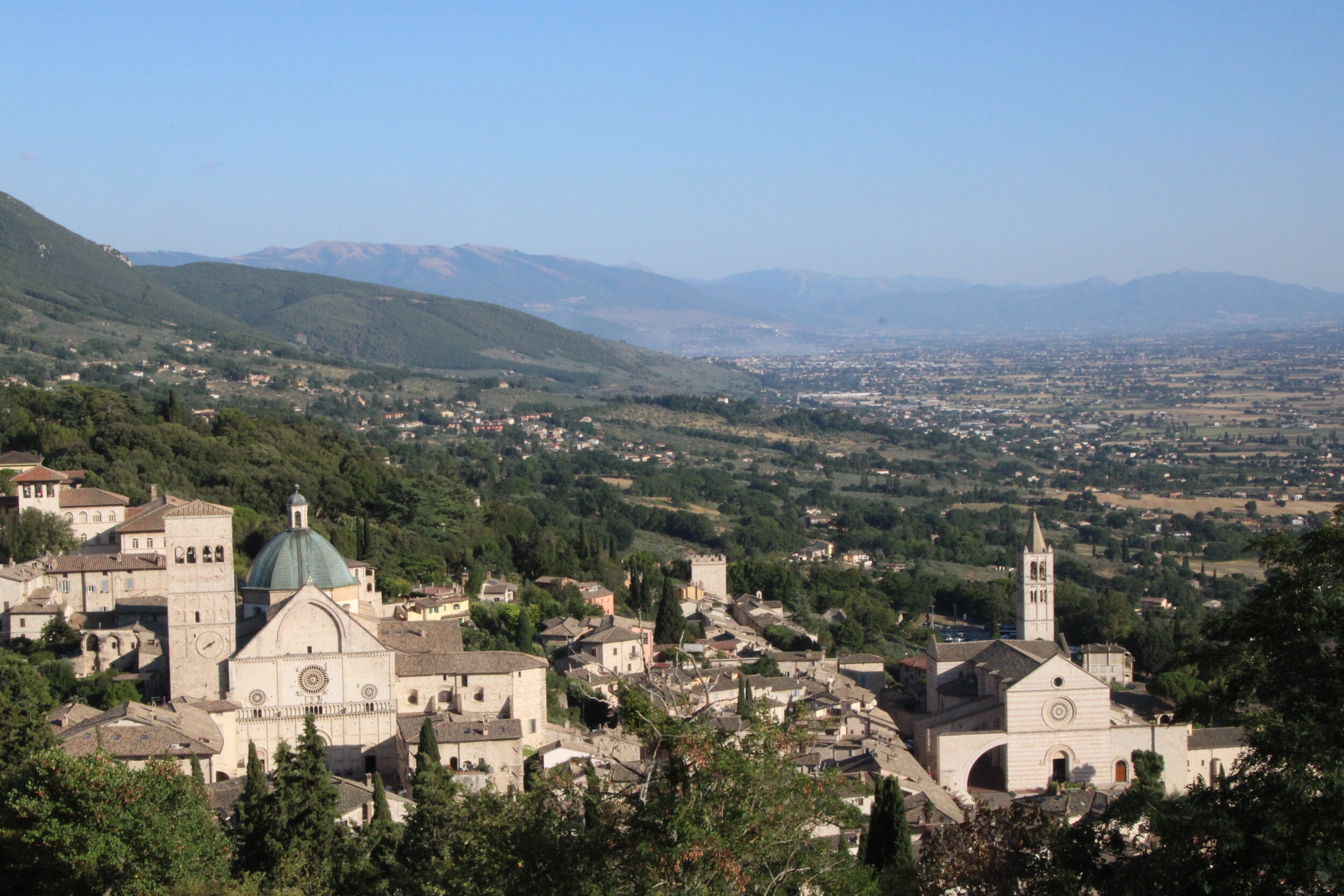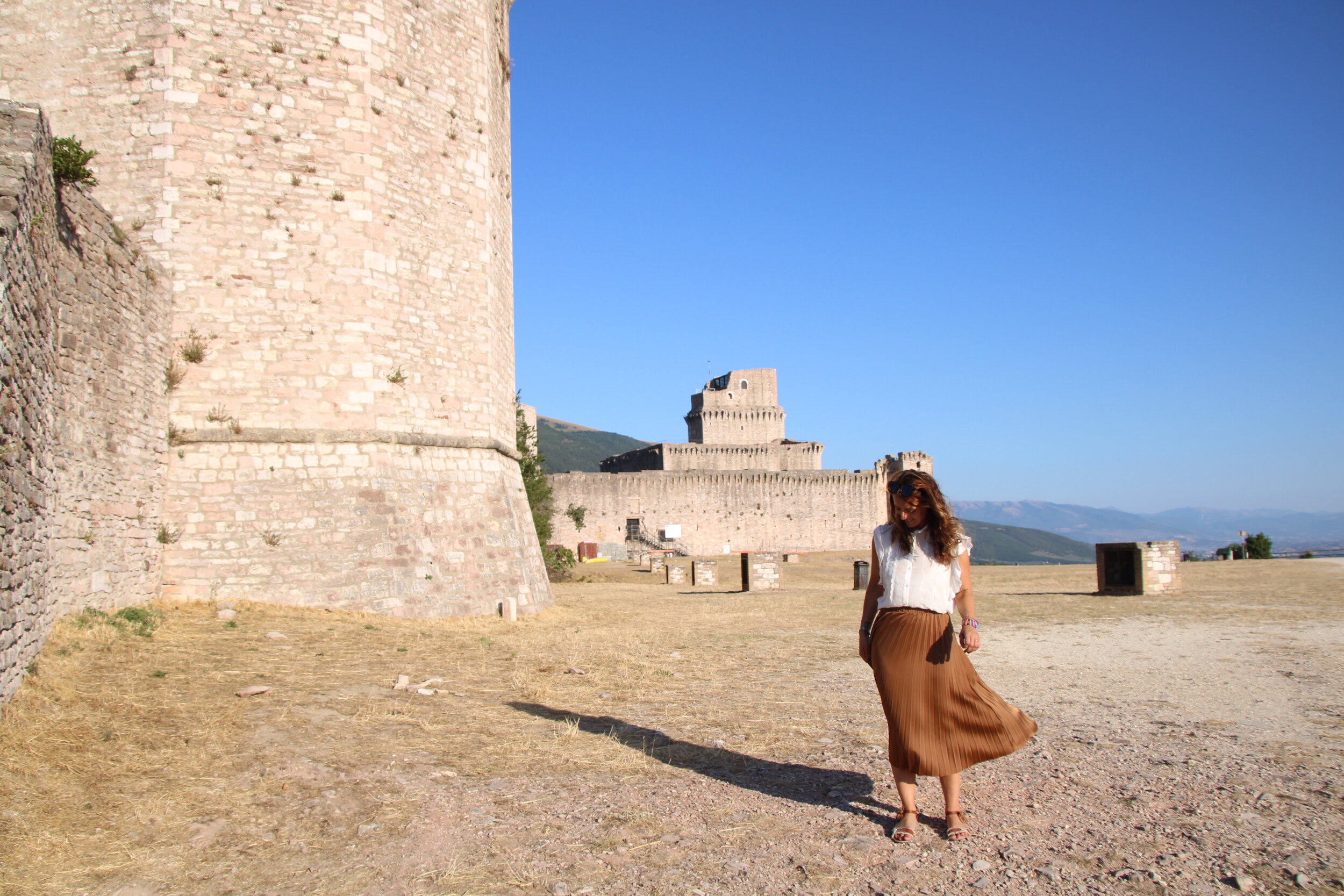 When we were there, it was (and still is if it means anything to you) the 700th year since the passing of Dante Alighieri, and so my wife and I took the occasion to go and see the cathedral and the town all lit up at night. It was beautiful, and there was something really lovely in seeing a city that by day is frozen up with tourists, that's also so religious in nature, but that can still put on high heels and a dress to go out at night for a walk and a glass of wine on the town with friends. It was also a great opportunity for me to really put my skills as a cameraman to the test. It all made me feel like I was in a Shakespeare play.