Read Time:
4 Minute, 58 Second
We all know how much Italy looks like a boot. This August I traveled right across where the laces would be tied up at, or if it were the boot of someone from the Renaissance Period, perhaps where the buckles would be belted. Here one can find an extremely typical Italy. The regions of Umbria, Marque, and of course, Tuscany, are where so much of the pre-Roman history and Roman history was made, where some of the strongest city states in the Medieval Italy built their walls with a color so characteristically Italian it would forever puzzle the children who sprung for the 58-color Crayola Crayon box (Burnt Siena), as well as where the Italian Renaissance exploded into life. In a country controlled by the most powerful religious institution on earth, it's where one of the most successful non-Catholic denominations was born and persists, the Franciscan Order. It's home to a very unique geography that grants extended growing seasons and excellent moisture and soil profiles, so as to give birth to some of the highest-quality produce on the planet. In many ways it's the heart of Italy.
Unlike my last trip to Tuscany, I remembered my camera, and so this trip was a lot more pleasurable for that reason as I got to pass through stunning visual destinations like Spello, Montepulciano, and the coast of Maremma, near Orbetello. I got to visit my friends Carlo and Sandra, as well as connect with some of my Uncle-in-law's religious companions in their order hall in Assisi. I ate as well as any human in the history of humanity, and I got a crash course in why Italy is the ultimate country for agriculture from a permaculturalist in a Rivendell-like Hidden Valley.
In Marche, our trip started with a visit to an agriturismo, in the "Valley of Castro". An agriturismo is essentially, a hotel/restaurant, focusing on locally-sourced food prepared in rustic styles, with a promise of a very nature-focused setting and activities, often involving animals or hiking. I cannot think of a single word in English that confirms so many good things in my head as when I know I'm heading to an agriturismo. This one in Valdicastro however, blew all the others I've been to aside. Headquartered in a converted abbey from the 1200s, a dry and ever present wind caused the oaks and pines which lined the steep valley slopes to shimmer and dance. There I met Filippo, a man of enormous build, who grew up in the area, and had a very strong sense of right and wrong when it came to agriculture. His face was the kind I've seen only once before — in the farmers on the posters of North China grocery stores, sporting huge round faces with enormous teeth. "I eat well" he told me.
Within his own valley, 41 species of native grasses grew spontaneously, and so naturally he raises heritage breed cows and offers room and board for horses. While he admitted grain fed cows and feed-supplemented horses tended to grow faster, after 2-3 years of eating the nutrient-dense Valdicastro grass, "they become war machines," he told me.
"The Italians aren't fabricators or machinists, we are an agricultural people. We do industry because the Italian is clever," said Filippo. Valdicastro sits in a transitionary zone that doesn't last very long. Four river valleys drain into the Adriatic Sea, stretching not even the length of the smaller-region of Marche. Behind these valleys rise the Apennines. In these small, pre-Apennine foothills, Filippo produces exceptional meat and produce, which we ate for dinner in portions that were frankly disrespectfully large. Aside from a very long hiking route which passed through some historic sites in the hills surrounding the abbey, there wasn't all that much to do, but each bite of food and breath of air seemed to clean my stomach and sinuses, and I began almost immediately to understand Filippo's concepts of the good life.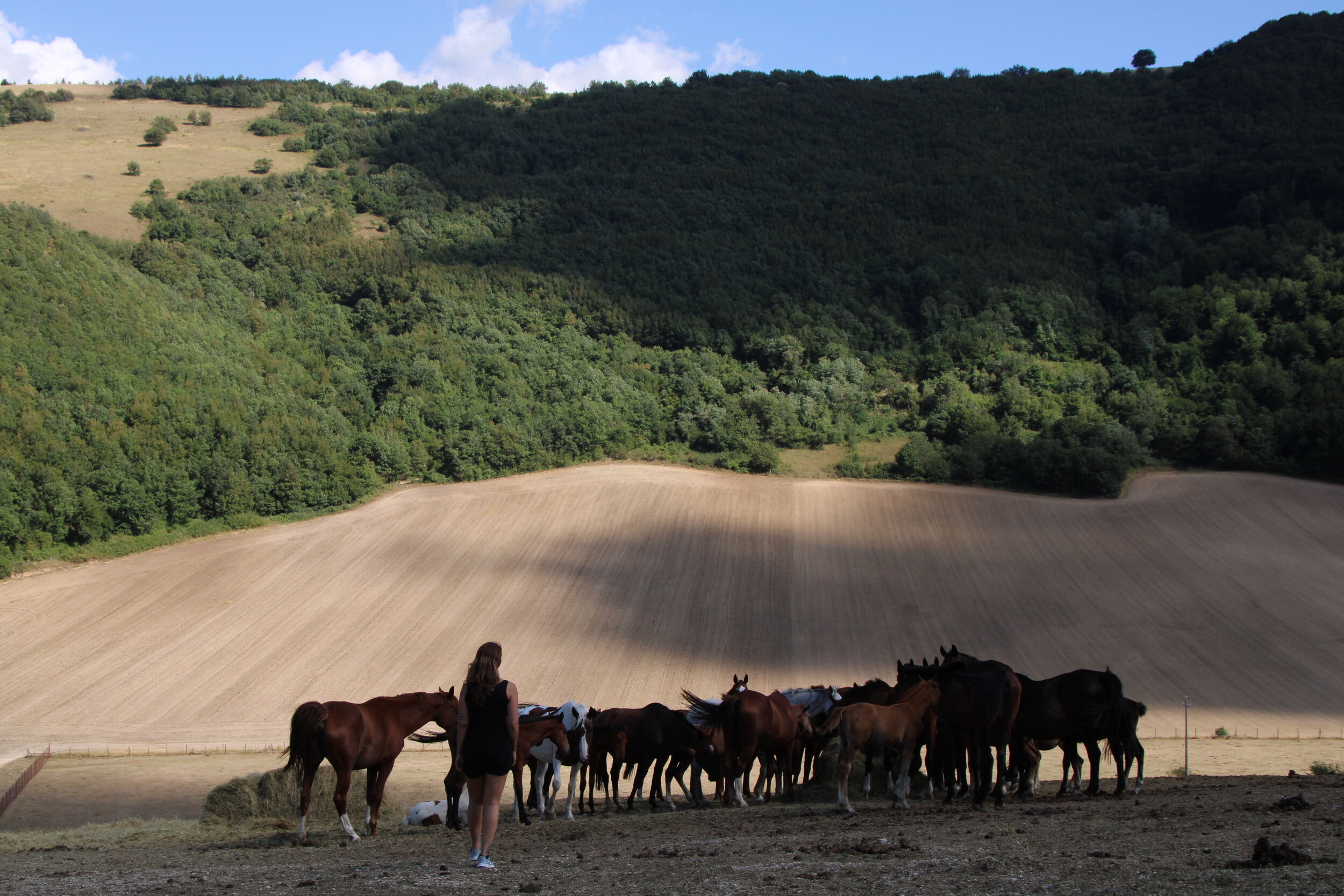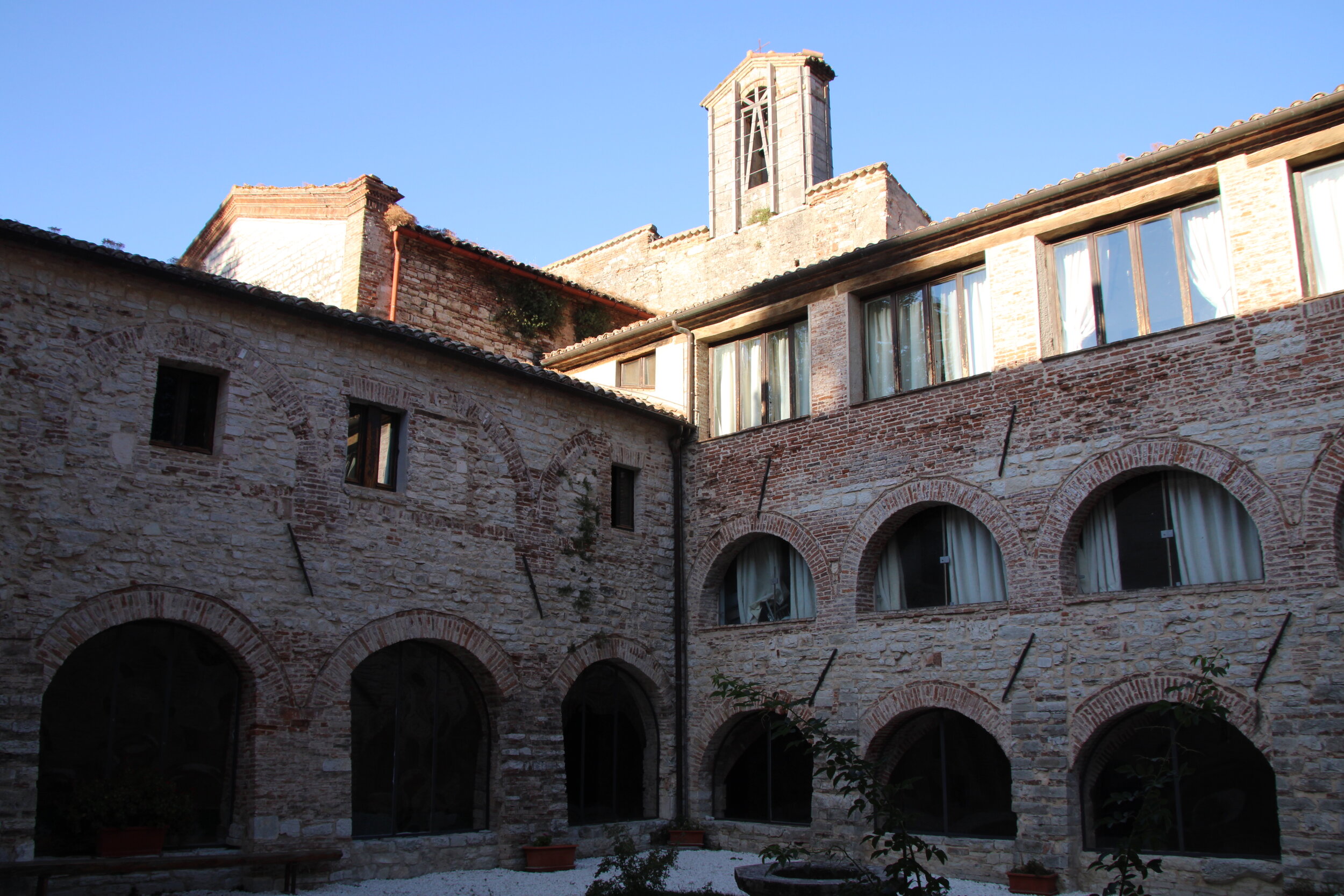 PICTURED: Some of the beauty contained within the valley and abbey.
Regrettably we couldn't stay long, and soon shipped out to the neighboring region of Umbria, which forget all this talk about hearts and centers and the "Eternal City", Umbria is as "in the middle" geographically-speaking, of Italy as one could possibly get. Here we found the city of Assisi, a UNESCO World Heritage Site, and the birthplace of Saint Francis, but I'll recount that another time. For now I will jump ahead to a smaller side trip in the town of Spello, a Roman-era walled city of impeccable beauty.
Founded in antiquity by the Umbri, a people similar to the Etruscans who shared the peninsula with yet more Celtic and Mediterranean peoples, it was eventually the site of a Roman-era fortified town in the first century BCE.
There are some places on earth one must see in a certain moment. For example Chichen Itza on the spring equinox, or Rockefeller Plaza at night on the weekend before Christmas. All you have to do is show up in Spello early enough in the morning, and the town will begin to speak with you from hidden mouths concealed behind its ageless stone. Watching the small town come alive with its residents, taking our their trash, having their coffee, gives one a really good insight into the versatility of what a human can call "home" and "normal" which American suburbians will just consider mad.
For only the second or third time in my life, I really got to experience the joy of finding a great place, almost all to myself, to shoot. And even though my camera rig doesn't even add up to $1,000 I still feel I was able to capture the majesty and mystery of the place there in Umbria.