Read Time:
10 Minute, 13 Second
KYIV, Ukraine. April 19th, 2021. PICTURED: The Dnieper runs through Kyiv as seen through the Soviet-esc "Friendship of Nations Arch".
Long-time reporter on the as-of-yet war of words between the Kremlin and NATO figureheads, Rick Rozoff, must have hardly left his desk the last 90 days as the most confrontational and frightening rhetoric since the Cold War has been flung back and forth between the power centers of Washington, Moscow, Kyiv, and NATO headquarters.
His endless stream of articles and reports on what was at the time, a security situation that seemed to degrade with each passing day, made one think back to Sarajevo circ. 1914, or Cuba, circ. 1962.
With the Zelensky regime stating intentions to return all the conflict areas in Donbas, and the Russian-occupied Crimea Peninsula under their control, Russia mobilizing thousands of troops on the border in readiness, and the U.S. and NATO decrying the response and pledging "unwavering support" to Kyiv, the recent cooling down of these tension-setting actions may have avoided, for yet another time, World War III.
"Politically, diplomatically and so forth, they [the Zelensky Administration] has sewn up the entire West, and through the West, most of the world," Rozoff told WaL. "They have diplomatic backing, they have military backing and they have a much stronger army than they did 7 years ago; I think that's the timing issue".
Yet as I was entering the country at the time, a part of me wanted to break from the 24-hour news cycle and try and capture what losing the ground upon which the opening salvos of World War III would be thrown meant for humanity. Ukraine is a beautiful country, and it would be a shame if Kyiv went the way of Baghdad, Damascus, or any other cultural centers of recent conflicts.
In the middle of everything
Ukraine seems to be in the middle of everything on the geo-political strategic map, and to bear the use of synonyms, they're also at a cultural crossroads, and in-between generations.
In western Ukraine's mountains lies the geological heart of the European continent. The Dnieper River splits the country in two halves in the same way that it's split down the middle by ethnic Russians and Russian-speakers in the east, and ethnic Ukrainians and Ukrainian-speakers in the west.
As the center of aforementioned tensions between the NATO block with their American masters and the Russians, Ukraine has had to endure internal cultural tensions, civil strife and conflict, and the loss of Crimea followed just behind by referendums in which the citizens there irritatingly displayed an overwhelming preference towards Russian control.
As Robert Parry, the legendary American journalist who exposed many of the government's crimes during the Iran-Contra Affair, wrote in 2015 three years before his death, a violent U.S.-managed coup d'état of the Ukrainian presidential office in 2014 unleased waves of neo-Nazi militants on the Russian-speaking Donbas region, while some of the most highly-regarded polling firms in the west described the Crimea referendum as the legitimate will of the people.
"We know that political parties that exercised a lot of influence during the so-called "Euromaidan Revolution" in Jan. and Feb. of 2014, groups like Sloboda, Right Sector, and others, clearly have fascistic leanings, but the Azov Battalion, which has fought in the Donbas area, and has a very close approximation of a Nazi symbol used as their insignia," says Rozoff, speaking on the same topic.
They're also in-between generations, with the parents of the current generation of university-age students being raised under out and out communism or during the aftermath of the collapse of the Soviet Union. The students live in a world of ever-increasing modernity within the cultural centers of L'viv and Kyiv.
All this centrism gives the country a unique spirit—a foreignness among familiar feelings and places.
The Slavosphere
Thoughts of "Europe" tend to be dominated by the five major countries of Spain, Germany, England, France, and Italy, with others like Switzerland, Belgium, Greece, Portugal and Austria also claiming a large share of attention and tourist revenue.
Ukraine, particularly the west, exists in a different ethno-cultural sphere, consisting of Pollocks, eastern European Jews, Armenians, Hungarians, Romanians, Russians, Georgians, and the various ethnic groups endemic to the Carpathian Mountains, such as the Boykos, the Hutsuls, and the Lemkos, the latter having the honor of giving the world Andy Warhol, as well as one of the many names for the city of L'viv: Lemberg.
L'viv, as proper a European city as Lyon, is filled with these varied peoples, and it's reflected in the religious institutions dominating her central plazas. Her restaurants offer fare from across this cultural sphere, with Georgian kachpuri, a kind of pizza, taking the place as common street food, and notable Eastern Orthodox/Jewish associated tastes of beetroot, horseradish, pickled vegetables, oily fish, and leftover cuts of meat like tongue and neck flavoring L'viv cuisine.
One could also make a case that the Ukrainians are even more inclined to the theater, ballet, and opera than their Russian neighbors, famous as they are, and old halls containing all three are common sites in Ukrainian cities. Kyiv alone has six in the central metropolitan area.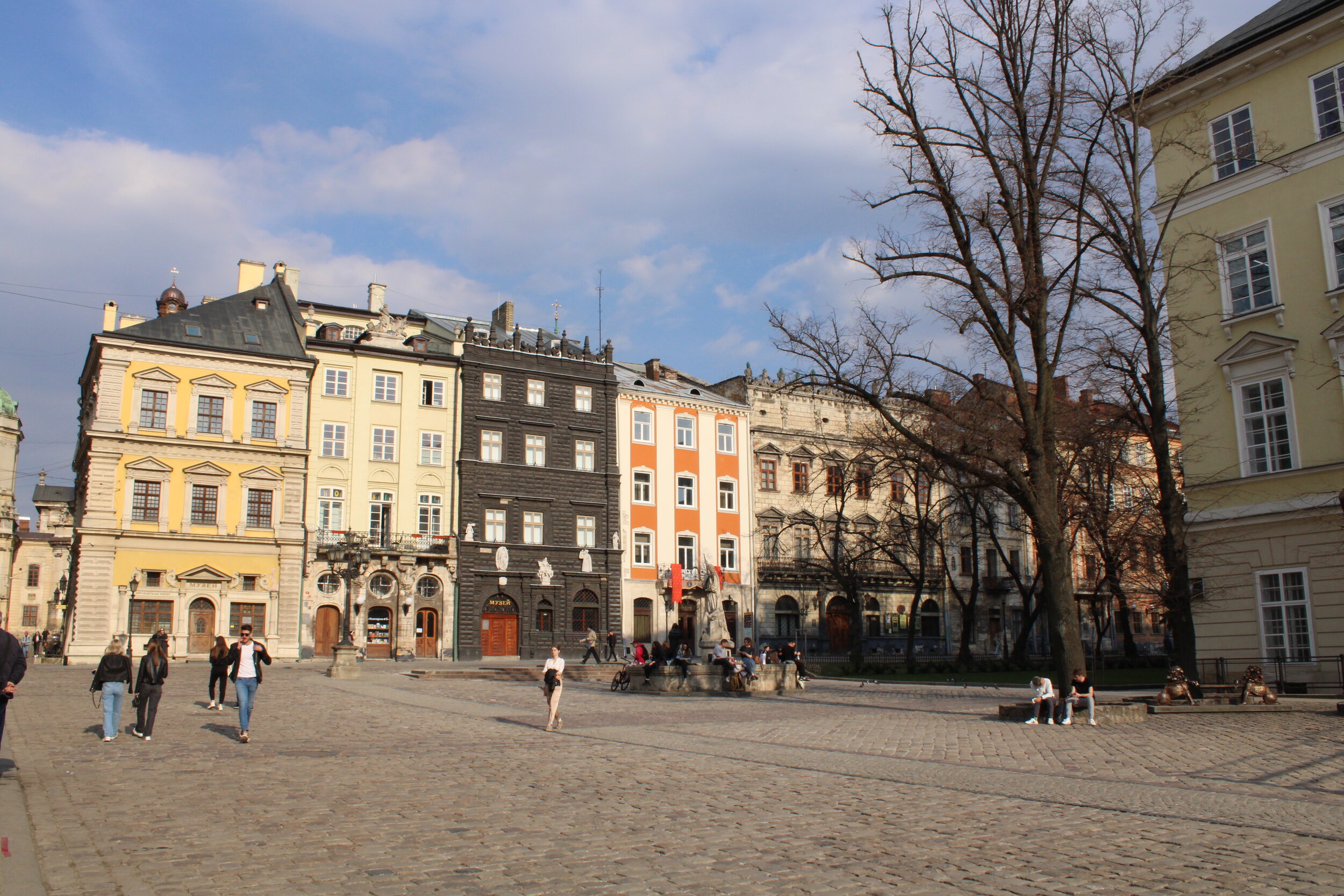 Here was the absolute picture found on so many Euro-travel advertisements, a chic café under brick arch and arcade, on the ground floor of a building as old as San Francisco.
"L'viv is a beautiful and calm city where life is measured," Helen, a local hotel owner told me. "There is no fuss and crazy pace of life. Truly a European city".
A Ukrainian of Russian descent, Helen was born in Donetsk, but left for Kyiv once the violence sprang up in the months after the U.S.-led installation of Arseniy "Yats" Yatsenyuk in 2014. 10,000 people at least were killed over a period which included her old city declaring itself an independent republic, offering itself up as a Russian territory, and subsequently being denied by President Putin.
"People in L'viv are more friendly, young people so for sure," said Helen. "As a Russian-speaking person I was very worried that they would perceive me aggressively, but I was wrong, there are a lot of Russian-speaking people [here]… it's just a delight".
With the Cold War leaving a wariness, known or not, perceived or not, in many Americans, I have to say that both L'viv and Kyiv the capital were some of the easiest cities I've ever been in to enjoy myself; I was there during COVID.
A shame to lose her
Earlier this year, WaL reported on the ongoing efforts to restore the al-Nuri Mosque in Mosul, Iraq; a UNESCO World Heritage Site that was destroyed during the liberation of the city from the Islamic State. UNESCO, the cultural, educational, and scientific wing of the United Nations, regularly condemn conflict in areas of significant "shared world heritage".
Yet with former-President Trump's decision to withdraw American funding for the UN department, many Americans got a taste of just how defenseless the United Nations is to American ambitions; the U.S. alone provided over half UNESCO's contributions.
After his legendarily-fraudulent speech to the UN Security Council in 2003, Sec. of State under Bush Jr., Colin Powell, failed to receive authorization for enacting war, but the administration invaded Iraq anyway, and went on to create the conditions for that mosque, along with many other near east Bronze Age monuments to be destroyed.
To this end UNESCO, the UN, and the entire Christian and European community should be decrying this escalation, as Kyiv is one of their vaunted World Heritage sites—a holy city, whose religious centers are some of the most iconic in the Eastern Orthodox faith.
The streets are flanked by art nouveau style brick facades that escaped destruction in both the First and Second World Wars, and have had time to ripen into truly splendid monuments of a past architectural era, that would only presumably become more and more special the longer they remain, and the more wealth the society accumulates to renovate them.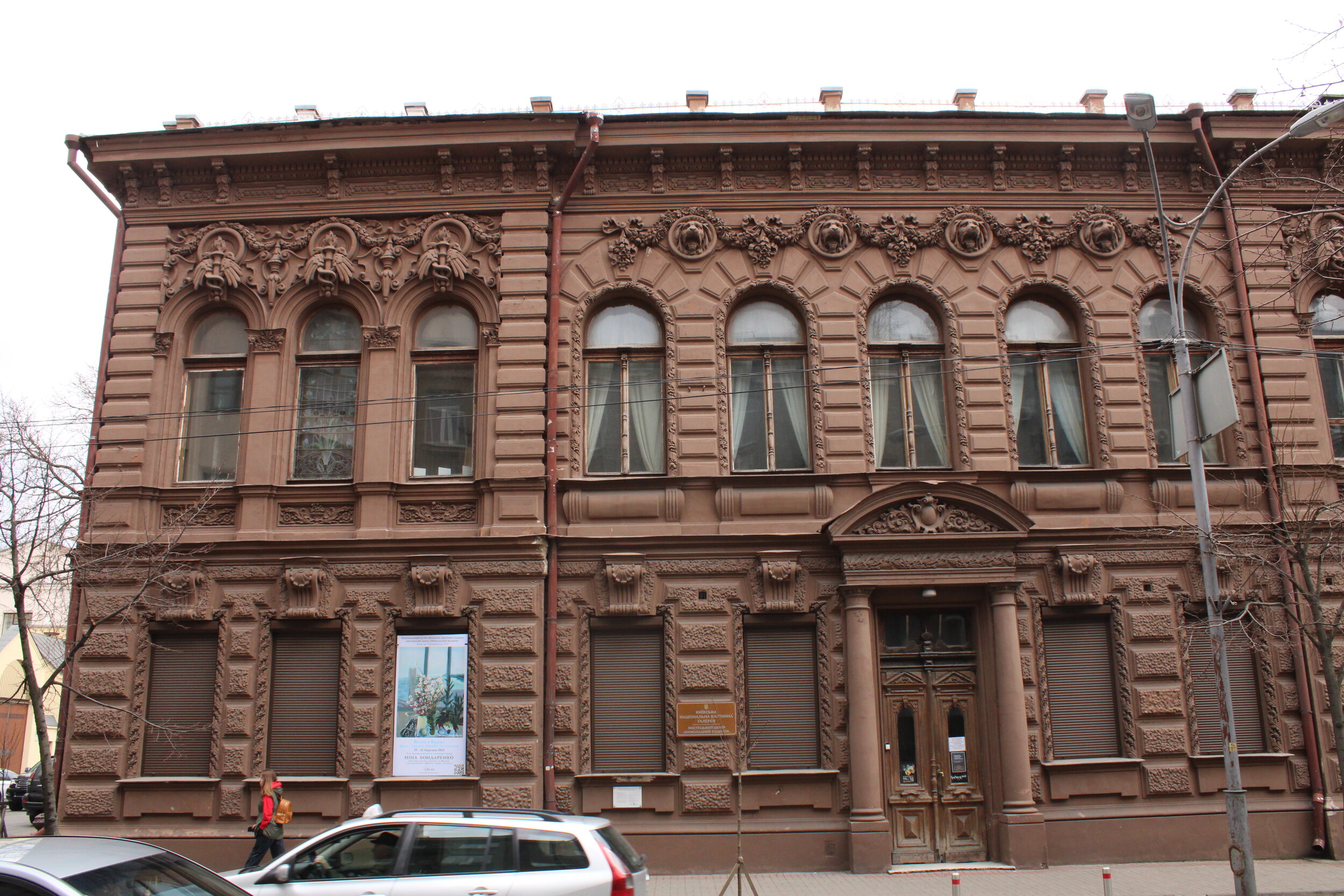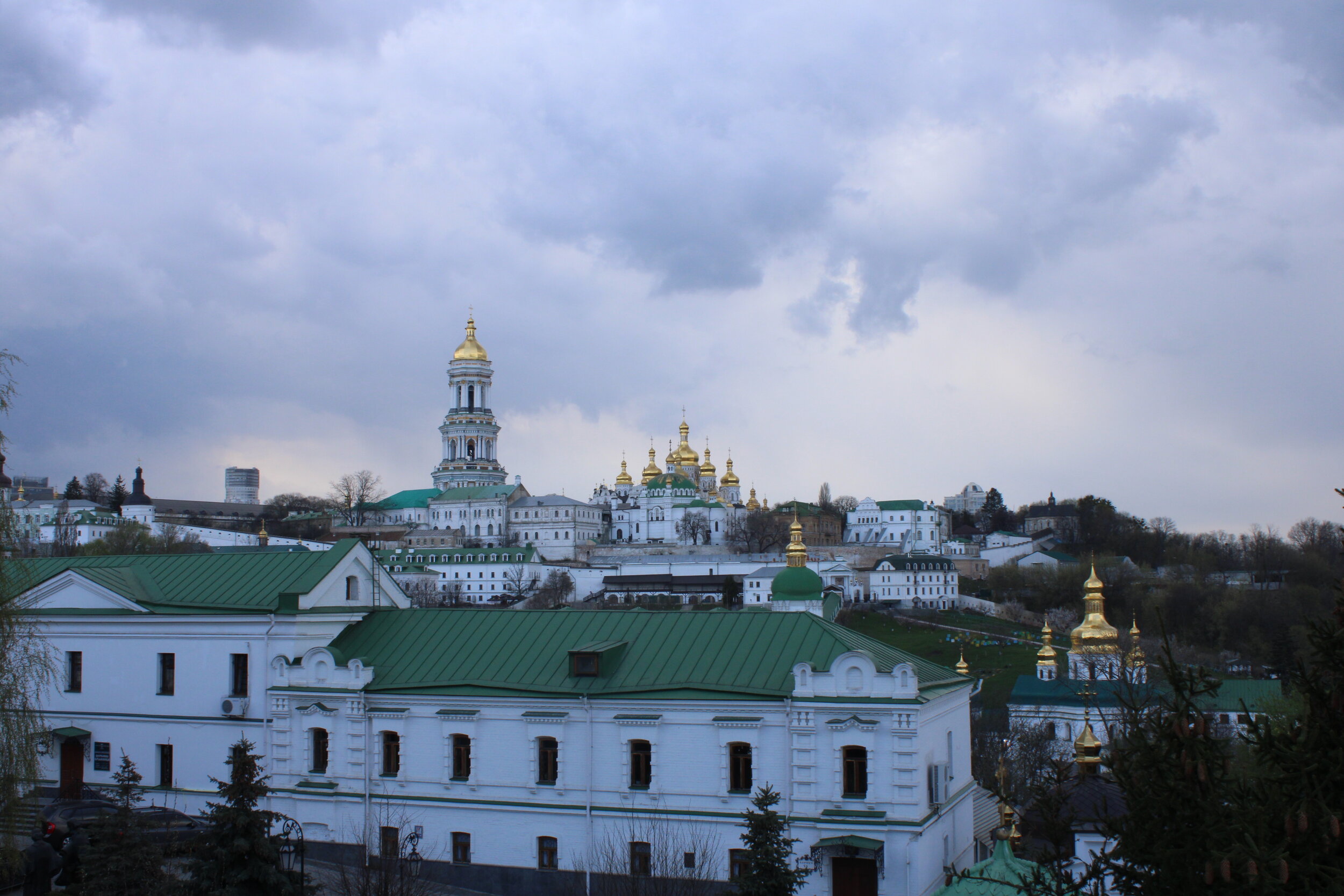 Of course if Putin's alleged remarks about "taking Kyiv in two weeks," are true, which may have been possible 6 years ago, then anyone who believes in UNESCO's theory of a "shared heritage of humanity" should be adamantly opposed to anything other than complete and total reconciliation.
Any legitimate conflict between Kyiv and Moscow would set off a chain reaction, like the kind seen after Sarajevo, of diplomatic triggers, essentially setting most of the Western world at war with each other overnight, meaning a complete destruction of Kyiv by cruise missiles, perhaps even nuclear-armed ones, unless defense pacts are ignored and cooler heads pick up red-colored phones and sort things out.
Rozoff would go on to explain to WaL that every major arm of the Ukrainian state seems to be employing a mixture of versions of World War II revisionism and iconography to prepare its citizens and countries in the West for a potential war, shocking as that would be, as well as to promote the idea that the conflict in the Donbas, where as WaL and others have reported is mostly ethnic-Russians reacting to extremely Russophobic racism which came out of Kyiv, is the continuation of the struggle to resist Soviet tyranny, a struggle which may have never really occurred in the first place, but that's a story for another time.
Regardless of who sits in Kyiv's presidential office, the territory of Ukraine is filled with beautiful places born of brick and born of nature. There's a budding Ukrainian cuisine, a revival of techniques nearly lost to time, and centuries of swirling history to enjoy in the form of castles, religious sites, and mountain peoples. Adventure tourism, is growing as well, and everything is still cheap. I'd go back tomorrow if I could, assuming it's still there when I wake up, and not churned up by the war machine.