Read Time:
5 Minute, 52 Second
Some countries are more eager to see COVID-19 recede into history than others. On the back of immense frustration at having lost the opportunity to go to Turkey resulting from increasing lockdown severity, I turned my attention elsewhere, and shame be upon me, I can't remember for my life how I landed on Ukraine. But the appeal was immediately there, as a nice mixture between a little bit exotic and unusual and also European. While restrictions of various kinds are placed on businesses from operating in certain ways, most people here go about mask-less—it is what it is. Ukrainians have had a hard history, and like many eastern Europeans they respect strength and toughness while distrusting big government. A Ukrainian winter doesn't create the sort of person that will greatly alter their way of life on behalf of a disease with a 99.6% survival rate.
Ukraine is "in between" so many things. It's between Europe and Asia, it's between generations — one reveling in a more Euro-aligned modernity, the other raised in the ashes of the Soviet Union, who in turn were raised by a generation who grew up in the decades following one of the worst famines ever created by global communism. They're in the middle of a war, they're stuck between the nastiness of the U.S.-Russia relationship, they're between the endless expansion of NATO and the rest of the world, and they are somewhere in the middle of having a western-style government, and an eastern-style quasi-fascist democratic dictatorship.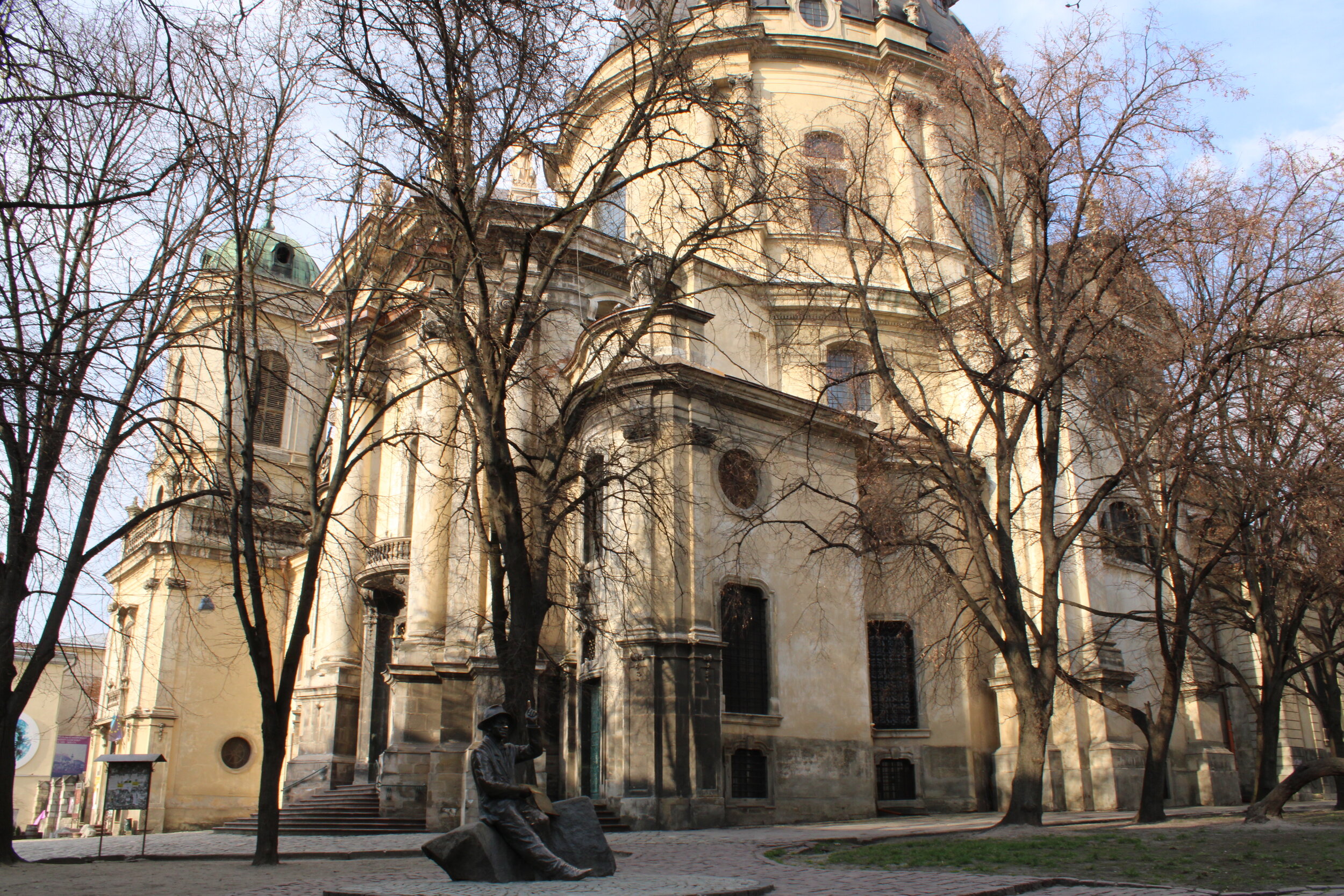 But L'viv is a beautiful city and receives the exact same comment by every outsider who enjoys it: "It's a real European city". Rather than Teutonic modernism, L'viv, the largest city in western Ukraine, features a more medieval architectural theme, while the large boulevards look a lot like a French or especially Italian, city. Particularly I'm reminded of Italy because of the colored rectangular cement blocks that make up the facades. Along the smaller streets, restaurants, pubs, and sweet shops require a bit of bravery to enter, as the largely-Cyrillic speaking Ukrainians enjoy their meals often from within brick caverns located behind heavy wooden doors glistening with a thousand re-applied layers of lacquer, reached by walking down antique steps below the level of the street, lined with cast iron railings. Tiny windows with curtains offer almost no way of seeing into the places, and they rarely have menus mounted outside. Inside the décor is always interesting, lending much to the centuries-old brickwork that pervades much of the foundations in the city.
Like all great cities L'viv is an ideal base to launch expeditions into a wonderful surrounding area. You can find most things you'd need to buy, in my case, another bloody travel adaptor after the one I brought with me from Italy was too-European modern to fit into any of the outlets. The conversion rate is strongly in favor of western currencies, and if you needed to buy some jewelry for your wife, L'viv or Kiev are not bad places to do so. The L'viv region, which is called an "Oblast" is riddled with castles, traditional villages inhabited by Ukraine's various ethnic groups, and wilderness which happens to contain the geological center of the European continent: The Carpathians. The Primeval Beech Forests of the Carpathian Mountains is a UNESCO Natural and Cultural (mixed) Heritage Site spread across eleven countries. Shaped a bit like if Lake Superior was placed on top of Lake Michigan, the Carpathians is the third-longest mountain range in Europe after the Urals and the Scandinavian Mountains, and home its largest populations of brown bears. Here also is another part of what makes Ukraine an exciting and exotic destination: the people of the Carpathians. Many ethnic groups like the Hutsul and Lemberg, still reside in villages that continue traditional cultural practices, like the carrying of a walking axe, and traditional crafting techniques in the fields of weaving and embroidery, metalwork, especially with bronze and pewter, and woodworking which includes houses. In L'viv, one can get a glimpse of this life with the marvelous Museum of Folk Architecture, and open air diorama of the various environments, construction styles, and lifestyles of all the western Ukrainian peoples. The entry fee was 2 euro — laughably low considering the grandeur and scope of the museum.
Many of the buildings have, through disassembly and reassembly, arrived in the museum despite having been built as early as the mid-18th century, with some receiving their finishing touches earlier than the Declaration of Independence. 7 groups and their buildings are represented, and apparently in non-COVID times, one can go and see how these people craft their various signature items as exhibitions are featured there. Among the buildings are several which together make up another UNESCO Heritage Site. They are much like the stave-churches of Scandinavia, but if you throw in a Russian-Orthodox dash of St. Peter's Basilica. Build of wood, the churches of the Carpathian folk are high and stunning, often raised off the ground by a layer of stone, and topped with the onion-like domes of St. Peter's, only they shine in the sun thanks to painted wooden scales instead of paint by itself. I've found that such buildings still exist in their natural habitats — out in the mountains, but the lack of English signage and speakers has seen me, for the first time in my life, hire a tour in order to see them and the people who live there. So we'll see how it works out.