Read Time:
5 Minute, 31 Second
While often characterized as both the industrial and financial engine block of the Italian peninsula, there is great natural and rustic beauty in Lombardia too. The people, much like the people in the north of other countries, work early, work late, work hard, and dress like they are attending a funeral. However the underlying geology under the foothills of the alps have created a mosaic of different environments in Lombardia, many of which have deep ecological value and biodiversity. Others are less about their value for the overall Italian biosphere and more about recreation and beauty, Lago di Garda is one of these places, and fits squarely within the "Straight Flush" or "Full House" of Italian Lakes, the others being Lago Maggiore, Lago di Como, Lago d'Orta, and maybe Lago d'Iseo.
Located about 2 hours east of Milan, Lago di Garda is surrounded by extremely fair burghs like Salo, Tremosine, Toscolano Maderno, and Limone, the last being ranked among the 6 most beautiful small towns, or Borghi in Italy. Also the word for lemon, Limone was the seat of the Garda Society, a collection of Northern Italian lemon growers that produced renowned lemons of enormous size and quality, owning to the unique climate within the valley of Garda. Along the many towns of the lake, growers in the 16th, 17th, and 18th centuries utilized large multi-level greenhouses called "limonaie" where they also grew oranges and grapefruits. The Garda Society represented the farthest lemons had ever been cultivated on north longitude, and they shifted hundreds of thousands of them before a blight destroyed the industry completely. But I digress in the extremity. I went to Garda Lake with my new wife, Mara for some R&R, and while I thought Lago Maggiore was certainly the most beautiful lake in Northern Italy, Garda Lake would change that completely, as its vastness and the character of its villages were extraordinary, even among the other lakes I had seen. In my opinion the towns of Lago Maggiore try a little too hard to seem like the Riviera, while those on Garda still had the wonderful blend of island, alpine, and old city architecture that characterizes Northern Italian borghi.
Passing through Salo and Toscolano Maderno was difficult, as both town were gorgeous and deserved a tour all to themselves, especially Salo, which had in World War II been the location for a German/Italian fascism society, where open cultural dialogues between the two nations were held in a garish hall filled with statues and columns. Toscolano Maderno was characterized by a Lungolago, or Strand St. if it were a town in Southern California, moored with sailboats and primped with flowers and old churches. We noticed the impossible-to-miss remains of the Garda Society greenhouses, now fallen into disrepair, but which still stick out as interesting ruins, with their tall stone columns which once held the green glass panes still utilized as settings for roof beams as new inhabitants seek to grow their own gardens inside of the old landmarks. Eventually the road became very narrow and we turned off towards Tremosine, a town located atop the high cliffs above the lake. The road would be a death trap if made in less developed nations, as the curvy switchbacks, false horizons, and sharp turns made Mara very nervous indeed. The views and the nature of the drive though were mind-boggling and jaw-dropping, and by the time we reached Tremosine we had to stop and walk around. Popular with Italian and German motorcyclists, Tremosine was filled with them, all seeking to have a beer or a coffee staring out into the vast blue expanse of the lake, 350 meters straight down below.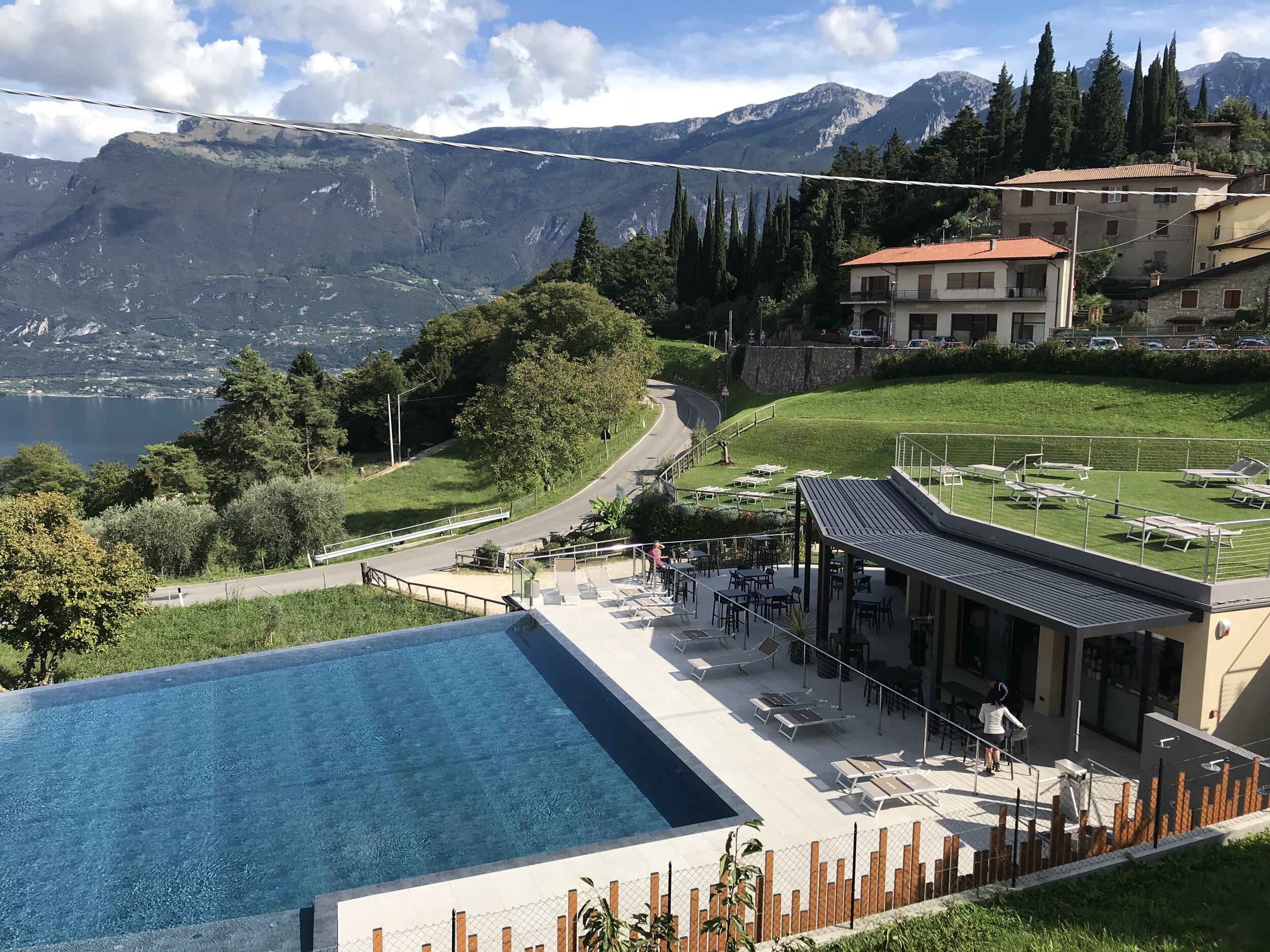 The drive from Tremosine, which is very small and makes for a great road trip stop, to Limone was about 26 minutes down a much less intimidating slope. Here we passed through several rural villages of wondrous beauty before we reached the lake below. Limone was packed with tourists but I'm happy to report it didn't spoil the trip too bad. No doubt there were a million Germans passing through, glaring at me for my familiarity with Italian law concerning mask-wearing outside. Italy's lockdown procedure was severe, and it has largely produced some of the best post-lockdown results in Europe. As such we are not required to wear our masks outside of buildings, however the Germans in all their Teutonic rule-abiding didn't much appreciate our liberal sensitivities.
Limone was filled with designer clothing and leather shops along the streets, darling little eateries like one which sold dried fruit of every variety, and views of the lake and mountains that could lock your eyes for hours. Across the lake, the sky was cloaked in dark grey clouds which spilled over hilltops like an avalanche, while sun-soaked palms and pines affixed to rocky cliffs above the old rock supports of the Limone greenhouses happily waved in the wind behind and above the town.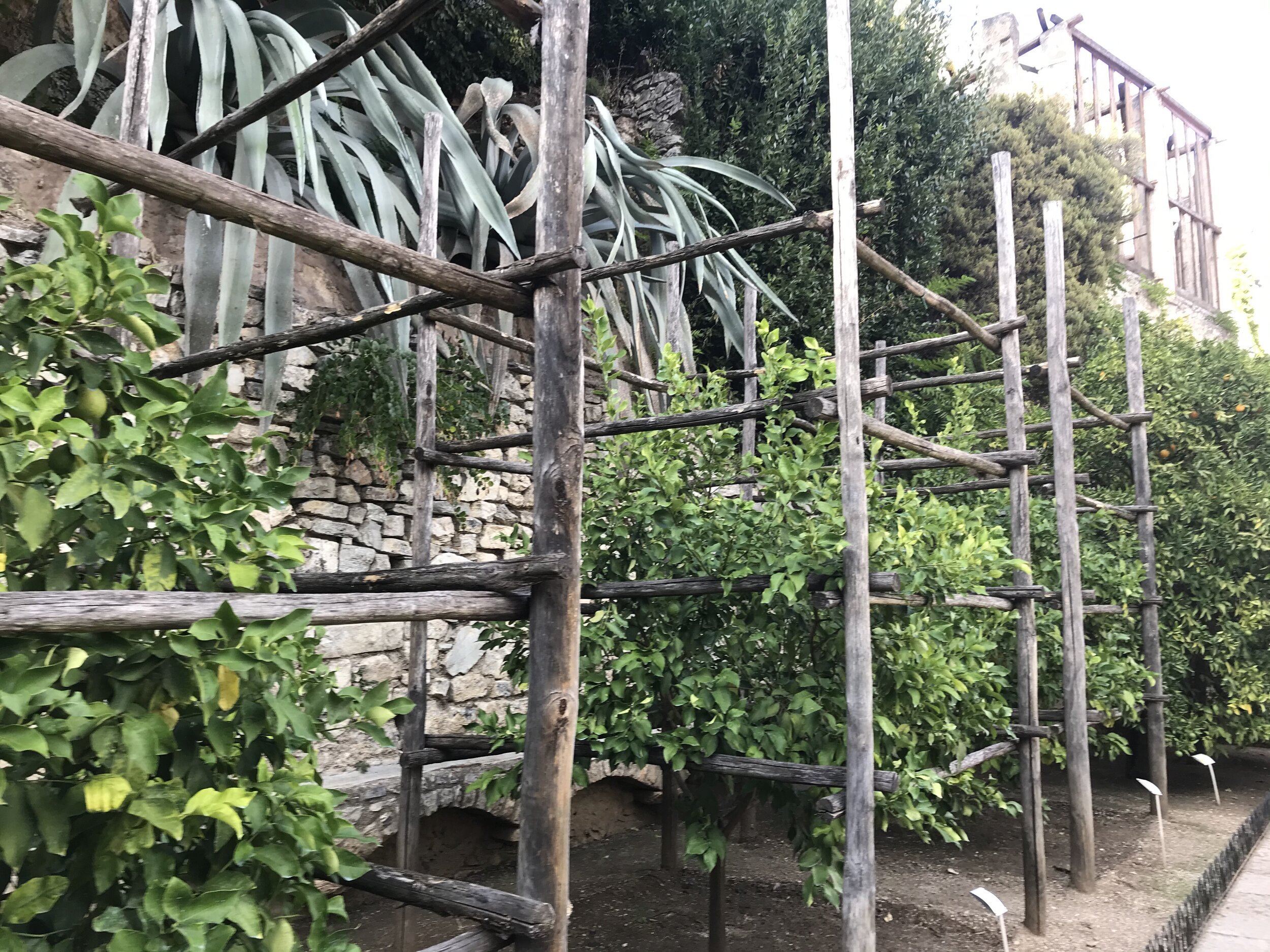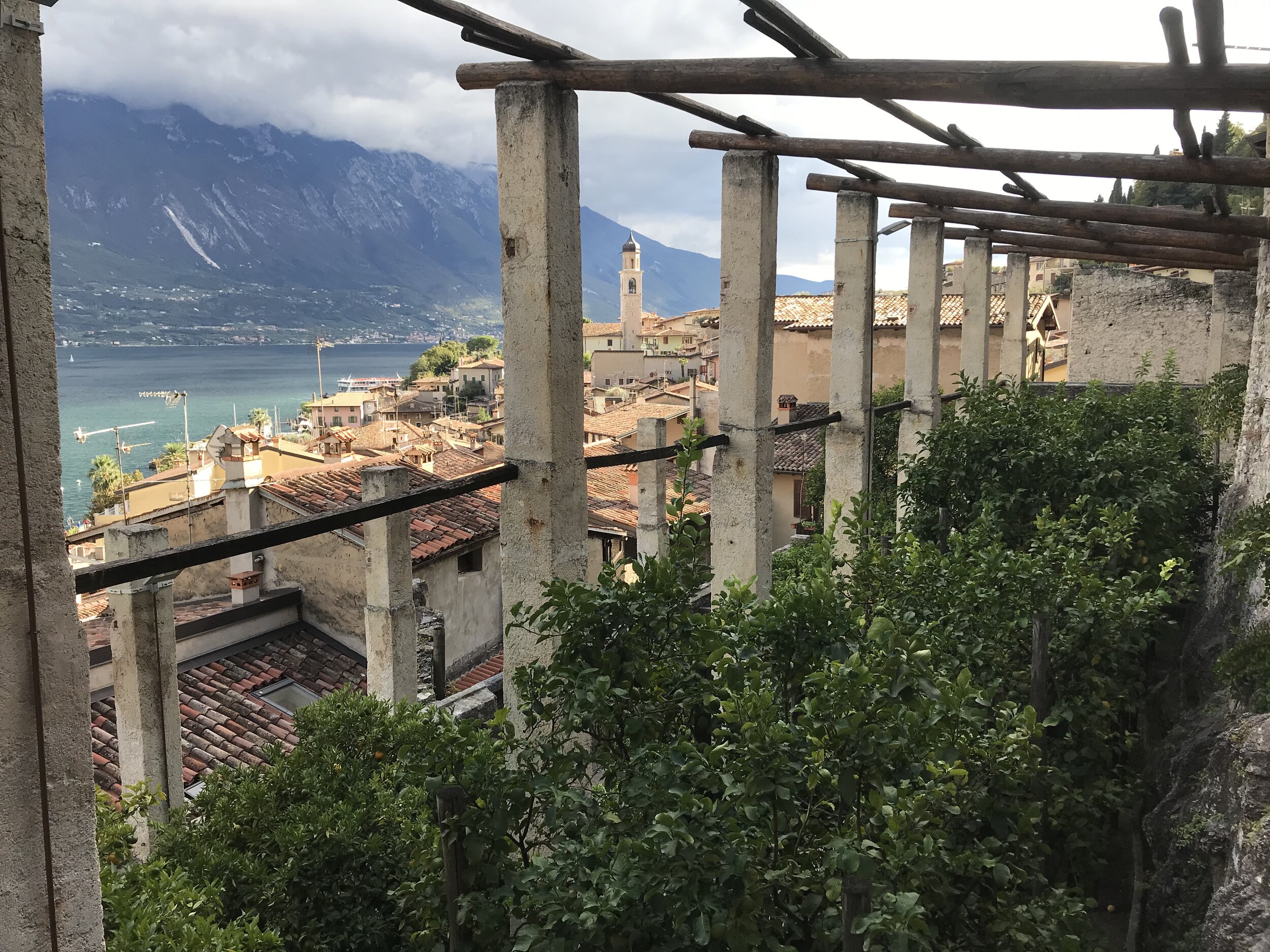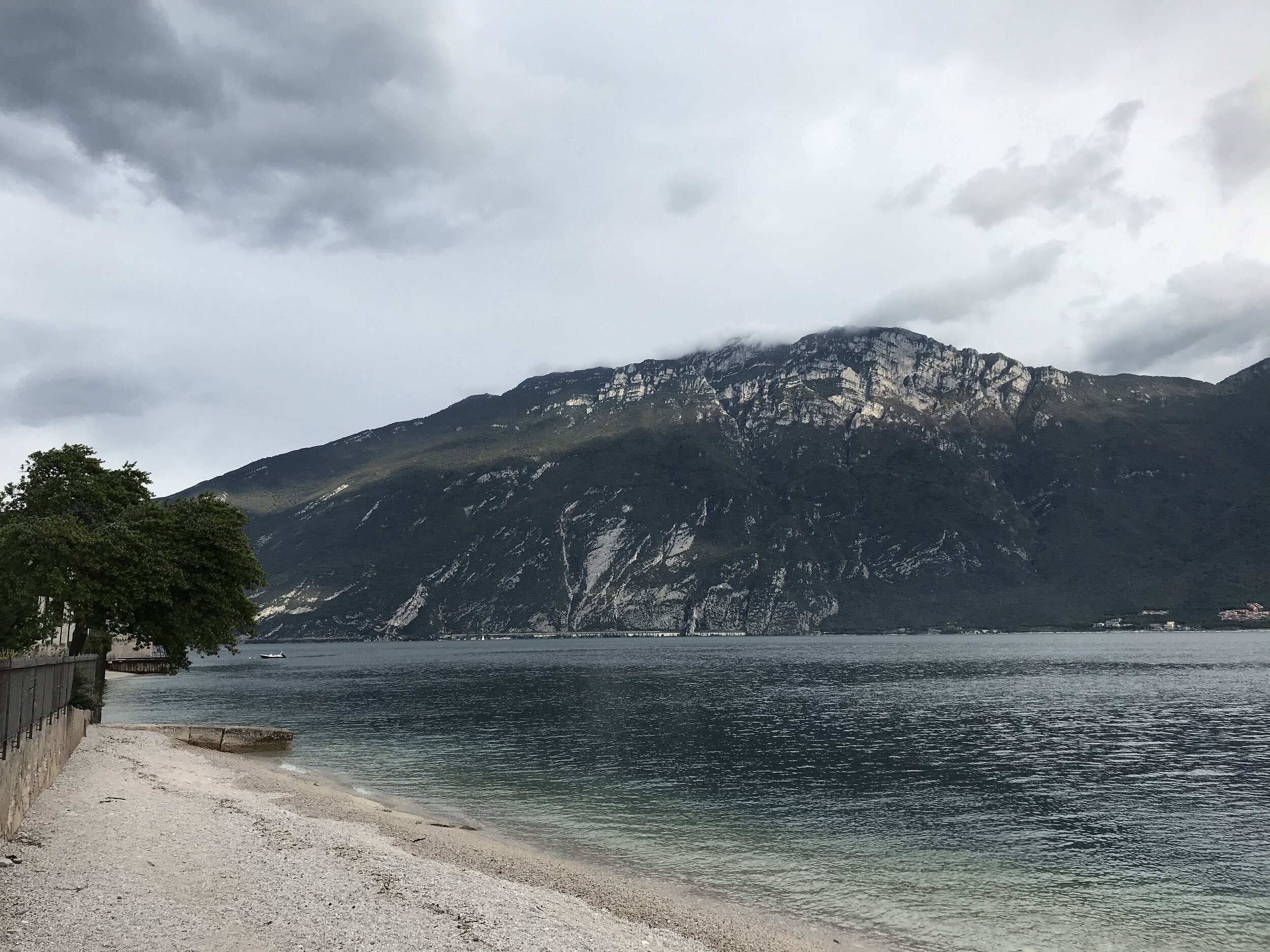 While no doubt making for a lovely half-day visit, there isn't a mountain of activities in Limone, however we did find a quaint little pebble beach where we could sit down and enjoy the view and a bag of dried fruit. The sun had moved beyond the clouds, and Lombardia took on its other persona, one more akin to Northern England – a dark, windy, slightly unwelcoming harshness. That night we stopped in a Trattoria, an Italian name for a restaurant where drinks are taken with or after the meal, as opposed to an Osteria where the reverse is typical. For the pasta fans I had ravioli with pistachio cream and cheese from Tremosine, while my wife had Tagliolini with locally gathered porcini mushrooms. Both dishes were excellent, and we left Lago di Garda vowing to return.