Read Time:
7 Minute, 35 Second
Italy is where I have spent yet another major holiday, passing as I did Christmas and New Years in Ghana. I wouldn't necessarily describe Easter as a major holiday for those outside of religious communities and families. I've chosen to select the criteria for a major holiday rather comically, as a day of celebration where events normally reserved for children are still practiced in adulthood, and the spirit therein isn't only converted into opportunity and impotence for having a mimosa brunch. Here in Italy, Pasqua, follows more closely the traditions of the orthodox Christians or the Russians, whose famous egg-giving tradition gave rise to some of the most spectacular works in the jeweler's trade. My darling bought me a chocolate egg, in which she supplanted a small grinning needlework tortoise for a plane ticket to Morocco – one of the more thoughtful and wonderful presents I have ever had the fortune of receiving, completely aside the fact that I received it for Easter, and not for Christmas, or the anniversary of my birth.
Spending holidays, even peripheral ones like Easter (for non-religious folk) is a great way to not only understand other cultures, but to understand your own. I am writing this Easter morning and there has already been a big exchange of cookies and flavored liquors among the family and neighbors. I'm also cast back in my thinking to centuries past when holidays, as can be seen with the number of feast days on international calendars, were really a lot more important than they are now. While remaining within 200 meters from your house may be unusual in the 21st century, the 14th, 15th, and 16th centuries would have found many people remaining in such proximity for weeks on end; tending the farm or animals, waiting for the roads to clear of winter snow melt, etc. The government order to maintain a 200 meter proximity of your house here in Italy has basically meant that for 12 days or so, Mara and I have been trapped in our little cul-de-sac, and in almost constant interaction with the neighbors as Mara channeled her inaction-anxiety in baking. Using the neighborhood oven, she churned out bagels, biscuits, and muffins, and we were constantly borrowing ingredients and tools to advance our aims of providing Easter presents to all our new acquaintances.
This neighborly affection and connection – of sitting round-table style outside of Viscardo's house, taking tea and talking about little of import, of having this neighbor or that neighbor over for caffe Americano, of enjoying Lino's magisterial piano playing, of strategizing placement of flower pots – has all been a completely new world for me. It is as if I stepped into a portal to the days of yore, when Jane Austin or the sisters Brontte wrote of English manor houses sheltering all kinds of folk under their roofs; of comings and goings and weather and wildness, small actions that would seem right at home in a child's memory, rather than the waking eyes between my ears on Via Cascina Pozzi.
At Mara's ranch and parents house we ate piles of spare ribs and pork belly, grilled eggplant and zucchini, and I contributed a giant smorgasbord of bagels and lox – something that none of the family had ever had; the bagel part being something they didn't even know existed on this earth. Mara, being exceptional in so many ways, took it upon herself to bake the bagels for Easter having not known of their existence 2 weeks prior. For desert there were liquors, Colomba, a sort of traditional Easter bready-cake, and an array of cupcakes shaped like the American flag. For the following dinner we assaulted our digestion with equal vigor, eating leftovers and yet more delicious food, practically doing it all over once again for lunch the next day.
While case and death numbers are going down here in Italy, the government restrictions on movement have increased further still, with my temperature being taken now at the grocery stores, and heavy fines for being caught walking outside of your 200 meter allowance, of driving two to a car, of not wearing a mask, and more are being imposed. A spouse and her honey cannot exist this tiny circumference of home even to go on an after dinner walk. This strictness has forced Mara and I to literally scamper through the forest like sly foxes in order to simply visit her grandparents 2 kilometers from Mara's ranch.
No trip to the ranch these days is complete without tending to the horses.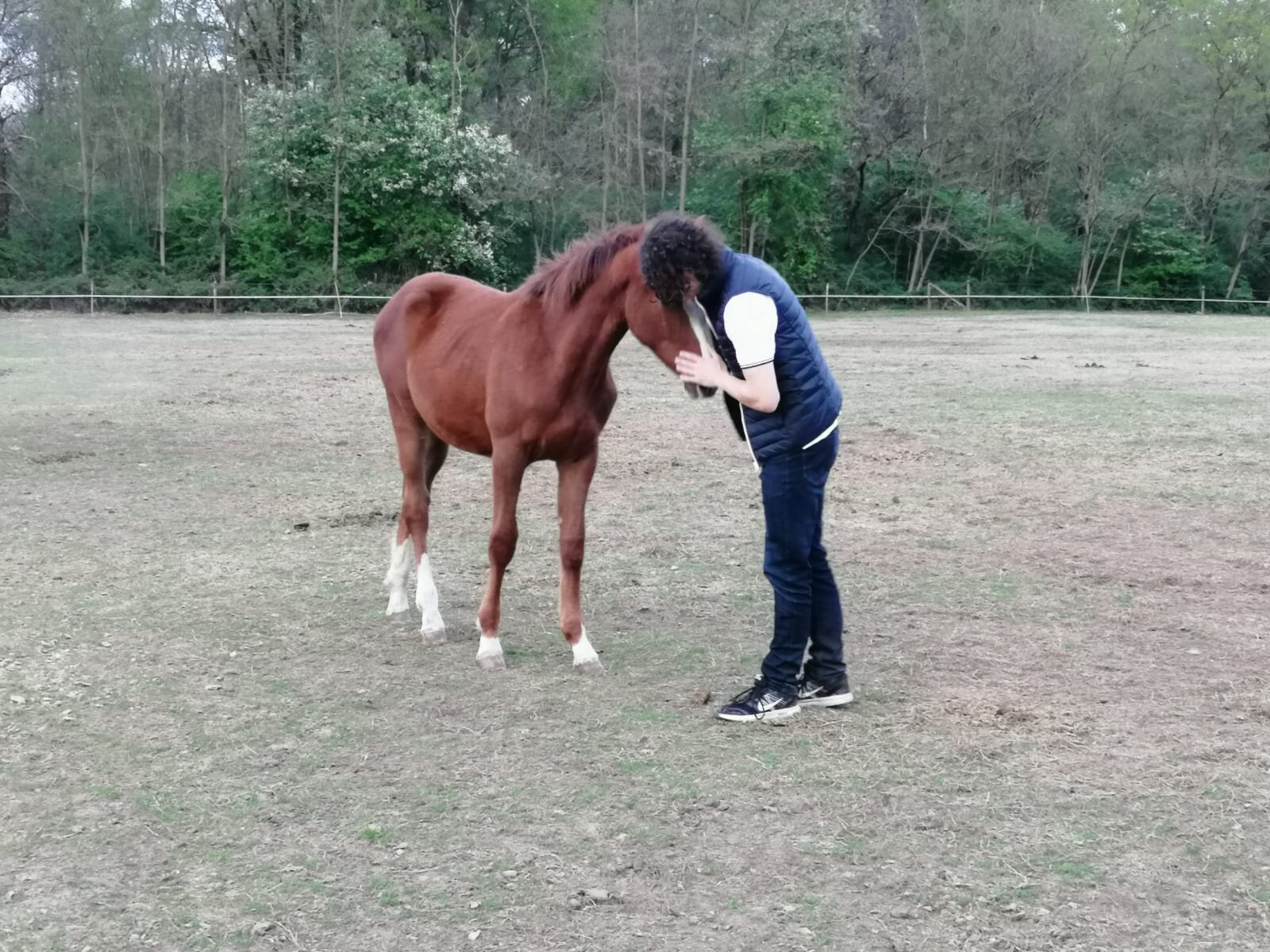 On the bright side, this shutdown has also opened my mind to new travel destinations. Mara is excited about the reduction of cases of COVID-19 in Italy because it means that maybe soon we can go to Napoli, Sicilia, Lago di Como, and more. Beyond that, we are planning for Myanmar, Mongolia, the United States, Japan, Peru, and Alaska. If you feel like commenting below, talk about what kind of plans you have when the lockdowns end and the virus recedes under the summer sun (hopefully). I am beginning to feel very international indeed, and am interested in the five flag method of internationalizing yourself – wherein you separate your countries of residence, citizenship, banking and investment, business operation, and I can't remember the 5th flag. The idea being that you optimize your abilities to move about internationally, your ability to maintain the money you make from your businesses, maintain the money you make through investments, pay the least amount of money in taxes, and optimize which social services suit you and your lifestyles and your philosophies. I'm a serious Libertarian, and central governments are currently the largest plague we face on the earth – far greater even than COVID. Therefore, it seems wrong to me to owe taxes to a state I despise, whose services I don't employ, whose actions I disprove of, and whose rules constrict my idea of happiness. For digital nomads, there cannot be a much greater enemy than the IRS and their Self-Employment tax. I cannot understand for the life of me why, if public flourishing is the ideal track upon which government policy is meant to remain fixed upon, they would increase the taxes on those whose income is less-guaranteed than those who receive a W-2.
I have listened to 3 audiobooks on economics during these long hours at home, and I know this foolish tax is what the French economist Frederic Bastiat aptly described as "legal plunder," or as I've been describing to my Italian friends "saccheggio legale". A system such as this, one in which those who have the power to plunder others, will always strive to create laws and institutions enshrining such power as just and proper. It cannot be the basis for human flourishing, for it only serves to substitute the tyranny of the conqueror, the king, or the plunderer, with the tyranny of the majority, or of the well-connected. Bastiat would describe the Self-Employment tax, if it existed in post-revolutionary France, in his essay "That Which is Seen, and That Which is Not Seen," as follows.
"Fixed as he is in his farm or shop, James B. must content himself with producing his lockbox upon arrival of the taxman at his business or place of residence. He must do so because of his chosen profession. But say some bard, minstrel, inter-state trader, or someone who has no need of a fixed place of business should fashion for himself, through the sweat of his brow, his guile, his skill, and his business connections, a life that James B. must toil to achieve while also forsaking the ability to wake up in gay Paris one week, and holy Rome the next."
"Say some regulator, or even James B. in his jealousy of the untethered minstrel , convinces the legislature that taxes upon these roving traders and minstrels be levied at greater levels, since they are hardly at home when time comes to pay. James B. might say it would present such goods to France as furnishing her with greater tax revenue and ensuring the money within her bosom is not taken elsewhere. This is that which is seen."
Frederic Bastiat would say that to see only that which can be seen as the consequences of a legal or economic action is what separates the good economists from the non-economists, and reminds us that the extra money taken from the minstrel or trader removes his capacity to act in the economy to the tune of the added tax, even preventing his ability, of perhaps acquiring goods from James B.
But I have digressed wildly, and I hope you all had a happy Easter, or a bouna Pasqua.