Read Time:
7 Minute, 33 Second
I always say about life that opportunities come when things are happening, and things happen when you make ripples in the pond. Opportunities for work or networking, opportunities for romance and friendship, it's rare they arrive at the feet that are dangling off the edge of the sofa. More likely they fall upon the soles of the man or woman of action, out in the world; the "Man in the Arena," as Theodore Roosevelt described him. And then what I always say after that is if you want to make ripples in the pond, you don't want to toss a pebble in, but rather a cinder block. That's why travel for me is so important. Opportunities come when things are happening, and people who chuck cinder blocks into ponds, metaphorically speaking, make more of a splash than pebble pushers. The traveler is the thrower of cinder blocks into the pond of life – metaphor over.
In Namibia I was fortunate to meet some great people, have some great conversations, get some contact info, learn an incredible amount about a brilliant, resilient, country. I got to test out my abilities as both a traveling writer and journalist and measure the power and drive I have to pursue such a demanding activity while working remotely in a way that only guarantees me income if I sit down, open the laptop, and bend the language of English to my will. However there were some other events in Namibia that embody the metaphor I have so thoroughly described which came, not to fall on my feet, but rather pass before my eyes. Fundamentally they were learning opportunities, though not all, and they offered me a glimpse into things that I considered both important and desirable both for me and for others to experience, but because of their very nature, deprived me of the courage and bravery to seek out, glimpse or otherwise experience them for myself. I'm referring to things which affect us all and which permeate every society.
If you, dear reader, asked me what I learned in Namibia, I would say several things starting with "the human being, and the inherent dignity therein, are indivisible from each other". It's very easy, even comforting, almost a shield over our eyes and minds, to believe that it's possible for a human being to be entirely absolved of their dignity. More than actually believing it, the action of doing so, of through our minds and our judgement depriving an individual of their dignity, is a comforting thought because it shields us from believing that person is worth a lot more than we think and should be helped. Once that is established, the inherent kindness and goodness in all of us, stemming from our need to create harmonious systems of social cooperation, starts drumming our mind over whether we should help that person and how much help we can give them before it becomes too burdensome on us.
I'll admit forthrightly that am fully acquainted with the voice in my head who says upon the passing of a homeless person that giving them things will not help them because they'll come to depend on charity and not be able to pull themselves out of their situation. I cannot possibly say for certain whether this is true, indeed I at no older than 19, found myself in a slightly precarious "homeless adjacent" situation when I moved to Los Angeles as a kid. I flourished off of several key pieces of charity, and absolutely felt a screaming in the back of my head to remedy the situation and not rely on the charity of others. So even though I myself have lived through the opposite circumstances of my assumption, it's still difficult to break free from thinking that.
When I was in Swakopmund I was fortunate enough to be introduced to a very interesting person who was visiting from Italy on purpose of taking three Namibian children on vacation. We ended up having such a good time that when I went back to Windhoek two days later I joined them upon receiving invitation at a wonderful little spot only 14 kilometers from Windhoek West, the neighborhood where most of the internationals stay. The spot was Daan Viljoen Game Park – a predator-free game reserve that plays host to most of the major ungulate species in Namibia, including the oryx, kudu, warthog, giraffe, wildebeest, springbok, and impala. Besides these ungulates, who wander through your camp as freely as squirrels, there are also many different bird species, baboons, colorful lizards who bob their heads in the sun, and ostriches. We camped there, all the better since I lug my tent with me no matter what continent I'm on. I had lovely conversations with the children about what they like to do, what they want to do when they grow up, their ambitions, their favorite animals, and more. They were just like kids anywhere, their feelings are easily hurt, they love to have fun, if they realize you know something then they have a million questions for you, and they love to swim.
While we were at camp, something completely incredible happened – it started to rain. Now I know what you're thinking, and I did sing Toto outloud, but it was in my lower octave. Now that we've cleared that up, indeed, it was raining in a desert, in Africa, and it was magical. Thunder rolled over our heads as the droplets fell actually faster than they were drying out on my clothes! Immediately some great wildness took hold of me, and I rushed off to scale the largest nearby escarpment. The call of the wild is a wonderful sensation and as I marched through the thorn trees, the dust whipped up by the wind and rain blended with the musty smell of animals in my nostrils. I felt like I had my own little 4,000,000 year homecoming as I finished climbing the escarpment to catch the last few droplets and stared and laughed at what their passing left behind – a double rainbow.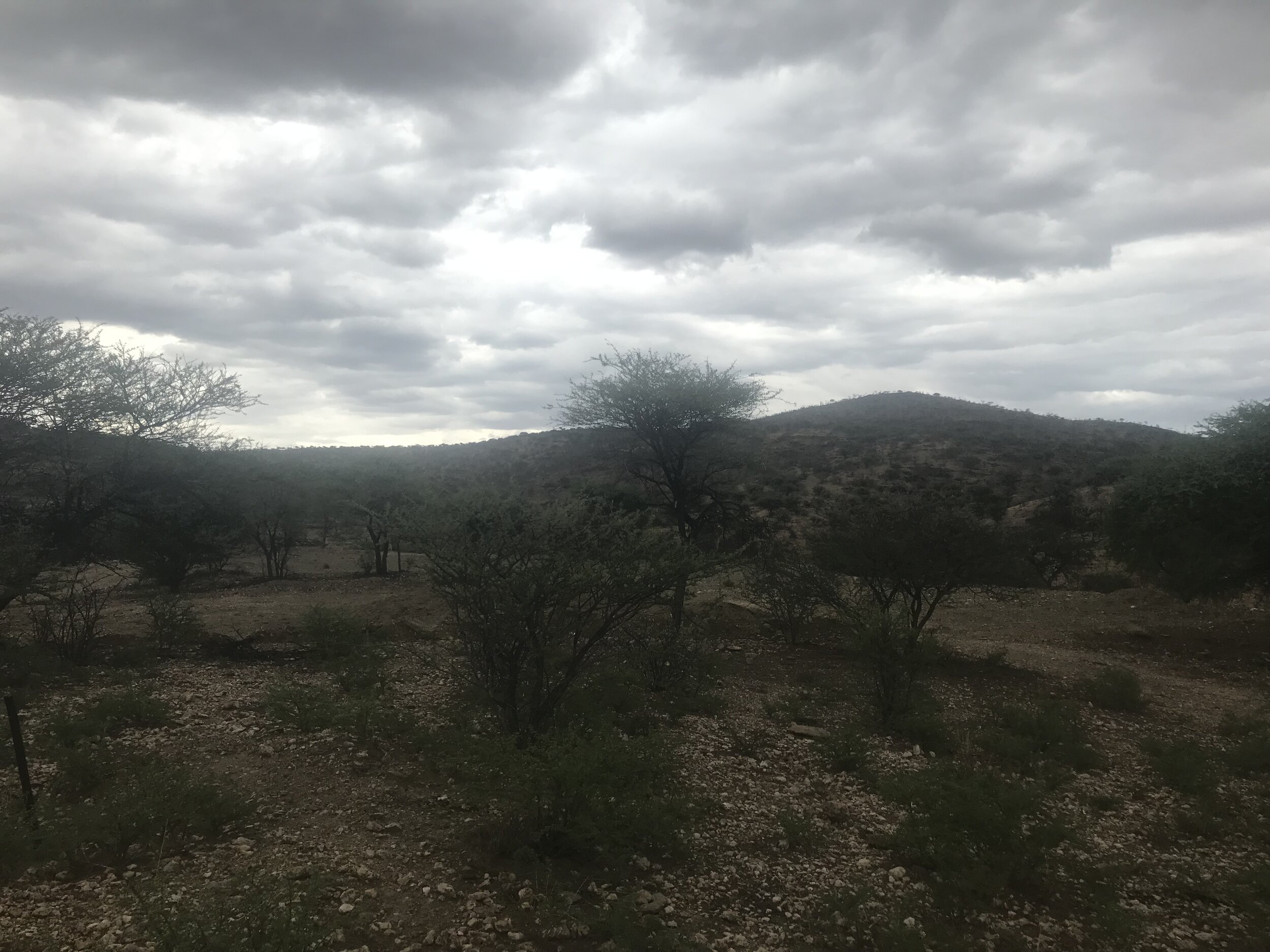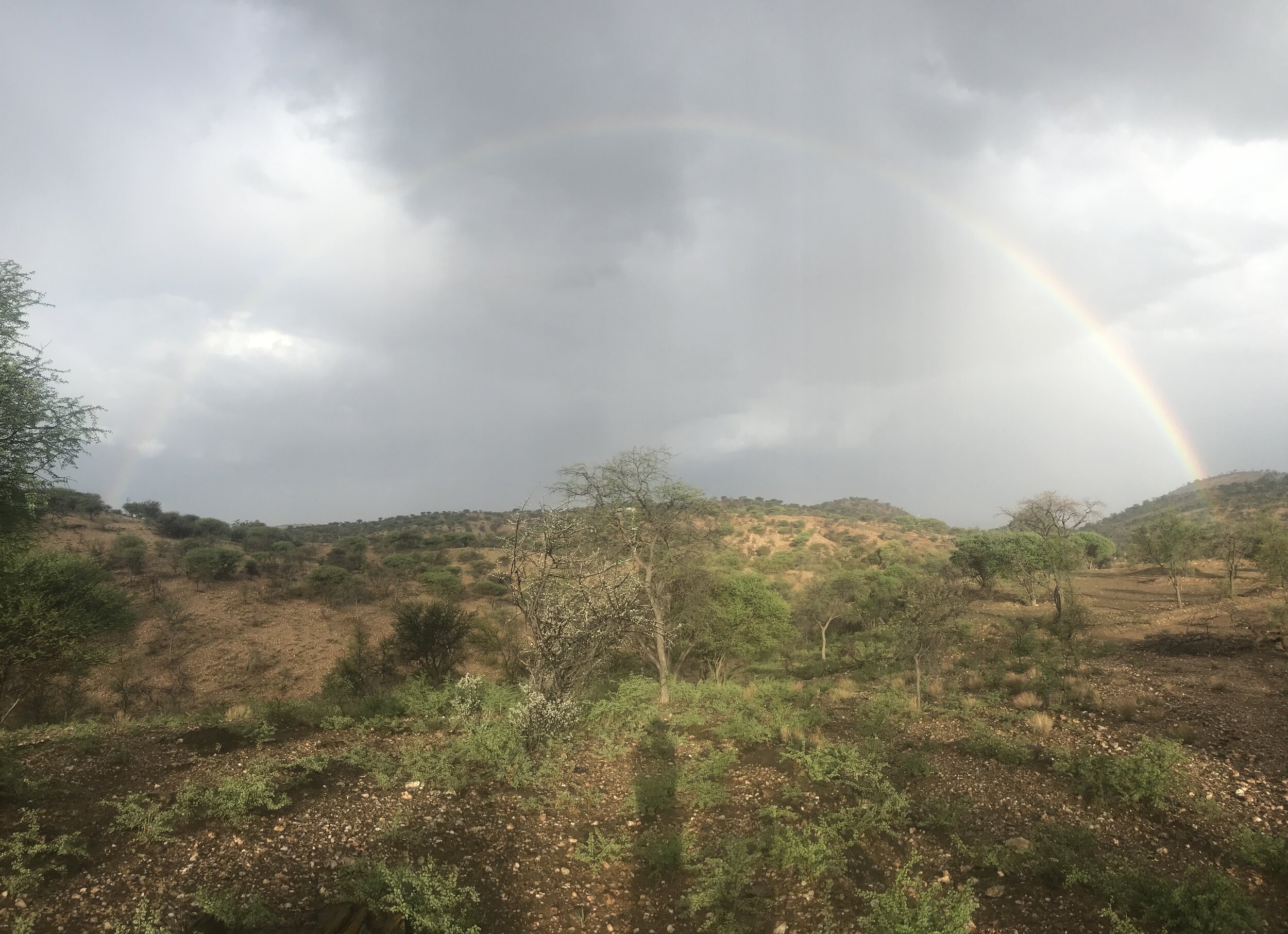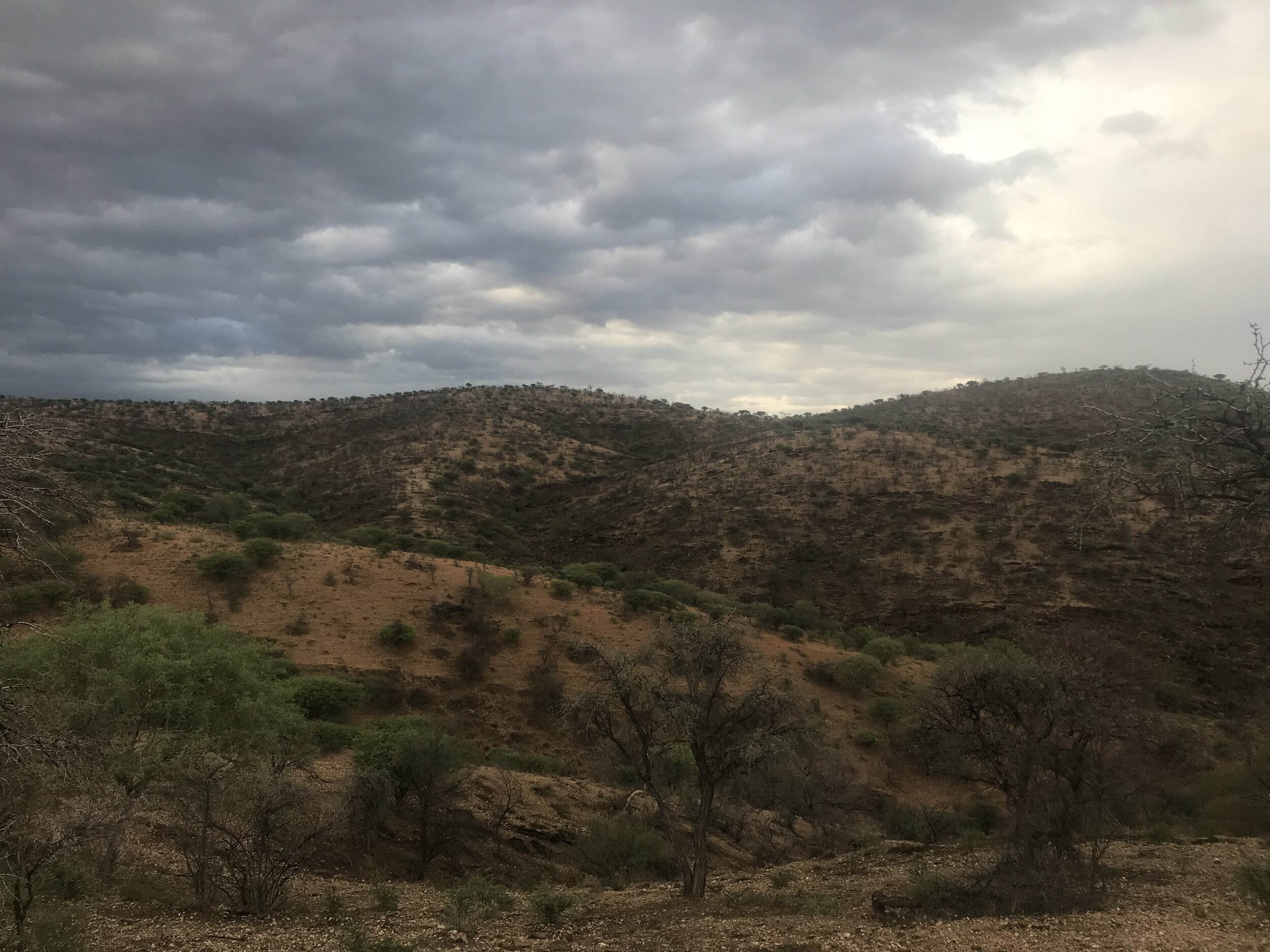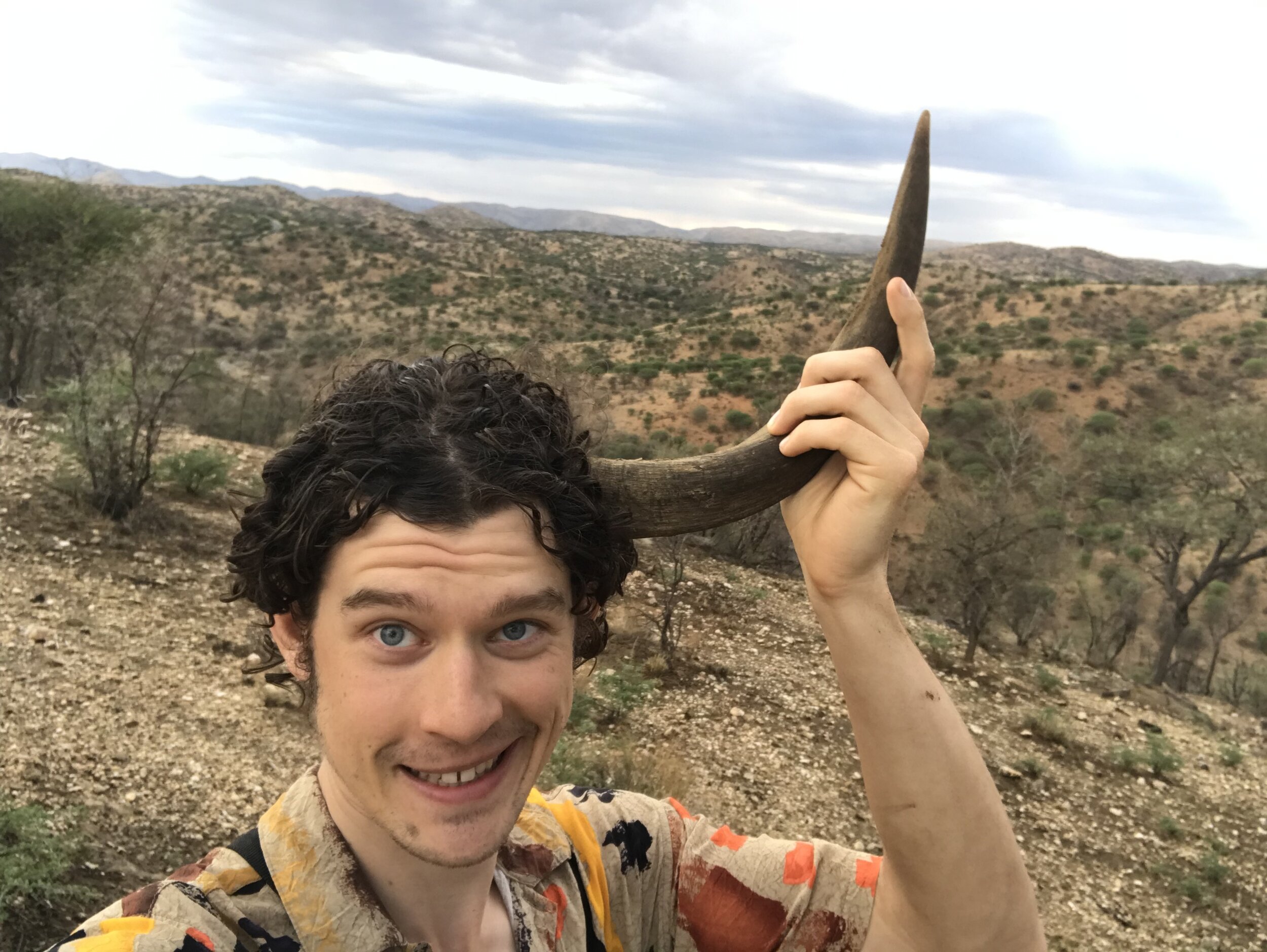 When our time in the bush was over, I got to accompany the Italian woman on her way to drop the children off at their various houses, for she was to fly back to Europe that evening. When the car turned into the shack villages and shanty towns of the children's homes, my heart, having been filled with laughter in their presence, now sunk to my toes. Poverty is cruel and I did not want cruelty to befall them for obvious reasons. The youngest of the three was a girl at the age of 9, and when we entered the dirt floors between the walls of corrugated iron which leaned together to make up her house, a magical thing happened. Greeting me, a complete stranger, was the woman of the house – the girl's mother. She had on an olive/sea foam green blouse, ironed and spotless, and a long black and green skirt. I felt foolish in my western adventure clothes covered in dust from the game reserve. Her jewelry, whether gold or steel shone perfectly in the desert sun. Her face was entirely welcoming, even as the muscles therein failed to notice the flies that occupied the house with her crawled along it as if she was but an animal on the plains. Yet not the flies nor her throne of an ancient, ripped up and aborted car seat could impair her warmth and dignity from overtaking me entirely. She held a little 1 year old boy in her hands, and the cheer with which the young girl picked up her brother and placed a Santa hat upon his head opened my mind to many different thoughts, foreign and domestic.
In the end, as they so often do, the children changed me – my self-perception, my perception of poverty, my perception of the world, and of the humans thereupon. Henry Rollins once said that "the human spirit is beautiful even when it's covered in its own fecal matter," I think I'm beginning to understand what he meant. The nature of resilience within the dignity inherent in all humans, whether it's that woman in Windhoek or Toivo the artist, or the homeless man around the corner from your house. It can be pushed deep down into what seems like an inescapable abyss, but never entirely separated.