Read Time:
8 Minute, 30 Second
Swakopmund is a little slice of Germany in The middle of the desert.
Afrikaners and Germans mingle together among the expensive beach real estate and shops. The differences between the two are fairly subtle at first, but gradually mount the longer you prowl the sand-caked flagstone sidewalks. Imagine if you will, four pasty-skinned rotundas with loose shorts and relaxed shirts, walking four abreast along the road. The sun glints off their polarized lenses, their skin either the color of pink snow, or charred bacon, with one of their eight hands inevitably crammed into a backpack seeking something. Here is the picture of the tourist Afrikaner – their denemor and style reflecting the bogan-nature of their old heritage. The Germans on the other hand vary a tad more, with white-haired kinsmen sporting firmly belted chinos and tartan button ups, their female counterparts selecting instead to don Fawlty Towers-esque garb. The younger Germans enjoy all the classic "street-chic/sporty/Gucci" hybridization of the continental dress.
Walking along the beach is a joy in Swakopmund. The buildings along the strand or the street behind have all the building freedom enjoyed by developers operating with such prime real estate. No two are alike, the gardens are strewn with beautiful salt-loving foliage and desert-dwelling succulents. In each driveway rests some mighty beast – a Land Rover, Toyota Hilux Dakkar, Toyota Land Cruiser, Renault Duster, or Isuzu pickup – the only ride that will suit a Vortrekking Namibian well-to-do seeking to tackle their nations perilous roads. If you get bored looking at the houses and imagining how easy it would be to amass the $150,000 American needed to buy one, you can turn 90 degrees and walk along in the sand and spray instead!
Up on Ludwig Koch street, you notice a depression in the buildings which sucks you into a Dresden/Salzburg style arcade of brown shingled roofs over white-washed blockwork walls. Designer leather stores surround a classic biergarten where every European language can be divined with piqued ears. It was here in the arcade that I found Herr Sibold and his Schusterhaus. There, with my strong American dollars I was able to purchase for myself a fine pair of dressy leder shoes made from kudu leder. Sibold, whom I had the pleasure of meeting, studied at the Vienna school of fashion, and told me kudu leather is the same as cow leather, but that oryx – the national animal of Namibia – has a hide too easily penetrated by water to use for shoes. While at first I assumed he was German, he was actually Namibian of German descent.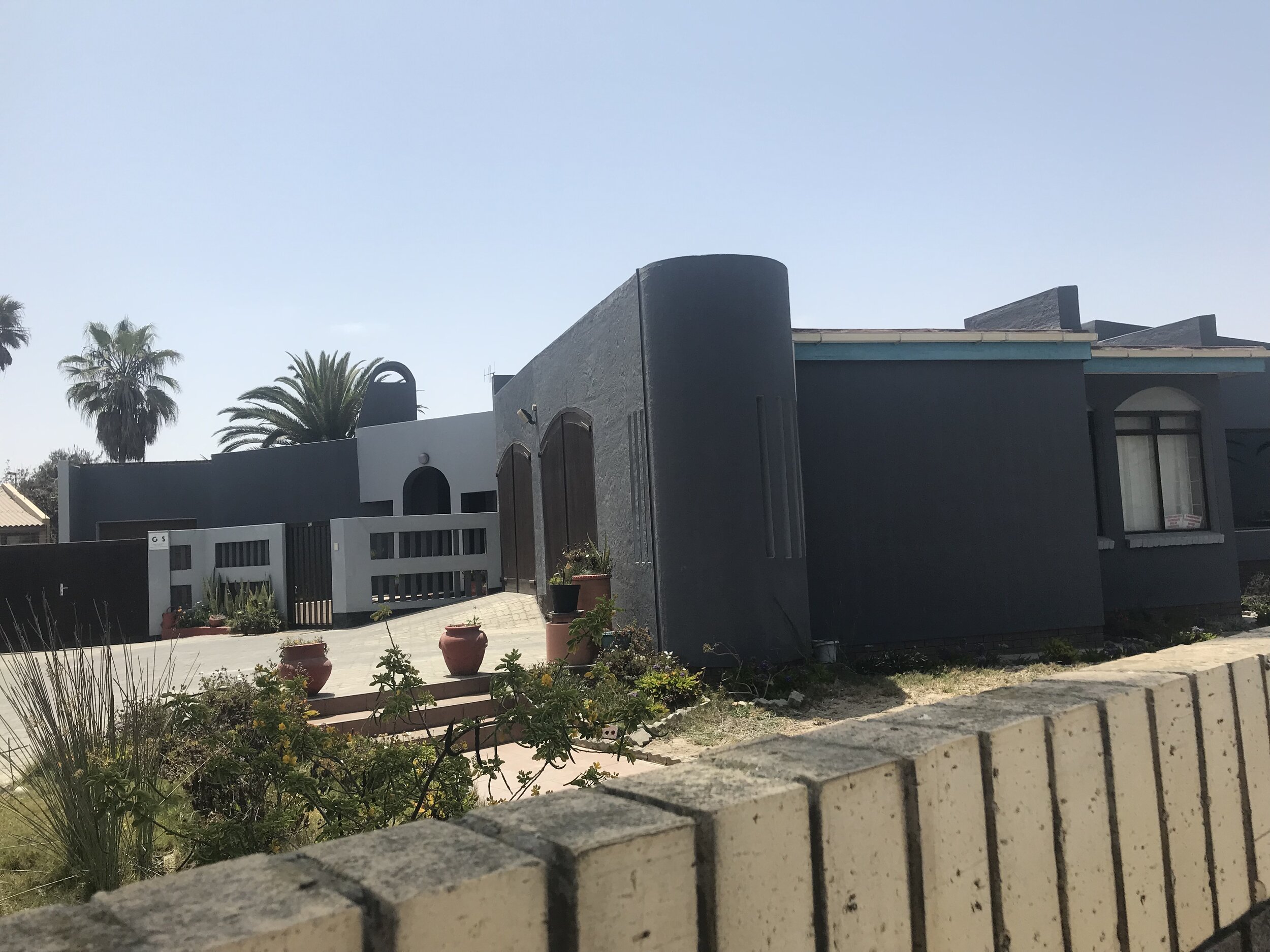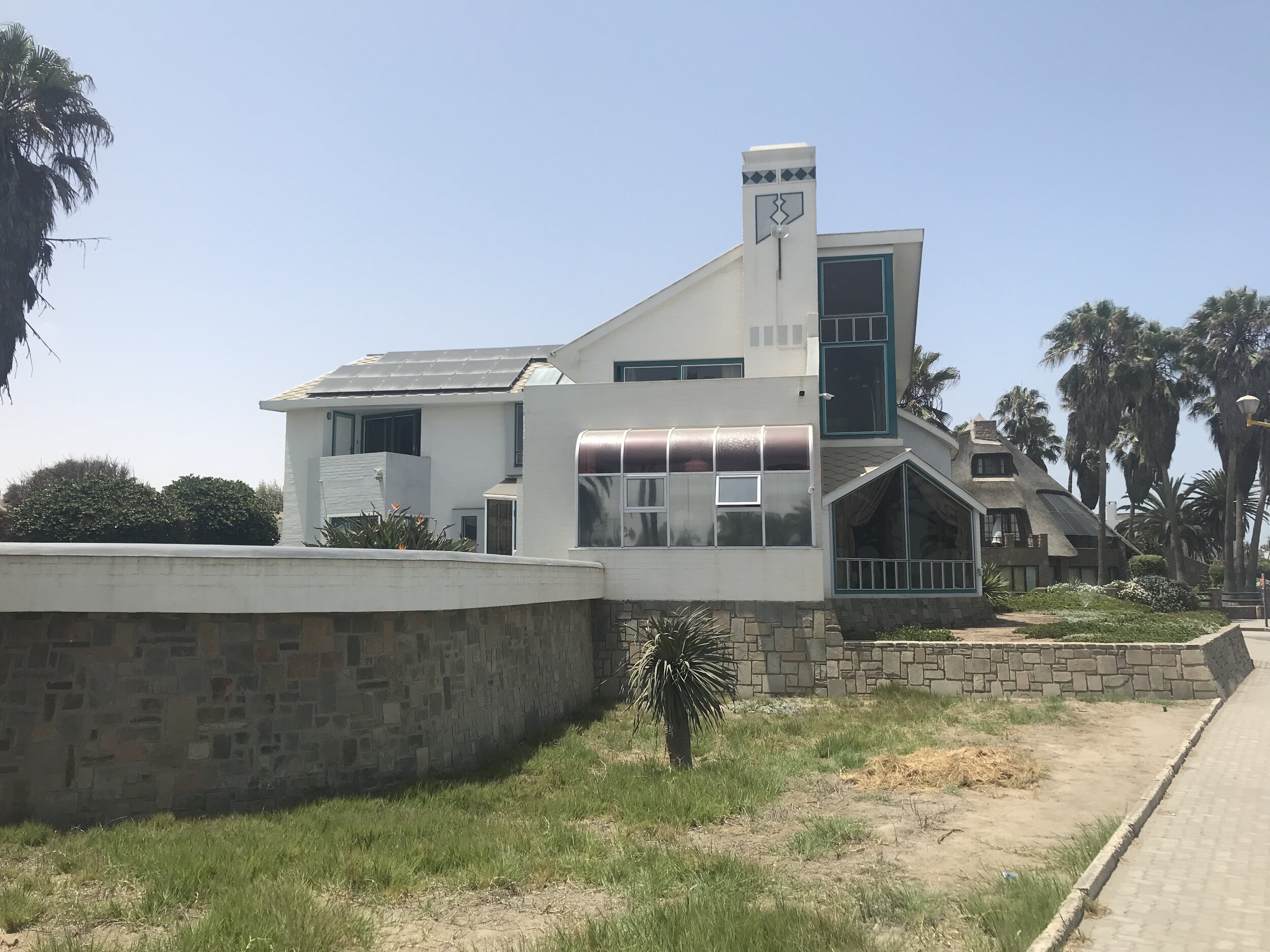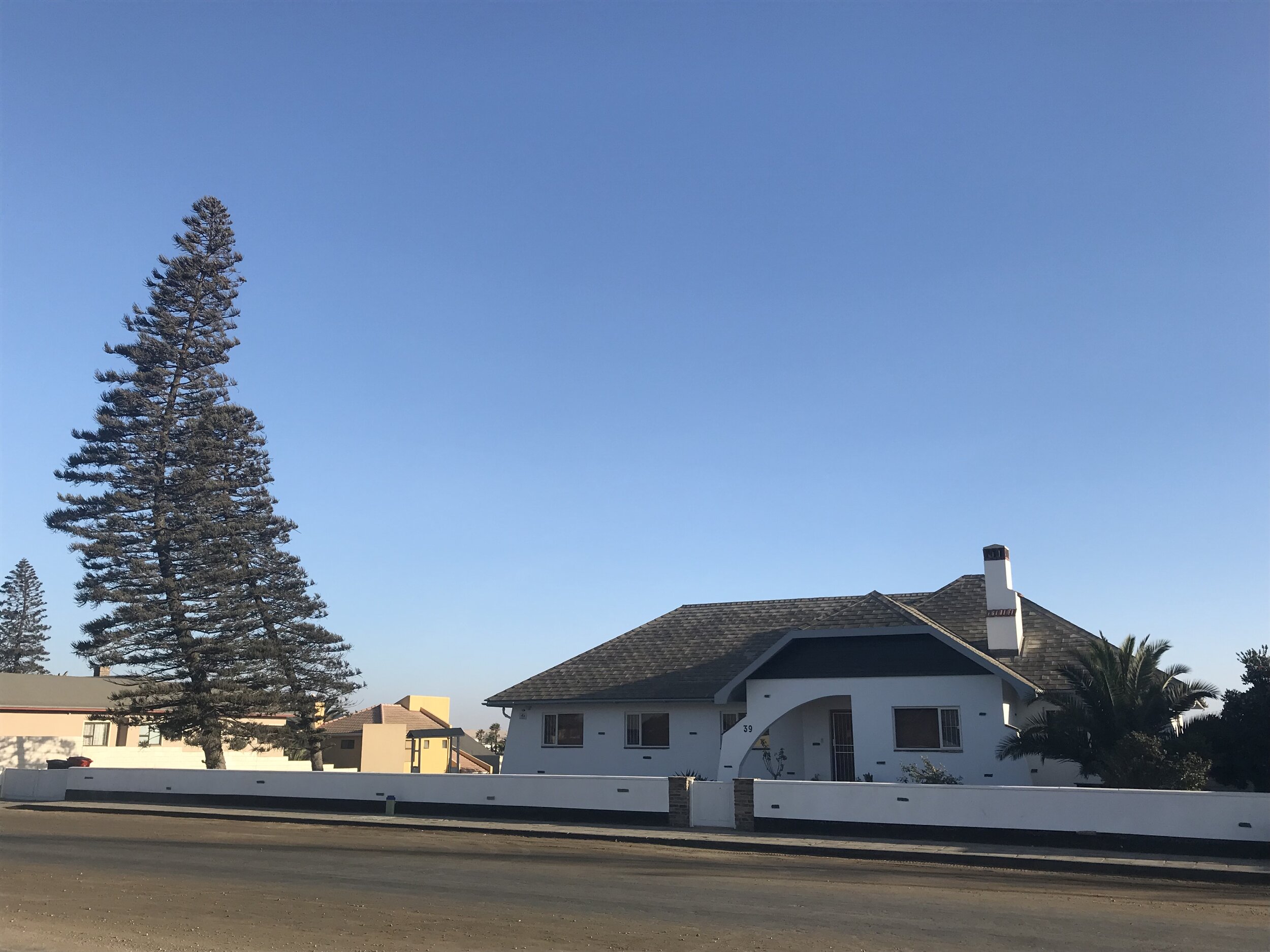 PICTURED: The charmingly varied beach real estate of Swakopmund.
While the stories of Spanish, French, Dutch, Belgian, and British colonialism are well known, Germany and Italy – the other major western European powers sort of "missed the train" when it came to grabbing every part of the known world, squeezing it dry of resources and establishing local rule. This is mainly because Germany and Italy were still only zones of ethnic similarity during the Age of Exploration. Germany was split into Prussia, Bavaria, etc. and Italy – the Kingdoms of Florence, Milan, Venice, Roma, etc. Without a united homefront, these powers couldn't exploit the rest of the world as could the Brits or the French.
However, Swakopmund was one of the few German colonies – part of German South West Africa, until it was conquered by the early South African state in 1915. Namibia then only gained independence from South Africa in 1990. The Germans never left, continuing to dwell in Swakopmund; which if you ask someone like Sibold or a particularly unsavory guest at the hostel I stayed at, a good thing too – otherwise the whole wonderful little Deutsch-African Riviere would be overrun by blacks and turn into a shanty town!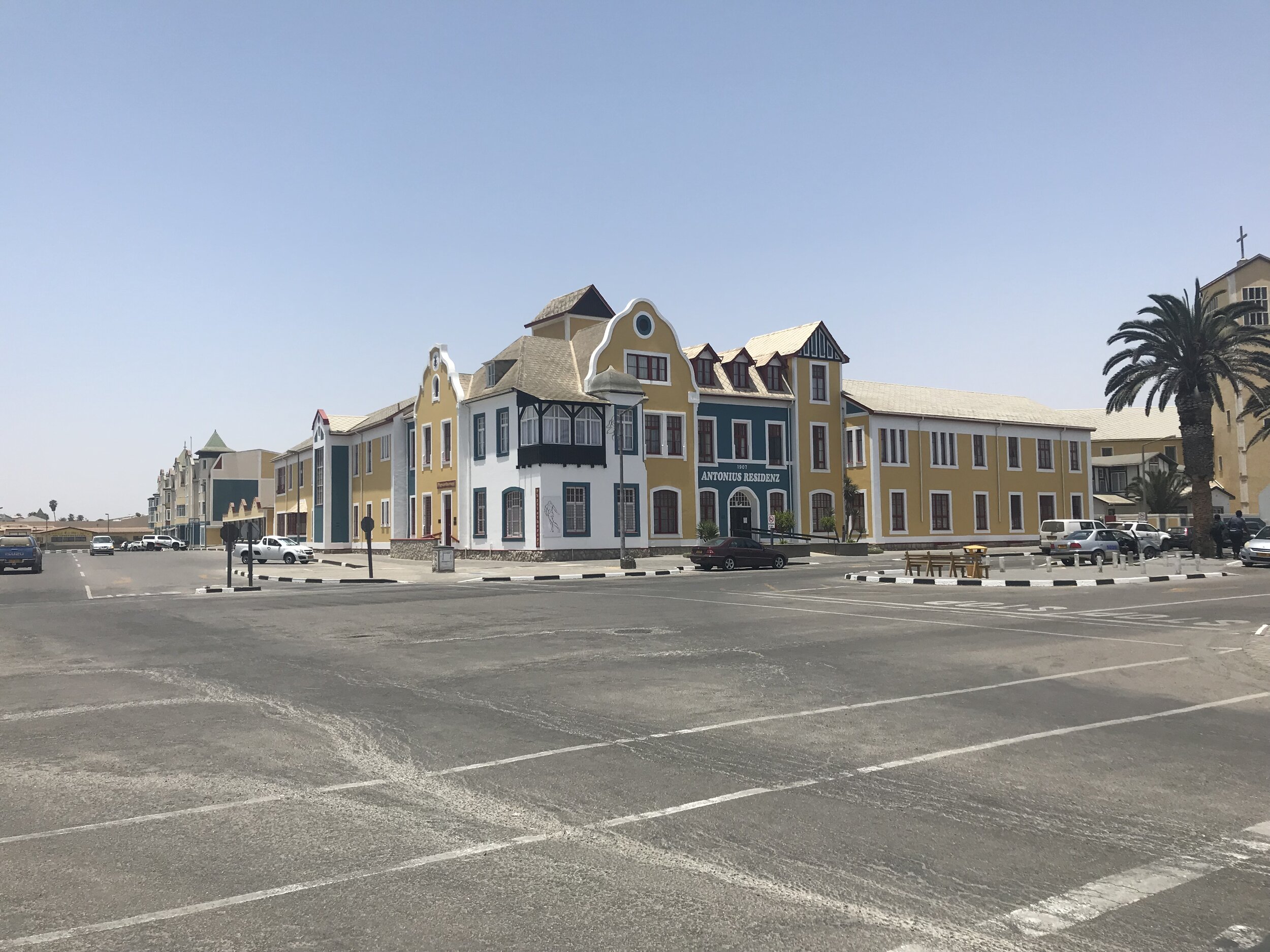 Speaking on that topic…
I'm the last person you'll ever meet if you are trying to find someone who views the world, society, and its machinations through the color of skin and the degree to which this or that race has been oppressed or exploited by this or that race at this or that time in this or that place. However in Swakopmund, Namibia, it's almost impossible not to allow yourself to start thinking in those terms.
The contrast between skin color, wealth, and proximity to the beach in this town is like nothing I've ever seen before – almost like I'm experiencing an "apartheid reenactment" in the same way you'd experience a civil war reenactment. Down on the beach, some of the black folk seemed to share the characteristics of some of the pensioner-age Chinese citizens I saw during my time in Shenyang – namely a listlessness – seemingly confused as to their sense of time and place as if they may have come forward in a time machine. Meanwhile as I peer through the glass doors and windows of the fine beach houses I see white wine lunches and friends over to see the baby.
Now despite what these images might conjure up in people's minds, it's important to remember that wealth is not a percentage of a fixed pie – the shoeless children in Mondesa Township where I was staying are not shoeless because a percentage of the national GDP that should have been theirs was hoovered up by the down payment on the second Toyota Land Cruiser by a well-to-doer down by the beach. The question asked too often by people when attempting to combat poverty, unemployment, and income disparity is "why isn't there wealth?" After all, if there is enough for the second Land Cruiser, there should be enough for some shoes. However classical economics teaches us not to ask "why isn't their wealth?" but instead ask a much harder question: "Why is there wealth?" This was the question asked as much by Adam Smith in his classical economic treatise An Inquiry into the Nature and Causes of the Wealth of Nations. I have rarely been asked as often on a trip, my thoughts on how to combat income disparity, unemployment, and poverty, as I have here in Namibia; and I think this is because the country feels maybe that it is capable of better things. Namibia is not the poorest, most corrupt, or racially divided country in Southern Africa – or Africa at large, and from what I've seen, luxury goods can still make their way into some fairly low income households.
PICTURED: The absolutely heroic off-road vehicles owned by all the white families in Swakopmund.
When I arrived in Swakopmund, I stayed 4 nights and 3 days at a house in a local township (ghetto) called Mondesa. The family was 4 – father, mother, daughter, grandmother, and the state of the house wasn't bad! The method of construction kept the worst of the heat at bay comfortably. Their mattress, I can attest, was very comfortable. They had stainless steel sinks and refrigerators, a flat screen television and WiFi. The mother worked as a teacher, the father as a computer task manager at a uranium mine. They ate three meals a day and their daughter had a laptop and school supplies. The family had a single car, but lived quite close to the stores they frequented, and could therefore walk to them. Nil, the father, and Jasasa, the mother, talked to me about wanting to start an online business to supplement their household income with stronger currencies like the U.S. dollar or the Euro. We talked about all manner of schemes – parcel delivery services, photography, tourist info blogs, and more.
Later on in my visit to Swakopmund, I met a young artist, who had opened a gallery after enduring the hardships of a low-income upbringing. He said some incredibly honest things, the kind of things that don't always create an ally in yourself with the progressive left whose cause often involves the plight of the low-income earner. I interviewed him for the Good News Network – you can find the dispatch and write up here.
"If we sit back and relax and complain that we don't got anything and this and that, the world is not going to feel pity for us," Toivo said to me, echoing the sentiments of black American figures like Malcolm X. "You can go out and compete. You've got a brain, you've got two hands."
I think this is probably the way forward. The first step is to prevent those in power, whoever it may be, from naturally using their power to keep people in dire straights. Liberty is the way forward – make it easy to start a business, don't tax people when they're trying to save money. The strongest economies are those in which people are not encouraged to consume, but encourage to save, and invest. So don't tax the poor, but don't tax the rich either – it is their dollars that enter the economy in meaningful ways, not the government's; for it is in pursuing their own interests that the wealth of the rich flows into the hands of the poor by investing into stocks, bonds and mutual funds, which in turn fund the purchase and share holding in capital goods, business, and commodities, creating work and salaries in those sectors.
Allowing the rich to keep as much money as they want might seem counter intuitive, but I have heard the story down in Africa too many times over to count or to discount – the governments are rotten to the core. So leave it to the private citizen, who creates wealth by the sweat of his brow or like Toivo, the idea in his brain, and in pursuing his own benefit, benefits everyone he encounters and those he doesn't. This is the result of Adam Smith's famous inquiry, and often what I told Namibians who wanted to know what to do about unemployment, income disparity, etc.