Read Time:
4 Minute, 39 Second
Armenian and Azeri officials have both said that the basic principles of a peace agreement that would recognize the Soviet-era borders of the two countries have already been agreed upon, and that a comprehensive one could be signed by the end of the year.
However, Armenian Prime Minister Nikol Pashinyan said that the two sides are still speaking "different diplomatic languages and very often do not understand each other".
"We are currently working on the draft agreement with Azerbaijan on peace and the normalization of relations, and I hope this process will successfully conclude in the coming months," said Pashinyan in late October.
Elnur Mammadov, Azerbaijan's Deputy Foreign Minister, said that "the next steps should be taken mostly by Armenia," but that all the most important points had been agreed on.
The development comes after decades of failed negotiations between the two states over the region of Nagorno-Karabakh. A border war and territorial dispute over the region that has been festering for over 40 years was potentially ended for good after Azerbaijan seized Nagorno-Karabakh with a decisive 24-hour operation on September 19th. 120,000 ethnic Armenians fled West, prompting accusations that Baku undertook an ethnic cleansing campaign.
The war had flared into full-blown conflict in 2020 during which thousands of soldiers were killed on both sides before each agreed to a ceasefire brokered by Russia. After the cessation of hostilities, there was still no success in reaching a permanent vision for the future of the disputed region, and it makes the sudden emergence of bilateral cooperation on the subject nearly unique in the whole 21st century of inter-state violence.
A decisive end to a long conflict
There have been red-hot tensions between the Azeri and Armenians since the 19th century. Racial violence and pogroms were not uncommon between the nations sandwiched between the Black and Caspian seas. Each side has its own story to tell about Nagorno-Karabakh, which Azerbaijan calls Qarabaq, and the ethnic Armenians in the territory called Artsakh.
The ethnic Armenians wanted independent statehood for Artsakh, while the Azeri residents wanted the region under the control of Azerbaijan. This often led to conflict between the two, which often dragged the two nations into disagreement, and a mix of first war and proxy war on multiple occasions, most recently in 2020.
Following the 2020 conflict, Azerbaijan won control over 80% of the territory, and human rights groups documented a campaign of starvation and deprivation of the ethnic Armenians over a period of nine months that preceded their assault this September.
The siege centered around a corridor in an area called Lachin that was supposed to be left open to the Armenians of Nagorno-Karabakh, the region being completely surrounded by Azerbaijan territory, but was being blockaded.
On Friday, the UN High Court of Justice issued a ruling that Azerbaijan must allow any of the 120,000 or so Armenians who left Artsakh to return if they wish under treatment in accordance with international law and the rights of citizens under the Azeri Constitution.
"Azerbaijan must … ensure that persons who have left Nagorno-Karabakh after September 19, 2023, and who wish to return to Nagorno-Karabakh are able to do so in a safe, unimpeded and expeditious manner," presiding judge Joan Donoghue said, to which the Azerbaijan Foreign Ministry replied in a statement saying it "is committed to upholding the human rights of the Armenian residents of Karabakh on an equal basis with other citizens of Azerbaijan".
However, Al Jazeera reports that many former residents of Artsakh are doubtful of being welcomed back on an equal footing.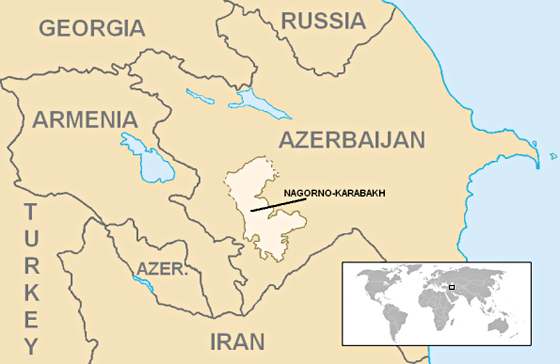 The next stage: more war or peace?
In terms of national ambition, the aims of Azerbaijan are principally centered on Nakhchivan, an exclave of Azerbaijan that is cut off from the country by Southern Armenia, and which borders Iran to the south. Previously, Azerbaijani President Ilham Aliyev has warned that if a transport corridor is not provided by Armenia through their land to Nakhchivan, then Azerbaijan would make one herself.
Not waiting around to see if this were to happen, the US Senate in Washington D.C. voted to suspend and prevent any military aid from being sent to Azerbaijan, a country that has enjoyed such support for 20 years. The House is expected to vote the same way. The US government has been under pressure since Azerbaijan's assault in 2020, during which it was still receiving military aid, and during which it still targeted civilian areas rampantly with artillery, including with cluster munitions.
In October, Secretary of State Antony Blinken warned a small group of Congressmen that he believed there was a not-small chance that Aliyev and Azerbaijan would follow up their September victory and invade Armenia outright in order to establish this corridor.
But now, with the advance of peace talks, Azerbaijan has abandoned its demand for the corridor which had been originally made during the 2020 ceasefire agreement, as they have already started building one through the Iranian province of Araz.
If an agreement for a normalization of relations between the two countries were to conclude this year, it would be a rare moment of international cooperation in the face of an escalating number of ongoing hot political and military conflicts across the world. WaL
PICTURED ABOVE: Ethnic Armenians of Nagorno-Karabakh evacuated from their homes due to attacks by the armed forces of Azerbaijan. PC: Ministry of Defence of the Russian Federation.