Read Time:
10 Minute, 10 Second
It was a late spring day when I told a friend of mine I was planning a trip to Azerbaijan, to which she replied, "Beautiful! Like, Baku?" It was a succinct observation that she made, perhaps without knowing it.
Undoubtedly, many people, if asked, could not point to Azerbaijan on a map or name three facts about the country, while most people who could may only be able to as a result of Baku's reputation of wealth and prestige, or because the political regime has been engaged in a brutal border war with Armenia for 40 years. But in the broad context of geography, it has a foot in the Russian, Iranian, and Turkish cultures, a distant hand still gripping the Qoran, and a closer hand grasping at modernity, and it's not immediately clear what the flavor of modern Azerbaijan is.
Baku has a bit of Dubai in it; an awful lot of oil wealth funding massive construction, beautification, and development, but as a cultural and holiday hub of the Soviet Union, Baku had its own distinct flavor decades before oil wealth transformed its skyline.
But Azerbaijan isn't Baku, and a visit to Azerbaijan immediately prompts the question of what is there to come after one is finished seeing the capital.
It can take a bit of discovery and an open mind to unlock the charm in the rest of the country and its people. What follows can be considered a bit of a primer.
What to expect: the basics
While Azerbaijan is a Muslim-majority country, don't expect to find any of the social constraints that come along with it. Islam here is well-departed in most people's minds; perhaps as a result of the Soviet Union's brainwashing, or perhaps because of the speed of modernization. Although it's also true even in rural parts that the muzzein may perform the call to prayer merely once a day, or sometimes not at all. It's also true that alcohol is incredibly easy to find.
The Azeri people speak Azeri, and almost all of them also speak Russian and Turkish. Remarkably few, even in Baku, speak English proficiently; imagine it a question of cultural spheres—the need to communicate with Russians and Turks is just a lot more urgent for the people there.
Despite the lack of English, it's easy to get along with them. The Azeri are profoundly welcoming and kind, not as outwardly as in other Muslim countries, but with greater reservedness and poise. I found that at nearly any request they were polite, patient, and accommodating, even if it placed them in awkward circumstances.
As mentioned above, the Azeri are linked to Russian/Caucasian, Turkish, and Iranian ancestry and culture, with each ethnic and cultural group controlling different parts of the country in different epochs. In Baku, the rulers were called Shahs, in Sheki they were called Khans, while the west of the country features some of the oldest Christian settlements on Earth, and in some places it's possible to see the religion of the Persian Empire: Zoroastrianism.
On top of these ethnic backgrounds, there are also the cultural backgrounds of Islam and Communism—altogether making for a pretty unique place in the world, and one where it pays to devote attention to finer details of how these five forces intersect.
Politically, the country is essentially a non-benevolent monarchy. The former Soviet knee-breaker Heydar Aliyev took power in the 1980s in a shady irregularity of power transfers. He ruled the country until his death, whereupon his son was installed as leader. Heydar's portrait effaces every wall in nearly every establishment, and the central area of every town and village is the Heydar Aliyev Center. The famous Baku structure built by Zaha Hadid bears that very name.
Propaganda is everywhere, and the famous conflict in Nagorno-Karabakh, recently concluded, was long a subject that was not to be discussed, and the country openly celebrates the ethnic cleansing of 120,000 Armenians that lived there this October.
The manat, the national currency, seems fixed at about 1.75 per dollar, meaning things are about 70% of the listed price in dollars. Many national credit card readers reject foreign cards, particularly Visa cards. When traveling to Azerbaijan it's recommended to have a Mastercard.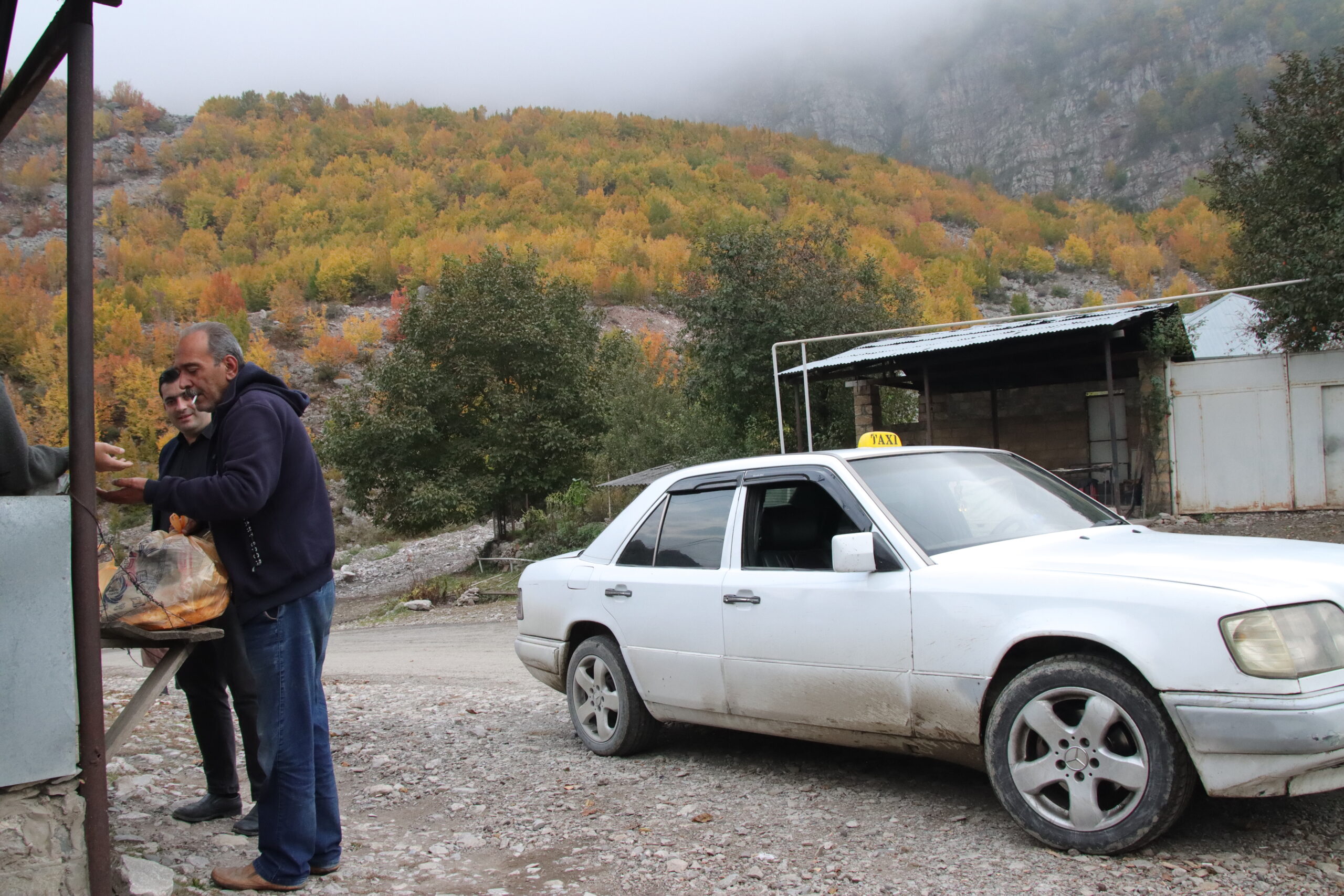 The physical nature of Azerbaijan
The country doesn't lend itself as much to touring since transiting from one part of Azerbaijan to another requires almost inevitably returning to Baku first. Shaped like a hand with fingers outspread, with each finger representing a main road going to one part of the country, it necessitates being deliberate in the course of making plans since deviation often means retreat, with the major exception being the road that runs northwest to Georgia.
Two mountain ranges cut across the north and south of the country. The latter are the Talysh Mountains that cross down into Iran, and the former is the southern terminus of the mighty Caucasus. Both of these regions are of high value for visiting, whether as a leisure tourist or a more serious traveler. They are quite rural however, and one should expect to extract the maximum amount of enjoyment out of them through physical activities. Driving from village to village is also totally possible and quite possibly enjoyable, but a robust 4×4 is a non-negotiable necessity.
In the south, the Talysh Mountains feature the gorgeous lake of Khanbulan, Hirkan National Park (though a bit tricky to access), and severally culturally relevant towns like Lerik, Lankaran, and Astara, each with a variety of rural activities close by to visit.
In the northwest, a highway cuts across a vast agricultural plain on the foothills of the Caucasus linking the very visitable cities of Ismayilli, Gebala, Sheki, and Qakh (these are Anglicized names). The small roads out to the North from each of these cities lead the traveler square into the mountains, where many species of animal like mountain goat, red deer, mountain sheep, brown bears, and a variety of birds roam free, and the autumn foliage is breathtaking to behold.
These cities in the northwest are also mini-civilization centers, as most of them are located near the centers of power of city-states that rose and fell across Azerbaijan's history. Sheki in particular is a UNESCO World Heritage Site and was the center of a Khanate from the 14th to the 17th centuries.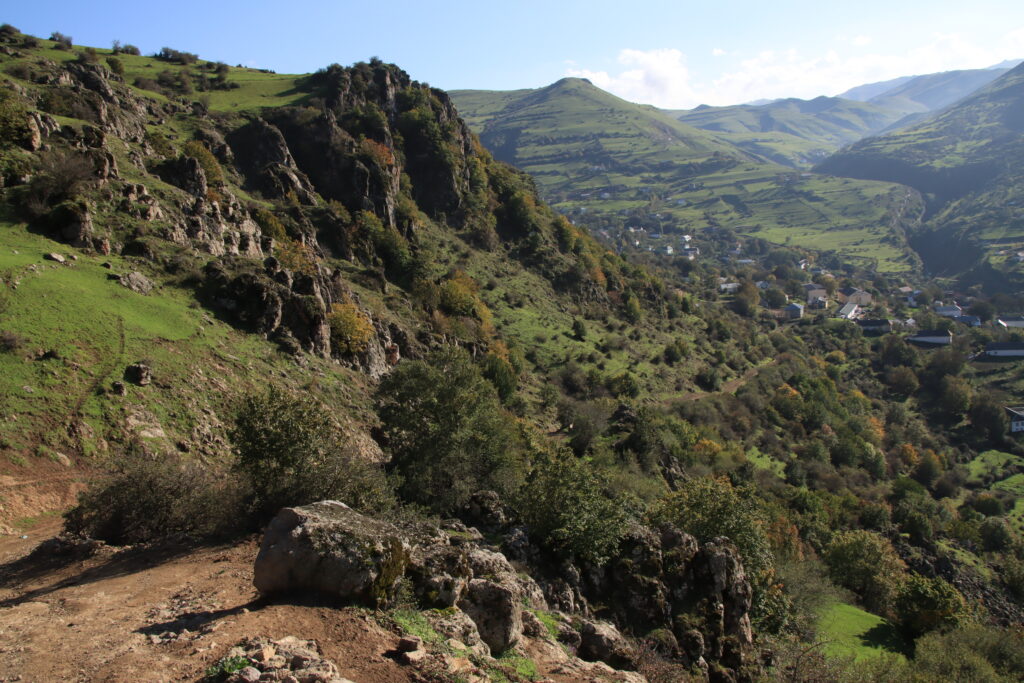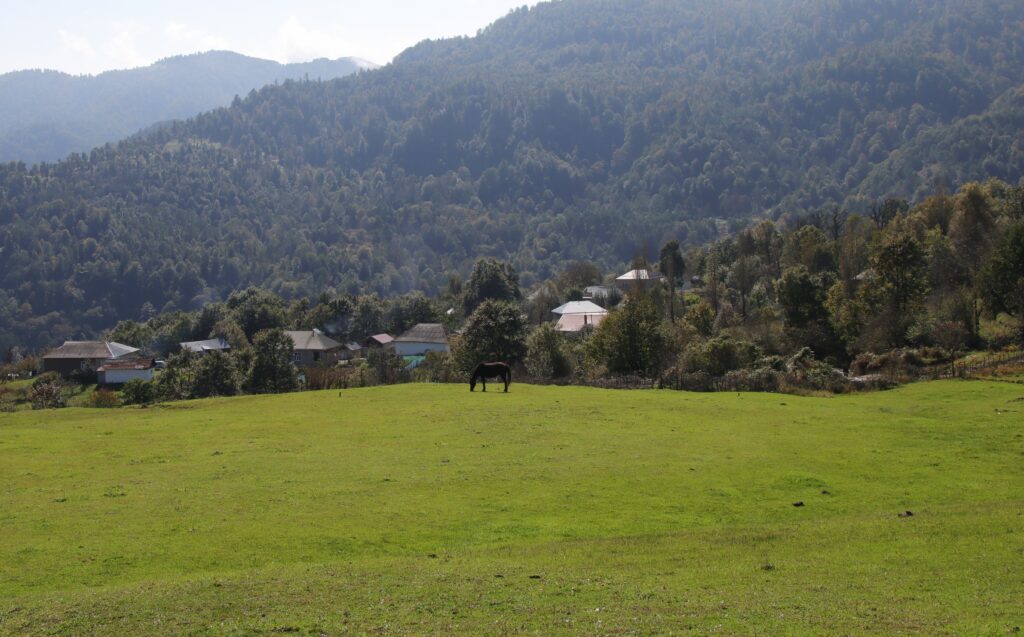 But these cities and the highway that runs through them are only part of the north. The true north has a different flavor to the more developed northwest, and contains the highest peaks and average altitudes in the country. The north is very much a mountain landscape, and the people there a mountain people. The main city in the area is Quba, and the most famous place to visit is the town of Khinaliq and the surrounding villages. In the shadow of Mount Shahdagh, the highest in the country, the people who forge on with their ancient way of life are a wonder to behold, and their winter-summer pasture routes through the mountains were also recently enshrined as a UNESCO World Heritage Site.
In the southwest of the country lies the once-disputed, now-conquered territory of Nagorno-Karabakh. Soon to become open to visitors, (when I was there it had just been taken and visitors were not allowed to enter the military-occupied territory) it may never leave the control of the Azerbaijan government again. When I was there, I was enthusiastically invited to return to the country in a few months when Qarabaq (as it's spelled there) is open, as there are also mountains to be found within the region which are beautiful, the man told me.
Few travel guides mention the west of the country—from Ganja westward to the border with Armenia, and indeed it appears more or less to be all arid steppe rising to rolling green hills featuring little habitation.
In terms of transportation around the country, the cheapest, most accessible, and reliable option is the bus and coach network, however, taxis are pretty cheap, and it's possible to transit from one city to another city 40 minutes away for what it costs to taxi 1 mile in a major US city. Beyond that, trains and planes are not really present in any reliable form, and so if the traveler is not planning on renting a car, it's the bus network they'll need to negotiate.
Avtovagzal is the national carrier through which all the independent drivers operate. Email them if you have questions; they respond promptly and sometimes in English. It's always best to ask locals about the bus timetables, since almost everyone travels by bus.
Still, renting a car is a good option, since Azerbaijan is a major oil producer and gasoline is 80 cents per liter, or about $3.20 per gallon—about half as much as you'll find in 95% of all the countries in the world.
The cuisine
It's inevitable that when you have as much cultural mixing in a country as you do in Azerbaijan, the food is going to be very diverse. Azeri Cuisine is varied, beautiful, at times rustic, and inventive. With a focus on pairing sweet with savory, there is a not-small list of standout recipes.
The national dish is called plov or pilaf as it's called in the West, and is typically long grain rice, not uncommonly served with chunks of squash or pumpkin, alongside a sweet sticky roast of stewed meat with dried fruit and nuts. There are many kinds of plov with one made of stewed spinach being quite common in the Caucasus, and others in terracotta jars with a pastry crust topped with black cumin seed sealing the top.
Piti is another widely found and celebrated dish, but it's for more discerning palates. While there are several different recipes, the classic is a terracotta ewer filled with a broth made from lamb, parsley, chickpeas, and tail fat most prominently. It's served with a bowl of day-old croutons, with the broth poured over top and mixed with half the contents of the ewer.
In the south, there is a typical dish of stuffed gamebird called levengi. In this part of the country there is a lot of citrus fruit grown locally, including the feijoa, a beautiful little Brazilian fruit that is so easy and delectable to eat. Across Azerbaijan, cheese, yogurt, and sour cream from goat, cow, and sheep's milk are widely available and always fresh.
Being partly born of the Turkish culture, doner and kebab are everywhere on the street, but there's also qutab, which is a savory crepe loved by all. Further up the menu, one might find several versions of meat stewed with fruit—especially pomegranate seeds. One, called naradja, is made with cinnamon and absolutely delicious.
For coffee drinkers, don't expect to find your fix in the hour at which you need it. It's not uncommon even in Baku to find coffee shops still closed at 8:00 am. Outside Baku, it's not a given you'll even find coffee in the first place, for in Azerbaijan tea (chai) reigns supreme.
For dessert, Azerbaijan offers the baklava, both Turkish and Azeri styles. These are heavy on the sweet side, as they are nearly drowned in inexpensive honey that's then baked, but the Azeri baklava is more complex owing to spices like cardamom and nutmeg in the mixture.
In Baku, there are plenty of knockout restaurants. Firuze has a mammoth menu with mammoth portions, and offers old-school traditions like spitted lamb (the whole beastie) or crown roast over plov. Art Club Restaurant offers a more refined version of what Azeri cuisine can be. The traditional plov here is exceptional.
PICTURED ABOVE: Baku at night. © Andrew Corbley