Read Time:
10 Minute, 5 Second
From the earliest analytical periods of the Ukraine War, analysis on World at Large found it unlikely that Ukraine had any chance of victory, and that the full-scale escalation of the war was not a Ukrainian choice but one driven instead by the combination of lobbying from arms manufacturers, lobbying on their behalf by think tanks, advocacy from almost all of the largest Western media outlets, fear-mongering from NATO military minds, and bullish bi-partisan support on Capitol Hill for arms transfers.
In an interview article and paired essay published in The Economist by Ukrainian supreme commander Valery Zaluzhny, and in another published in Time as a collection of insights from President Zelenskyy's "closest aides," the writers make it brutally apparent that Ukraine has lost the war.
It's brutally apparent because of the reasons given by Zaluzhny: that even if partner nations gave them every weapon and shell they needed the armed forces of Ukraine "don't have the men to use them". Put in other words, it means that Ukraine lost after hundreds of thousands of young men were killed and injured.
It's brutally apparent because the close aides reveal an atmosphere of megalomania whereby Zelenskyy is refusing to listen to his generals, and his generals are ignoring Zelenskyy's demands to attack.
The Time Magazine piece is particularly dismal, as in it, the very reporter (Simon Schuster) who gave Zelenskyy Man of the Year profile last year, reveals in his survey of the inner workings of the Zelenskyy regime in their darkest hours, the realities of what much of the analysis on World at Large concluded at various times: that the war could only possibly turn out well through public relations; that Western arms suppliers to Ukraine never meant for them to win the war—but merely not to lose it; and that the expanded military-industrial bureaucracy of Ukraine was rife with corruption and siphoning off of the aid money received from the world.
Why Ukraine has lost the war
In his interview and accompanying essay, Gen. Zaluzhny admitted that Russia now has an insurmountable advantage because the war has reached "a stalemate" and that if it progresses into a slow, grinding, war of attrition, Ukraine will quickly use up all arms, ammunition, and soldiers, while Russia has "almost three times more mobilization human resources".
"Russia at this time retains and is able to maintain a superiority in weapons and equipment, missiles and ammunition for a considerable time, while the capabilities of the military industry are increasing, despite the introduction by the world's leading countries of unprecedented sanctions against the aggressor state," adds Zaluzhny, outlining what WaL reported on early in the conflict—that the rest of the world was needed to cripple Russia's economy, and the rest of the world wasn't playing along.
The essay is officially billed as a "transition of hostilities to the positional form," in other words, stalemate, and warns that "a way out of which in the historical retrospect has always been difficult for both the Armed Forces and the state as a whole".
"The biggest risk of an attritional trench war is that it can drag on for years and wear down the Ukrainian state…  sooner or later we are going to find that we simply don't have enough people to fight," he told The Economist, adding in his essay that it gives the "Russian Federation the opportunity to reconstitute and build up its military power".
Journalist Ted Snider details that Russian forces have detected this diminishing supply of men and weapons among the ranks of their opponents and are advancing in several parts of the line, most critically being a town called Avdiivka that would give Russian forces access to all the border areas of the Donbas—the name for two of the four Oblasts, or provinces, that they annexed.
In the first part of his essay, Zaluzhny explains he needs to come closer to parity of air strength before any further operations can be conducted, but just a handful of Ukrainian pilots are undergoing training on the more advanced F16 fighter jets, and it's been reported they won't be ready, or even have planes in Ukraine to use, until the turn of the year.
Will the Kremlin order an attack on Odessa, or after reviewing its own damaged forces be content with the massive land grab they've already carried out across a fifth of Ukraine? The truth is that, it seems according to Zaluzhny, the Kremlin can do whatever it wants.
Time to name names
There was never a reckoning or purge of any sort following the invasion and occupation of Iraq in 2004. No reporter ever had their reputation ruined—no author ever had their book deals rescinded because they piled onto the narrative that the US was waging humanitarian war and that Saddam Hussein had weapons of mass destruction—a lie which everyone now accepts was at worst a lie and at best not true and a mistake to believe.
Will history repeat itself now that the narrative has so clearly changed, or will the rapturous support for the war in Ukraine shown by mainstream media organizations and politicians throughout Europe and North America come back to haunt them?
In this critical sea change of perspective, it's worth looking back at the mixture of war fever and delusional analysis that saturated the airwaves from February to around November 2022.
In June, WaL published an analysis of the previous 3 months of "can't win/already lost" narrative surrounding Russia's operations in the country that by late June was already quietly eroding without a trace. Max Boot, Yuval Harari, Robert Burns, Frederick Kagan, Michael Clarke, a Greek security and international finance team, and many more including the disgraced former General David Petraeus had by then all put forward a viewpoint that posited Russia had either already lost or couldn't win.
Before the war, officials in Europe and Washington were certain they were going to tank the Russian economy. Maximillian Hess, Fellow at the Foreign Policy Research Institute, was sure that less than a month after the war began sanctions on Russia should not be lifted, even though he lays out the perfect case for why they should be, i.e. that they've never worked in history other than by depriving and starving innocent civilians, or enraging the targeted country, citing Imperial Japan, Nazi Germany, revolutionary Iran, and Communist Cuba, North Korea, and Venezuela.
Biden called the combination of economic warfare options a "nuclear weapon" but by June their effects had long dissipated—just as World at Large reported they would be based on support from the rest of the world economy, here and here.
In late 2022, then Chair of the Joint Chiefs of Staff General Mark Milley stated frankly that the chances were "militarily not high" of Ukraine succeeding in gaining any more territory than they already had during the fall counteroffensive.
By November, the Center for Strategic and International Studies was still wrong about the course of the war, and their Emeritus Chair in Strategy Anthony H. Cordesman, was still suggesting Ukraine "had won," and Russia had "in short… lost," all the while callously celebrating all the "strategic benefits it provides to the U.S." like weakening Russia's military, imposing human and economic cost on their state, removing them from world financial influence, and all it took was tens of thousands—now hundreds of thousands of Ukrainian lives. And they lost anyway.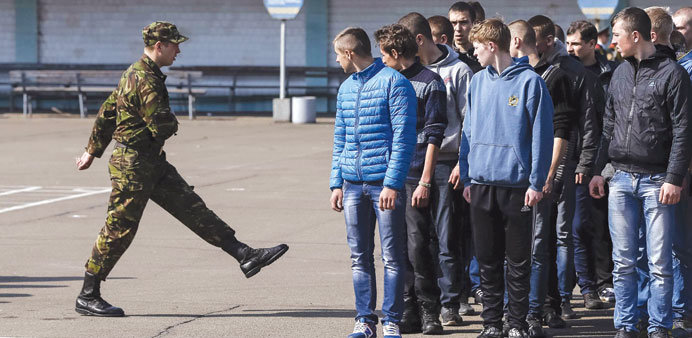 The downslope
By January, WaL was reporting that the pattern of military aid to Ukraine was sure to deny them any hope of victory, but significantly increase their chances of avoiding a catastrophic defeat in 2023. That prediction came true, as the 324 main battle tanks promised to Ukraine came in fits and starts, each with its own operational requirements, maintenance training, and spare parts. They did nothing to change the course of the war—not by the time Bakhmut fell, nor during their vaunted counterattack. WaL covered both.
This same sentiment was quoted in Schuster's piece in Time, with a Zelenskyy aide saying "Zelenskyy feels betrayed by his Western allies. They have left him without the means to win the war, only the means to survive it".
By then, evidence that the war was a corporate welfare program for the large military contractors in the US was mounting. By May of 2023, Bakhmut had fallen, and WaL was still predicting that Ukraine was not going to be given the support it needed to achieve anything, meaning that Russia would eventually win.
By that time the Discord Leaks had already surfaced and showed the DoD's pessimistic estimates of the much-anticipated counteroffensive, but the story couldn't gain traction in the media, which focused more on the leaker instead of the leaks.
Also in Schuster's piece was a quote from Zelenskyy himself, saying after Biden tried bundling Ukraine military aid money with aid money for the newly-aggrieved Israel that "politics is like that, they weigh their own interests". In June before the counteroffensive, Biden officials told Politico that they saw it as key to his upcoming reelection chances.
A month later, Zelenskyy might have seen the writing on the cards when he and Ukraine were not invited to join NATO, which enraged him. WaL covered the story from analysts like Rick Rozoff and John Mearsheimer who knew that was going to happen as part of the long-standing policy of strategic ambiguity toward these countries.
By then the counteroffensive had begun, and failed, in earnest. At this point, few major Western news outlets were covering the war as they had done in the previous year. This didn't stop the Atlantic Council from publishing an article entitled "Ukraine's coming counteroffensive has a good chance of succeeding".
It didn't. The doomed-from-the-start operation that was also botched by assaulting Russian positions through minefields led to "staggering losses" exceeding 300,000 killed and wounded in order to gain 17 easily reversible kilometers across a nearly 800-kilometer front. It was a disaster brought on by the blank check support drummed up by a war-happy media in 2022 in contrast to a large majority of Americans who opposed any funding of Ukraine.
Corruption by that time was rife in the country, and one of Zelenskyy's aides told Schuster "people are stealing like there's no tomorrow," a fear held by congressional republicans back before the Ukrainian Emergency Assistance Act was passed. That fear was to come out through military channels if not as much in the media.
Multiple named and unnamed US officials have been speaking to reporters and collectively they've made it clear that prior to Zelenskyy's counterattack, the Pentagon did not think they would regain much territory, but that they shouldn't stop fighting; that a Western military would never launch an attack like this without air superiority; that they knew Ukrainian forces were undertrained and under-equipped; that Ukraine was too worried about casualties after the first unsuccessful weeks; that they should be employing more combined arms tactics; and that they hoped Ukrainian "resourcefulness" would carry the day.
By late August, WaL published news on the counteroffensive entitled "Chances Now Seem Very High that Ukraine Gains Nothing in War, Ends in Stalemate with 250k-Plus Casualties".
The only remaining delusion of this war that hasn't been removed is the refrain that US and NATO national security benefits from supporting Ukraine in this war, with the outright statement or mere insinuation that if Putin wins in Ukraine he would invade Poland, Moldova, and other countries. This delusion has somehow never gone away even after months of failure and depletion of the Russian army. WaL will be there when that narrative collapses too. WaL
PICTURED ABOVE: Zelenskyy and Zaluzhny at a pre-war memorial ceremony in Kyiv. PC: Office of the President of Ukraine CC 1.0.