Read Time:
4 Minute, 10 Second
According to a tweet from the Finance Minister, Azerbaijan's non-oil-and-gas sector grew to 9.6% of GDP in 2023. That tweet is an excellent primer for Baku—built since the 19th century on the wealth from the oil fields, and now paired with all manner of business and trade liberalizations it's a deeply impressive capital city. As I wrote when I visited Ukraine, the second or third thing someone with valued opinions of foreign and worldly places will be asked about a principal city in a faraway land is for a comparison with another famous, identifiable city. To me, Baku seemed like Kuala Lumpur; a fast-moving city where every 90 degrees of view rewards the owner of the head doing to viewing with some extraordinary piece of architecture. It seemed to be a place where people drink tea at 7 p.m. in order to eat much later. Baku is quite modern, and one could easily swap the cosmopolitan Malay with the cosmopolitan Azeri and the city would run much the same.
One thing that interests me very much indeed is how much less extravagant will the other cities I plan to visit here in Azerbaijan be compared to Baku. If not directly funding conservation and national parks as in the US, oil revenues in any producing country are rarely dispersed widely. Board members of nationalized oil companies don't tend to spread out across the country, and so my working hypothesis is that the skyline contrast between Baku and Lankaren, Ganja, or Qabala will be total.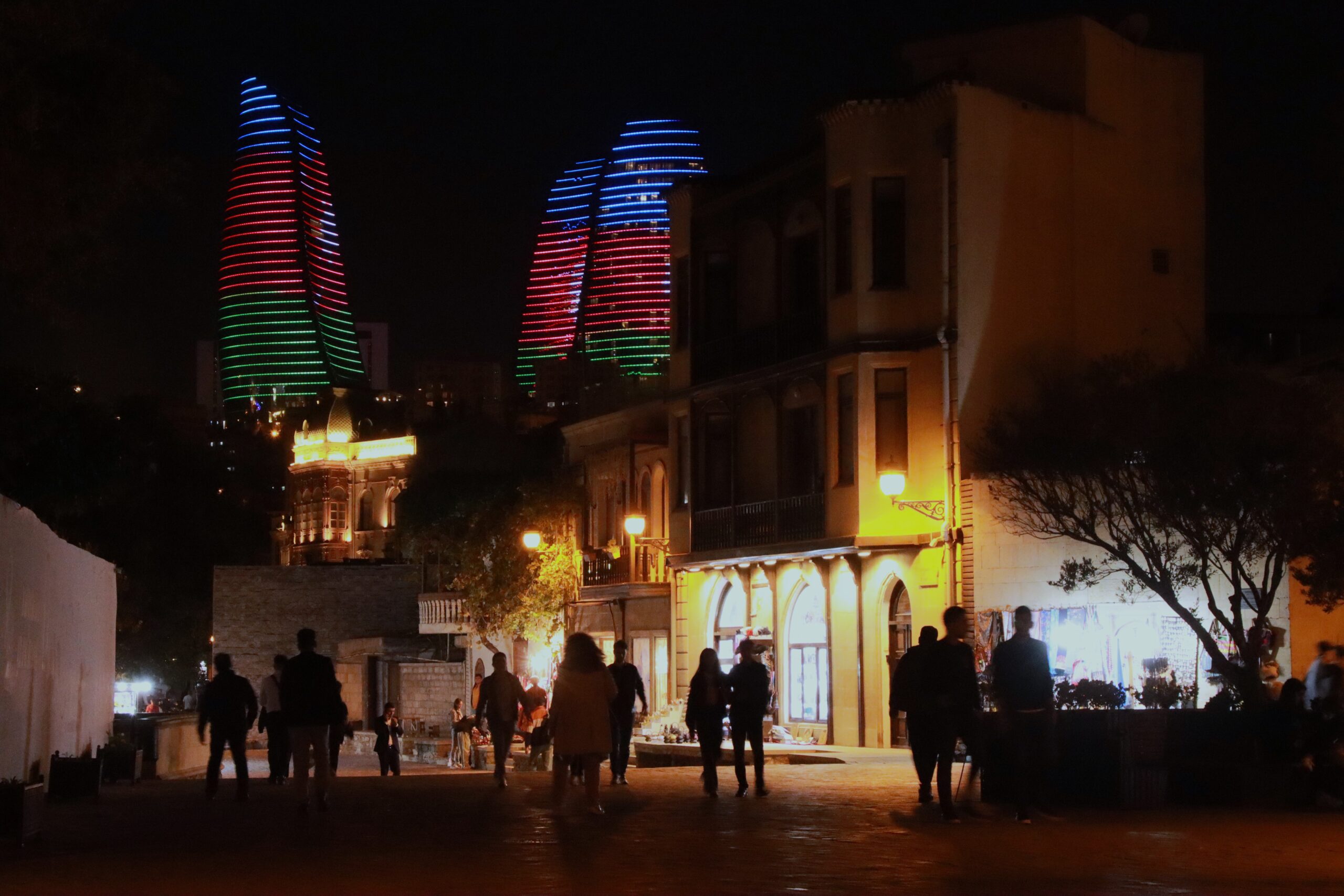 Sandwiched between Russia, Iran, the Caspian Sea, Azerbaijan is supposed to have got its strange name from its time as a satrap of the Persian empire. The Azeri themselves are a somewhat trilateral race composed arguably equally of Turkish, Caucasian, and Iranian origins. From 700 to 1500, the main progenitors of the Azeri lived in Baku. In her book, Days in the Caucasus, French-Azeri author Banine writes of the time when oil was discovered in Azerbaijan and made millionaires out of a select few in a week. She was the last daughter of one of the original oil barons, and the wealth that was suddenly theirs managed to perfectly enhance the most rotten and deplorable characteristics in her family members. It would not surprise me if this effect was duplicated in the social circles or families of whichever commissar took over control of the oil production in Baku after the short-lived Republic of Azerbaijan circ. 1918 was swallowed up by the Soviet Union. As far south as the civilized Asian part of the USSR went, Azerbaijan took on the quality of a Soveit province dedicated to exoticism and R&R for hardworking comrades. For some in the bureaus of Moscow, the Caucasus were a romanticized place where life was different but yet at the same time wasn't a foreign land, perhaps the way the frontier towns during the great westward expansion were viewed during 19th century United States when young men read romantic accounts of savage indians, plentiful game, beautiful vast scenery and endless opportunity.
Perhaps owing to this origin story, Baku's main drags are almost Parisian in their decadance. Every window is porticoed, every roof corner is turreted, and every facade is richly decorated. Underneath is every kind of haute couture brand imaginable. But much like the incredible boardwalk that sweeps along the whole of the Baku bay, these stores are always empty. In crossing more than half the bay from Icherisheher to Crystal Hall,  I perhaps encountered 30 people. By day on a Sunday afternoon, I walked under the streets through the pedestrian crossing tunnels with wood-panneled ceilings and marble floors, and human activity was sparse. At 7:30 in the morning, the coffee shops have yet to open.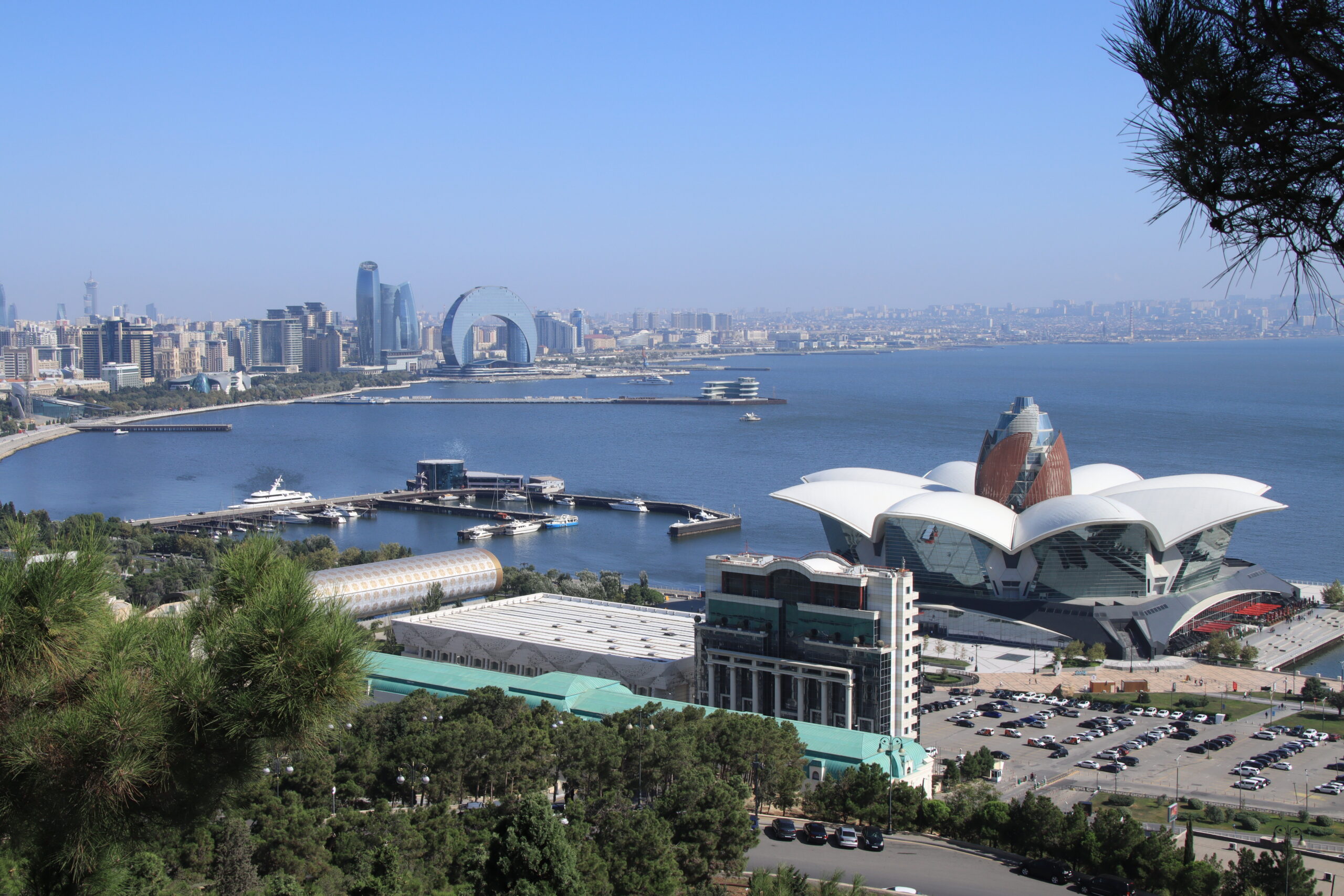 There are strange patterns and rhythyms to life here in Baku that in my short stay I was unable to divine. Places of such scenery and accessibility in Singapore, Italy, or the US which I have seen are chock-a-block with people at all hours. There are plenty of residents in Baku for this marvelous public infrastructure, just seemingly no will or free time to use it. In contrast at 8:00 p.m. walking down the areas around Nizami Street, one is shoulder to shoulder with young Azeri out on the town.
I've seen cities like this before and it's not long before the similarities between them and others like them sour my humors for exploring. Soon I will get out a bit and see the south of the country, maybe meet some Iranians if I'm lucky, and then off to see the ironwood trees and leopards in Hirkan.
PICTURED ABOVE: Baku Flame Towers seen from the Palace of the Shirvanshahs. © Andy Corbley