Read Time:
10 Minute, 17 Second
As the saying goes, "Vedi Napoli e poi muori" or "See Naples and then die."
One of the great cities of Italy, it's one of the only ones on the sea, and if you compare the taste of Italian staples like pizza, caprese, coffee, mozzarella, eggplant parmesan, or sardines grown, caught, or cooked in Naples to those elsewhere, it's almost laughable.
World at Large has produced this simple guide to Naples in a day, that offers a flexible itinerary with different options whether your interest is architecture, museums, food, or curiosities.
Morning – Naples Breakfast, Vomero station, and Spaccanapoli
DISCLAIMER: Naples is a city of pizza and mozzarella some will tell you, but a huge part, we found, of the Napoletano diet involves desert pastries, eaten with coffee for breakfast and after dinner.
If you want to break fast like a true Napoletano, you must stop in a small cafe and take a coffee and a pastry. Look for a place called a Pasticceria which will serve both, and order a Sfogliatella, which is a local specialty.
IF YOU LIKE CASTLES: We recommend starting a tour through the city from the hills above it. From Montesanto train station, there is an 8am funicolare, or cable car, which you can take for 2 euro to Vomero. From Vomero walk towards Castel Sant'Elmo, a beautiful fortress overlooking the city. The castle is open at 9:AM for tours if you're interested in castles and history. Naples has three amazing castles, so choose wisely.
— Tours available, 9 euro entry cost for adults.
IF YOU LIKE RELIGIOUS PLACES: Next to Castel Sant'Elmo there is a stunning monastery complex and museum – ranked among the best museums in Naples, called Certosa di San Martino. It was closed when World at Large passed by, but entry covers the art collection, frescoed-baroque church, and cloister.
— 10 euro entry fee for adults.
Just past the entrance to the castle there is a long wide staircase, which on Google Maps is called Panoramic Stairways which weaves its way down towards the city, ending at the church of "Santa Maria ogni Bene ai Sette Dolori," here you can walk down a thin long street called "Spaccanapoli" something like "the Naples Split" towards many of the historic city center's primary attractions.
IF YOU HAVE PLANS TO COOK DINNER YOURSELF: In the morning, all the merchants will be opening their stalls and arcade shops, where you can buy fresh produce, freshly baked bread and pastries, fish, and more.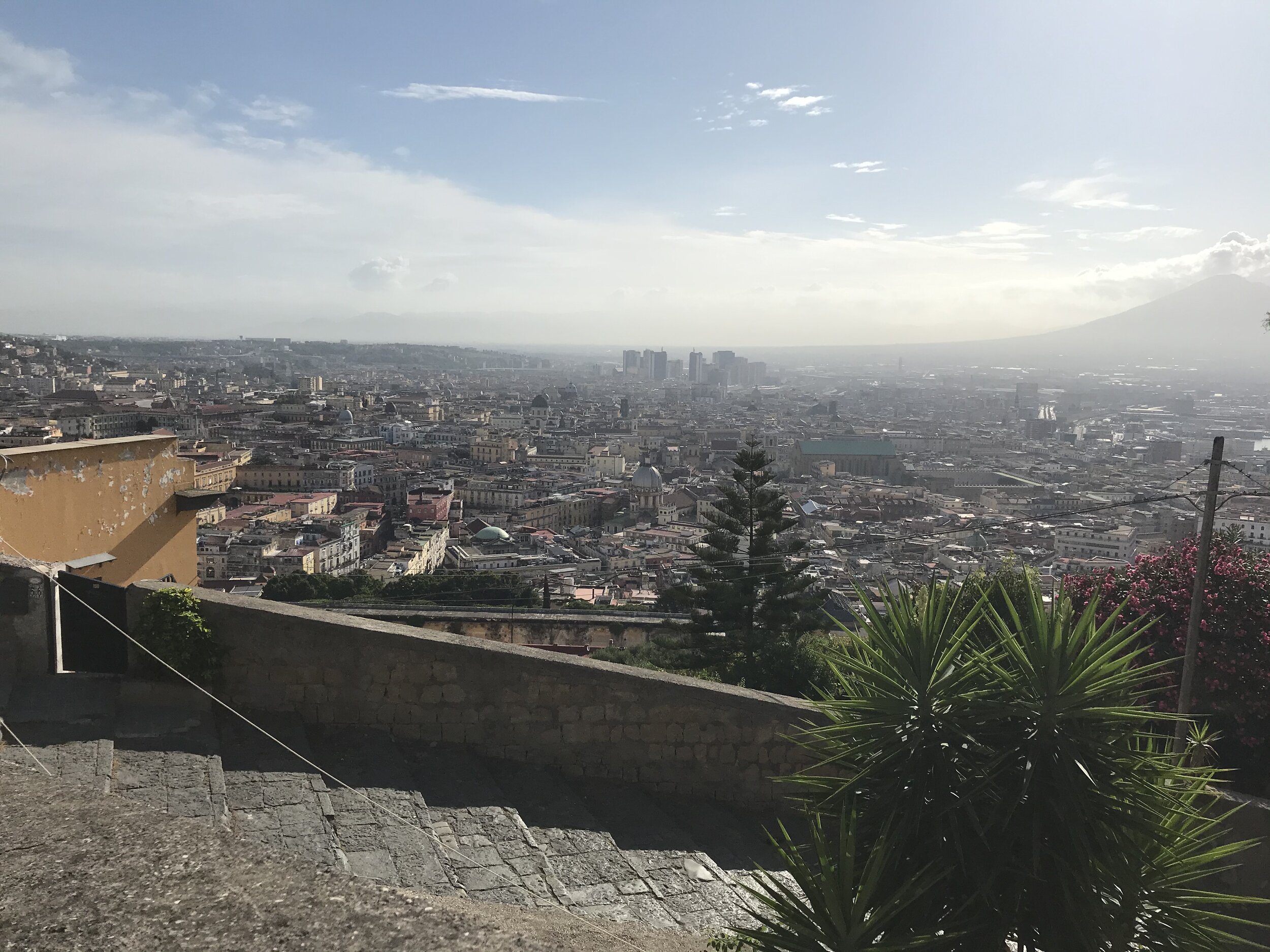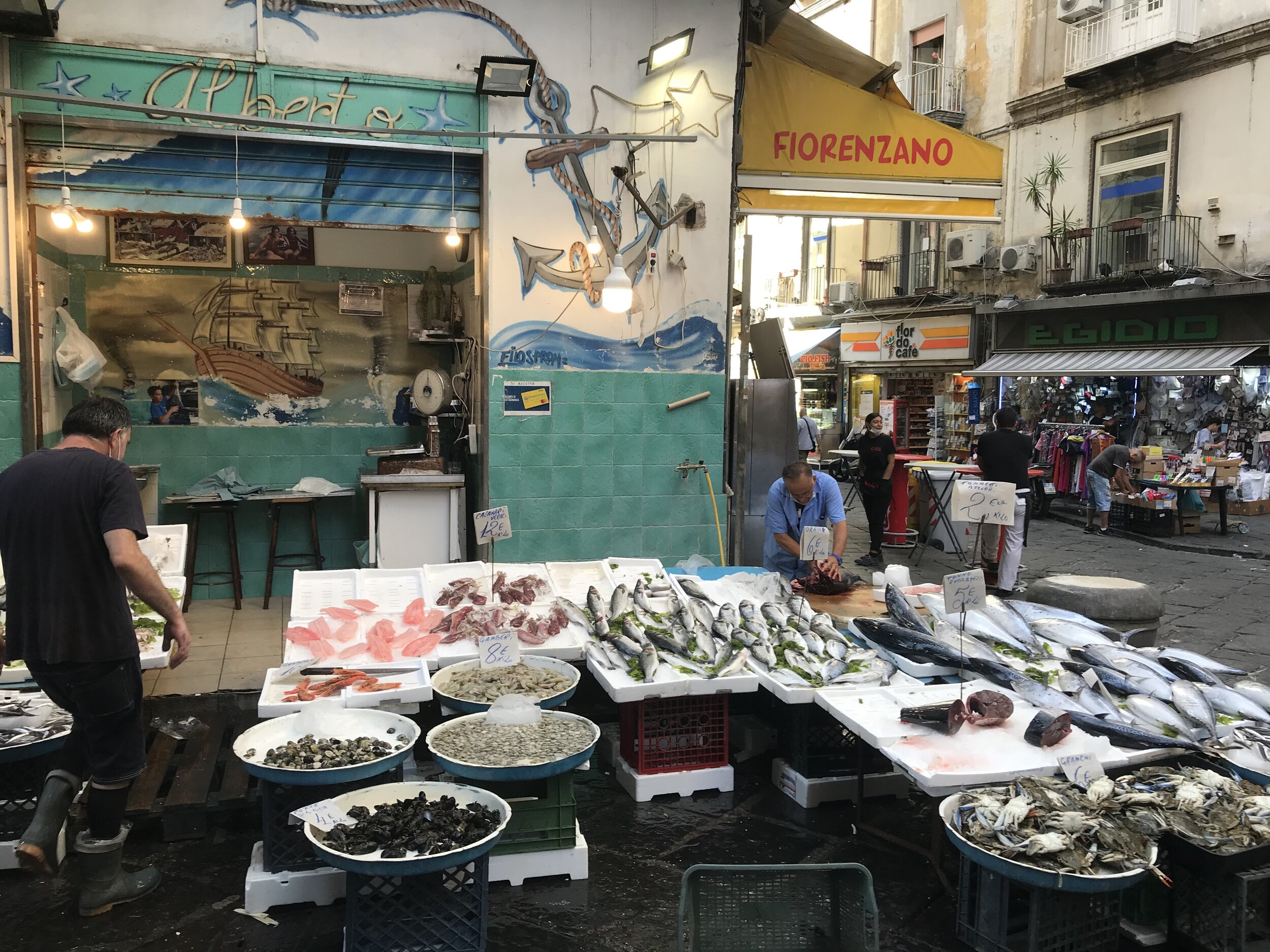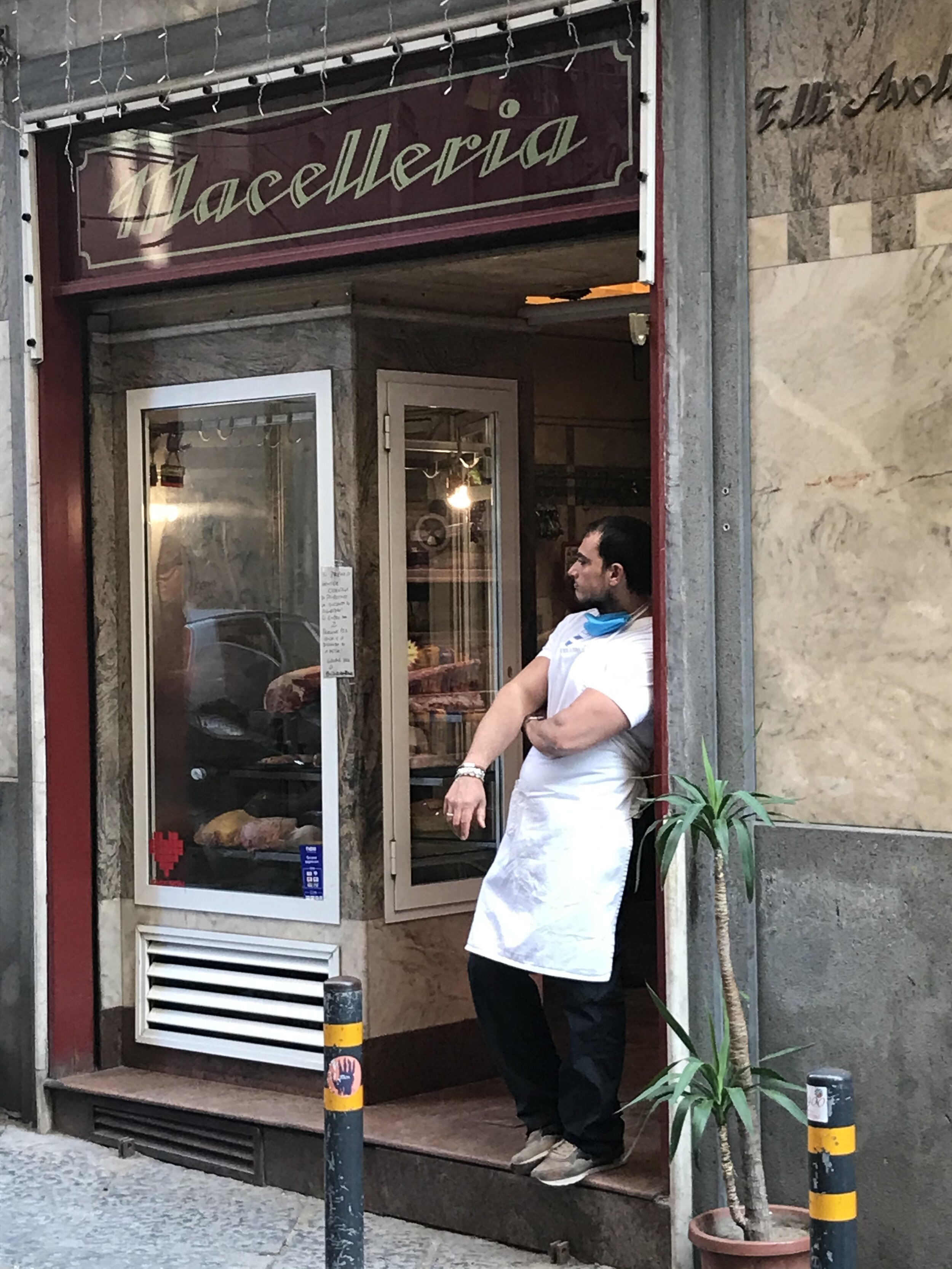 Architecture, History, and the Best Cup of Coffee in Napoli
As you walk down Spaccanapoli there are numerous places to stop ranging from churches to museums worth a few minutes walk around, and others which require reservations and contain some of the most stunning works of art produced by humanity.
Since travel is a immensely personal activity, we recommend you open the map pin on Google Maps below, scroll to the right along the road marked Via Pasquale Scura and pick out which destinations you want to see, which might include Piazza San Domenico, Cappella Sansevero, Basilica del Gesù Nuovo, or Chiostro di Santa Chiara.
IF YOU ENJOY ART: Two locations stand out along Spaccanapoli, which are Chiostro di Santa Chiara and Cappella Sansevero.
Chiostro di Santa Chiara: a Cloister and basilica of the Franciscan order, Santa Chiara is covered in large tiled-paintings of serene beauty – mostly in yellow, white, blue, green, and brown, melding with the brick walls and the lemon and pine trees to create a beautiful atmosphere.
—PRICES FLUCTUATE: from 8-12 euro for adult entry.

Cappella Sansevero: A beautiful chapel housing one of the most breathtaking work of sculpture ever made, perhaps eclipsing Michelangelo's David or Pieta. Cristo Velato, or Veiled Christ, by Giuseppe Sanmartino is something you have to see to believe. The museum contains other spectacular works of art, and if it's something you have your heart set on seeing, we strongly suggest reserving tickets.
— 10 euro online ticket price, 8 at the door.
THE BEST COFFEE IN NAPOLI: This might be a contentious point, but as near as makes no difference, the best cup of coffee in terms of location – the beautiful Piazza San Domenico, in terms of price – still around 1 euro, and quality of pastries – very high, is the Pasticceria Giovanni Scaturchio, which you will pass on your way down Spaccanapoli.
— If you're an American or English, and used to "tall black" coffees, ask for a "caffe doppio" or double coffee.
IF YOU LIKE CHURCHES: There are several exceptionally beautiful and lavish churches along Spaccanapoli. If you'd like to wander through their marble and frescoed halls, consider blocking 30 minutes to see the best ones such as…
Chiesa del Gesù Nuovo is a Catholic church in Piazza Gesù Nuovo with an impressive studded-stone faced facade. Inside the baroque details of wood and marble, gold paint and frescoes is what you come to expect from churches and basilicas in Italian major cities.

Chiesa di San Domenico Maggiore is an opulent 12th century basilica that plays host to the tombs of the royal family of Naples in Piazza San Domenico – across the plaza from cafe Scaturchio.

Chiesa di Sant'Angelo a Nilo is an 8th century church that's known for containing sculptured marble tombs by the one and only Donatello. The facade is very unique, in that it's red and grey, and doesn't at all look like a church from the street.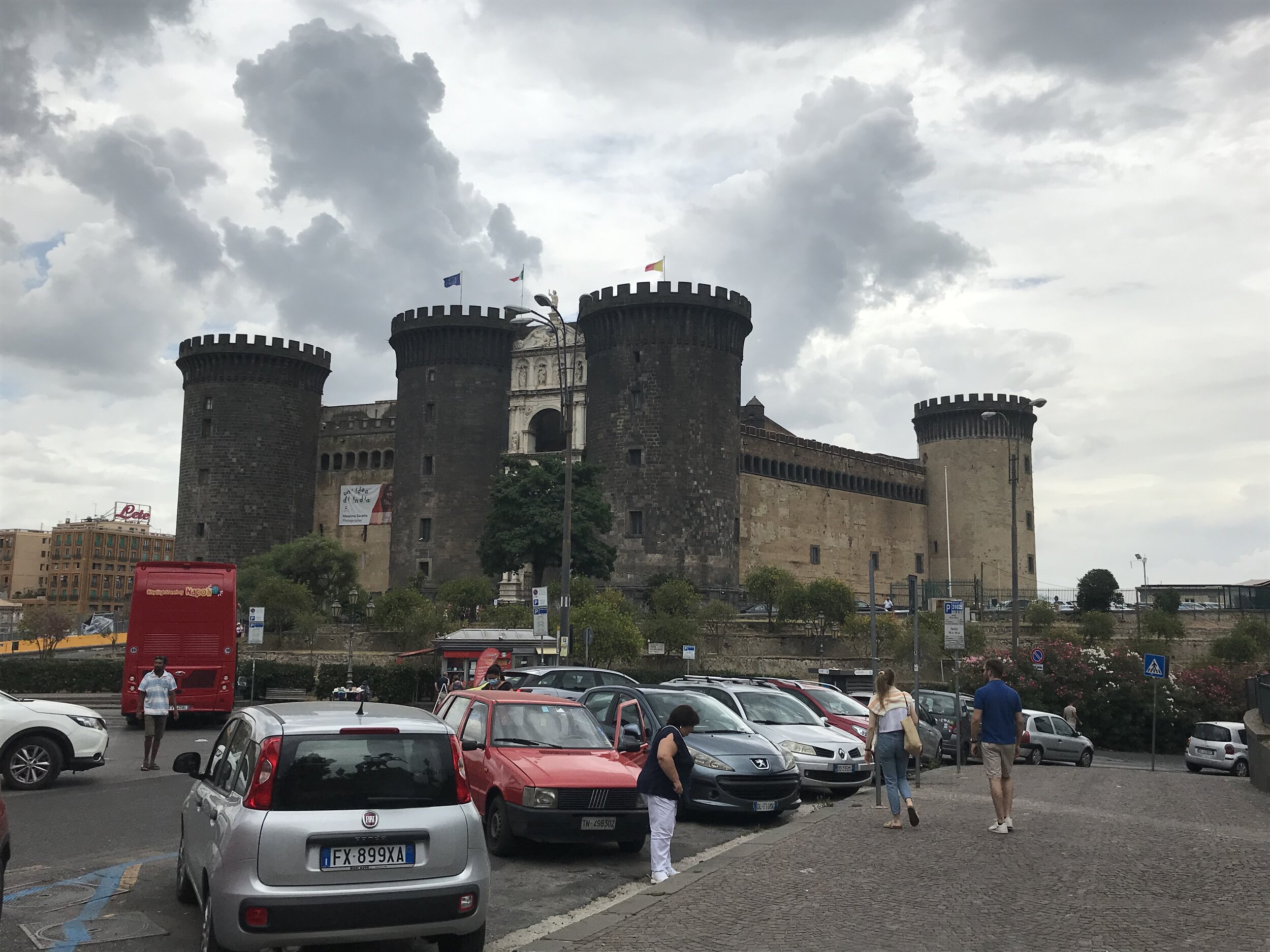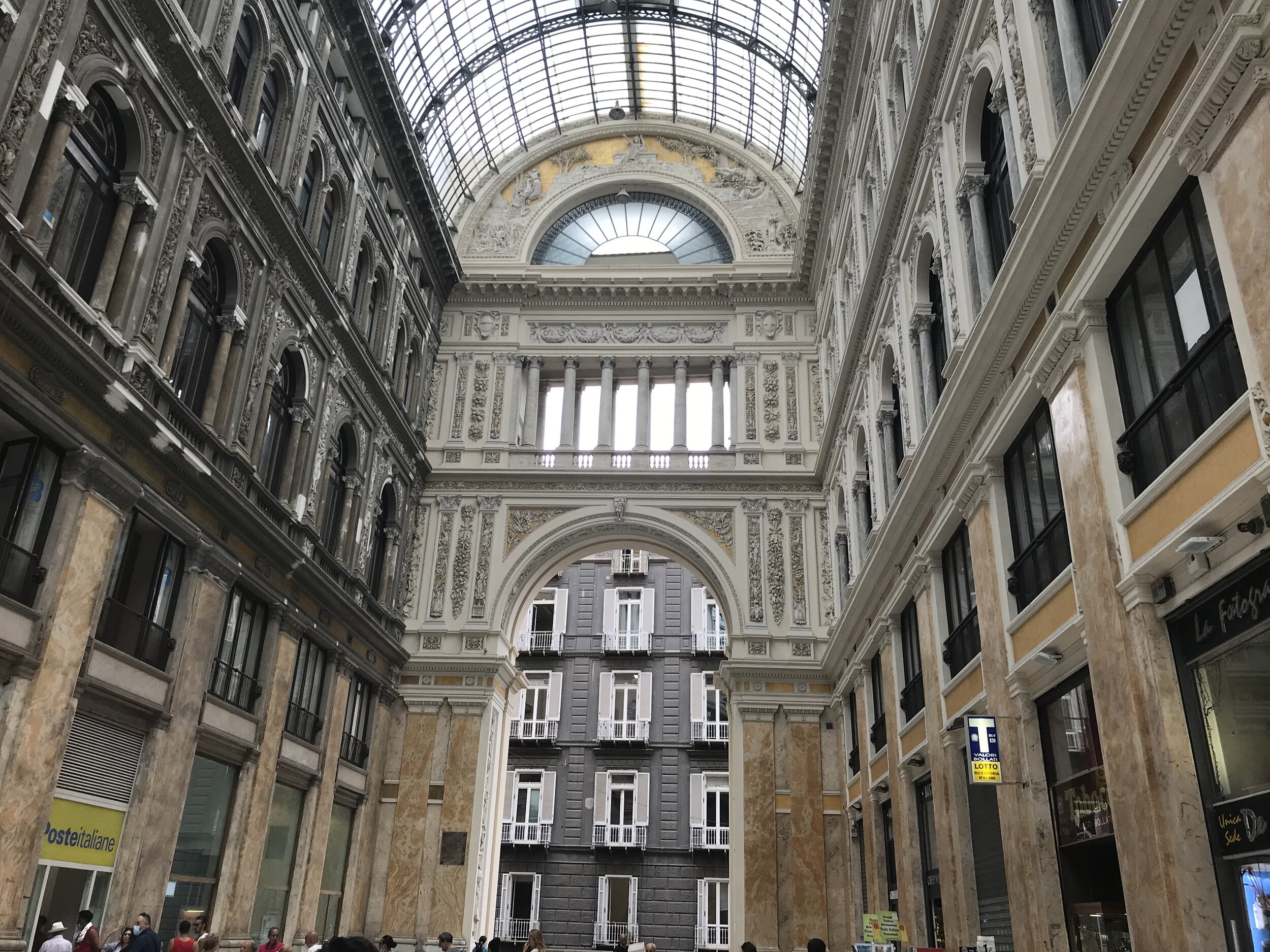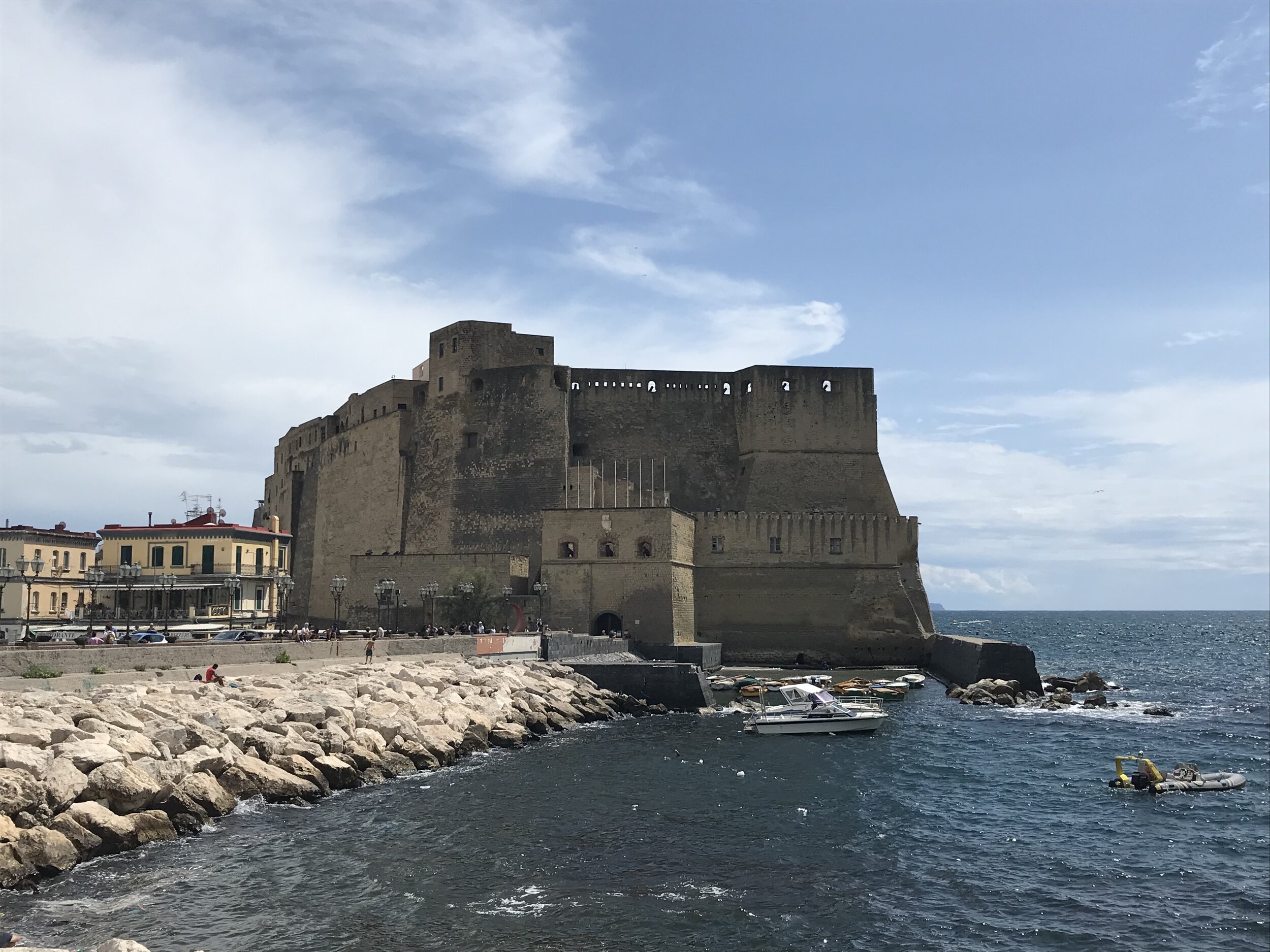 Napoli Subterranean, Piazza Plebiscito, OR National Arch. Museum
Once you've reached Piazza San Domenico, seen your sights, drank your coffee, and done your shopping, it's time to move either north or south depending on what you want to see next.
IF YOU LIKE MUSEUMS: The National Archaeology Museum in Naples is maybe the most important in all of Italy. Along with holding a massive collection of Greek, Roman, and Renaissance art and artifacts, it also contains much of what was recovered from Pompeii's entombment by Mount Vesuvius's eruption.
Around a 1 kilometer walk north from Cappella Sansevero along Via Santa Chiara, the museum is a little out of the way. If you're taking the metro however, it's right next to the "Museum" stop on Line 1.
CONTINUING ON THE TOUR OF NAPLES: Turn south from San Domenico and walk towards the ocean, eventually turning right and passing Castel Nuovo, a massive sea-fortress that played a large role in Naples' history, involving her transition of power from the French back to the Italians.
We'll cover the castles later, but for now, continue past the castle on Via Vittorio Emanuele III, and you'll pass a collection of architectural marvels.
Teatro San Carlo: A beautiful, old, and still functional theater regularly featuring opera and other world-class performances, the theater is on the left side of the street.

Galleria Umberto I: A mainstay in Italian megacities, the Galleria, this one called Umberto I is a great place to go shopping for luxury brands, or grab gelato under the shade of a nouveau riche covered shopping center of exceptional beauty.

Piazza Plebiscito: Containing both Basilica Reale Pontificia, and the Palazzo Reale, Piazza Plebiscito is a great place for some pictures or to take a moment to sit down. The sea will bring a breeze into the open space that might not have been there in the city. The basilica is filled with art, and tours through the palace will tell the story of the royal family of Naples, the Barbone.
NAPLES SUBTERRANEAN: Underneath Naples is the evidence of an entirely separate world – with Greek aqueducts, Roman theaters, hand built sewers, bomb shelters, and more. This is Napoli Sotterranea. Offering a view of city history which few cities on earth can offer, it's a truly unique way to get to know Naples.
— Tours are required. Visit the website ahead of time to book.
Castles, the Ocean, and Pizza
IF YOU LIKE CASTLES: You can go back down V. Emanuele III and take a tour of Castel Nuovo.
The tour is very academic and filled with anecdotes about the history of the people who controlled it, but doesn't involve seeing more than about three different rooms. When the tour is over you can walk on top of one of the wall sections, but it's a little underwhelming.
— 20 euro entry fee for adults, and 90 minutes to take the tour of the castle,
Looking at the castle, around and to the right, you'll reach Lungo Mare street, the road closest to the sea. If you follow it for a half kilometer, you'll see Castel dell'Ovo, a beautiful tan and beige colored castle amid shops and restaurants.
The castle provides excellent views of the beautiful sea and buildings along the coastal road, along with being just a little bit more architecturally pleasing to the eye than its neighbor Castel Nuovo.
— Also needing 90 minutes to finish the tour, dell'Ovo is free to entry, but requires a reservation.
At this moment due to COVID-19 reservations for tours are required to be made online through this website. Once you have made a booking, you can go in to buy tickets or meet with your guide.
IF YOU LIKE PIZZA: There are two spots – one sit down and gourmet, the other takeaway and street foodish. Both are at the other end of the strand, or Lungo Mare from Castel dell'Ovo.
SORBILLO is a famous identifiable pizzeria chain in Naples, where, in lieu of finding the legendary hole-in-the-wall restaurant of outstanding modesty and quality, you can always go to get a delicious Napoletano pizza.

VINCENZO CAPUANO Is in the same building but just around the corner from Sorbillo. The pizza here is also very, very good, and their takeout service is expedient, making it the perfect place to visit if you want to take a pizza with you before jumping into the sea or climbing on the rocks along the strand.
Conclusion
By now you should have spent most of your day. For dinner, eat at any restaurant that serves seafood, and caprese as an appetizer, and you're guaranteed to enjoy yourself.
World at Large would like to stress that there are many things not included on this itinerary, such as the ruins of Pompeii, and that we encourage you to do further research and find places right for your tastes.
Note: All photos are taken by Andrew Corbley, who retains exclusive rights to all. The unauthorized reprinting of this article or any of the images is strictly prohibited.