Read Time:
5 Minute, 42 Second
PIEDMONT, Italy. July 5th, 2020. It was a warm breezy day in Piemonte as our little Smart Car huffed and puffed up the mountain side towards the alpine town of Macugnaga, (Mahk-oon-YAH-gah) nestled behind the peaks of the charismatic Monte Rosa, the second-highest peak in Italy, and the second-highest in Europe.
Macugnaga is a popular town for skiers and lovers of mountains, as the large number of slopes for trekking in the summer and skiing in the winter brings travelers from Switzerland, Austria, Italy, and France.
I loostend the white-knuckle grip I had on the steering wheel as my fiance and I wound our way upwards out of a massive valley on a well-maintained road which clung to the side of a sheer cliff, passing a series of almost intolerably-quaint alpine villages of stone, flowers, and stained wood.
Settled on the border of Switzerland, it's the gateway to an entire chain of mountains that make up Monte Rosa and others, some of which can be reached by car, others by ski lift or cable car (known as a funicolare), and still others that can only be reached on foot.
If you're planning a multi-day stay in the mountains, it's worth going into town and buying a topographical map of the area. Even Italian phones lose service, and getting lost can be a very frightening experience.
The Town
Macugnaga is filled with a few beautiful hotels and eateries, ski chalets, and shops of all kinds, where one can experience a unique cultural-confluence of Alpine and Italian customs. Several athletic shops peddle anything you need for your alpine adventure, from ski boots to sun glasses.
I believe the town to be worth a slow walk around, as we saw deer, waterfalls, and houses of such curious make and fantastical grandeur as to have come straight out of a fairy tale. At any moment I expected to see the 13 dwarves from The Hobbit come marching out of their front doors, and yet I was sure most people on earth would live their whole lives without ever knowing such a place existed.
If you've never traveled to Piedmont, or Piemonte as you'll see on the road signs, it's one of Italy's culinary hotspots – specifically because of the Piemontesi preference for locally-sourced ingredients – often organic and always fresh and delicious. It's also famous, when compared with Emilia Romagna, Tuscany, and parts of the south, as being a less-expensive place to eat well.
After a day in the mountains, on the rocks or the slopes, a hot mountain meal is what's needed to recover your strength, and the intersection of local alpine specialties and Piedmont taste for quality, with German-Swiss flavors on Italian dishes made for one of the better meals of my stay in Italy.
The restaurant at La Locanda was nothing short of perfect to these ends, where I enjoyed polenta (a specialty of Northern Italy) with red sauce and local sausages, and veal liver with a sweet red-wine gravy topped with onions.
After dinner, a 300-meter drive back into town, saw us arrive outside of a gelato bar, where Piedmont culture once again blessed our pocket books, with 3 scoops costing only €2.50.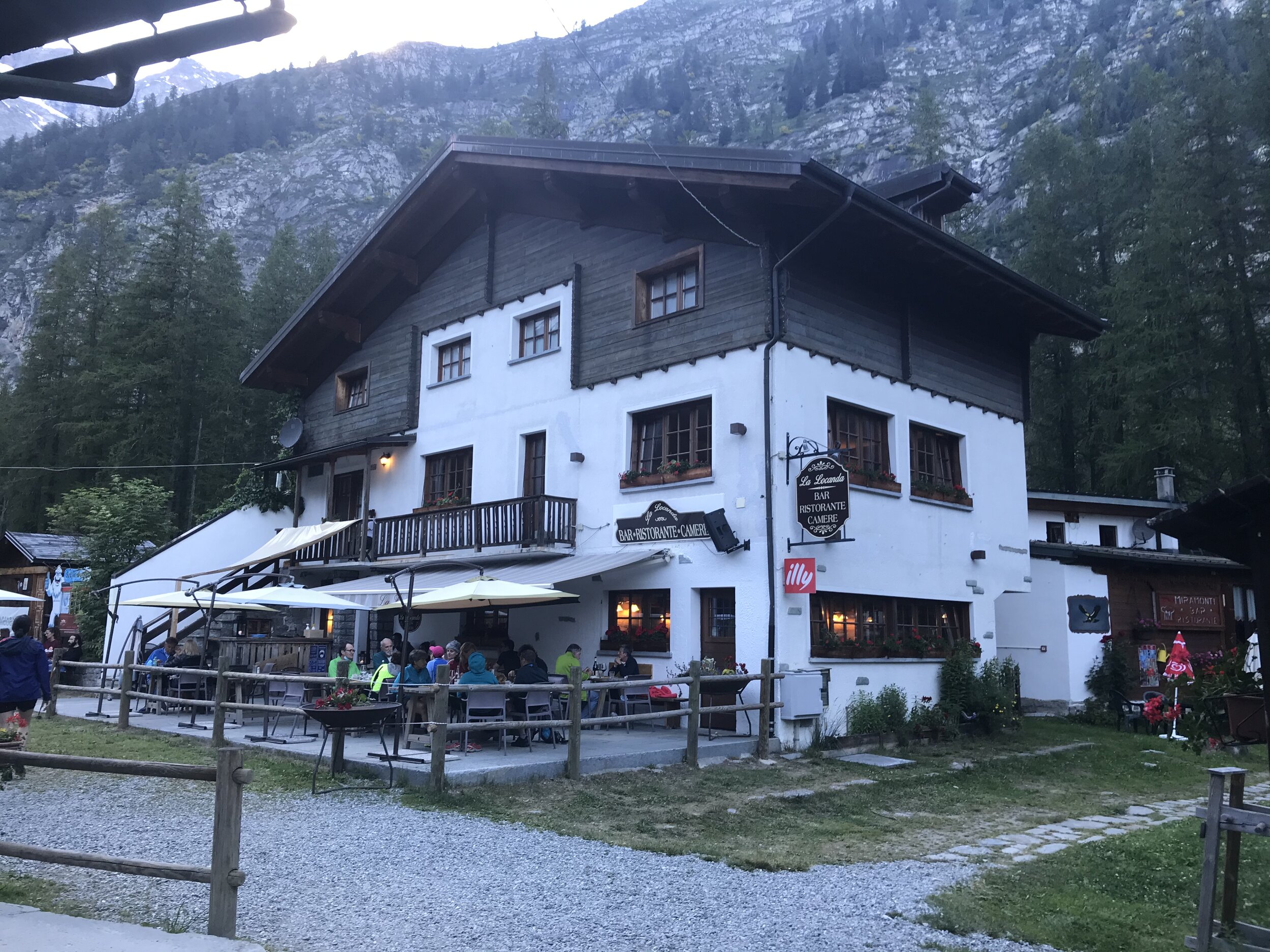 Trekking in Macugnaga
For hikers, the trail networks are well-marked and well-maintained, and offer a chance for some serious mountaineering. Macugnaga is at one end of an incredible hike called the Passo della Miniera, or Pass of the Mine, which leads from an abandoned gold mine a few kilometers up a valley from Macugnaga, straight up and over a mountain ridge, past snow-melt waterfalls and meadows of wildflowers, to another town called Carcoforo.
In order to find most of the routes, take your car to a left hand turn (if arriving in Macugnaga – it will be on the right if you are departing) marked with the name "Isella" here you'll find a long narrow parking lot, where you must pay for parking before taking the hike to "Lago delle Fate" and then "Crocette". Once you reach Crocette, the abandoned mining town, there are several hiking trails along the south slopes of Monte Rosa, including Passo della Miniera
There are also plenty of smaller and easier trails for more pedestrian hikes through the tall pines and alpine meadows, but my fiance and I headed right for the big one.
We hiked through virgin pine forests of the sort of character that birthed a hundred tales of Alpine folklore, from gnomes to the Alpengeist, onto slopes bathed in sun and wind, and dotted with a million flowers of every conceivable color, before reaching the bare pinnacles of grey stone where only the hardiest mountaineers – human and animal – pass over.
Those looking to tackle the hiking trails should wear long socks if they choose to wear shorts instead of pants, as many of the wild flowers are spiny, and at a certain altitude the grass changes from broad and smooth to spindly and irritating to the skin. Sunscreen and a hat are a must, as there aren't trees after a certain altitude as well.
A trekking pole or stick can help with some of the steeper descents, and make sure to bring plenty of water – standard hiking stuff. A map is a must have if you are doing a multi-day hike, and if you want to bring a hand towel, there are plenty of ice-cold streams to dip your feet into.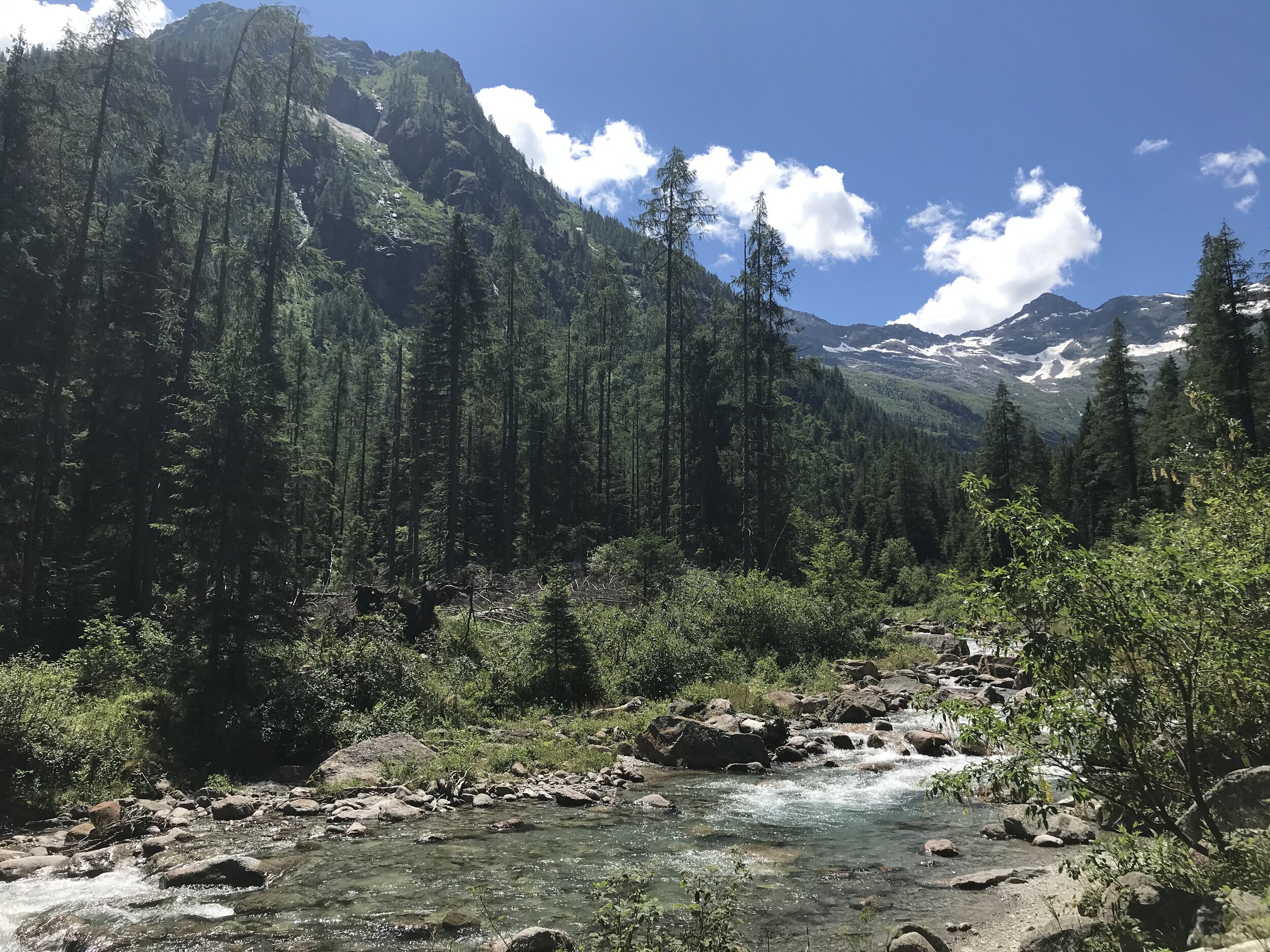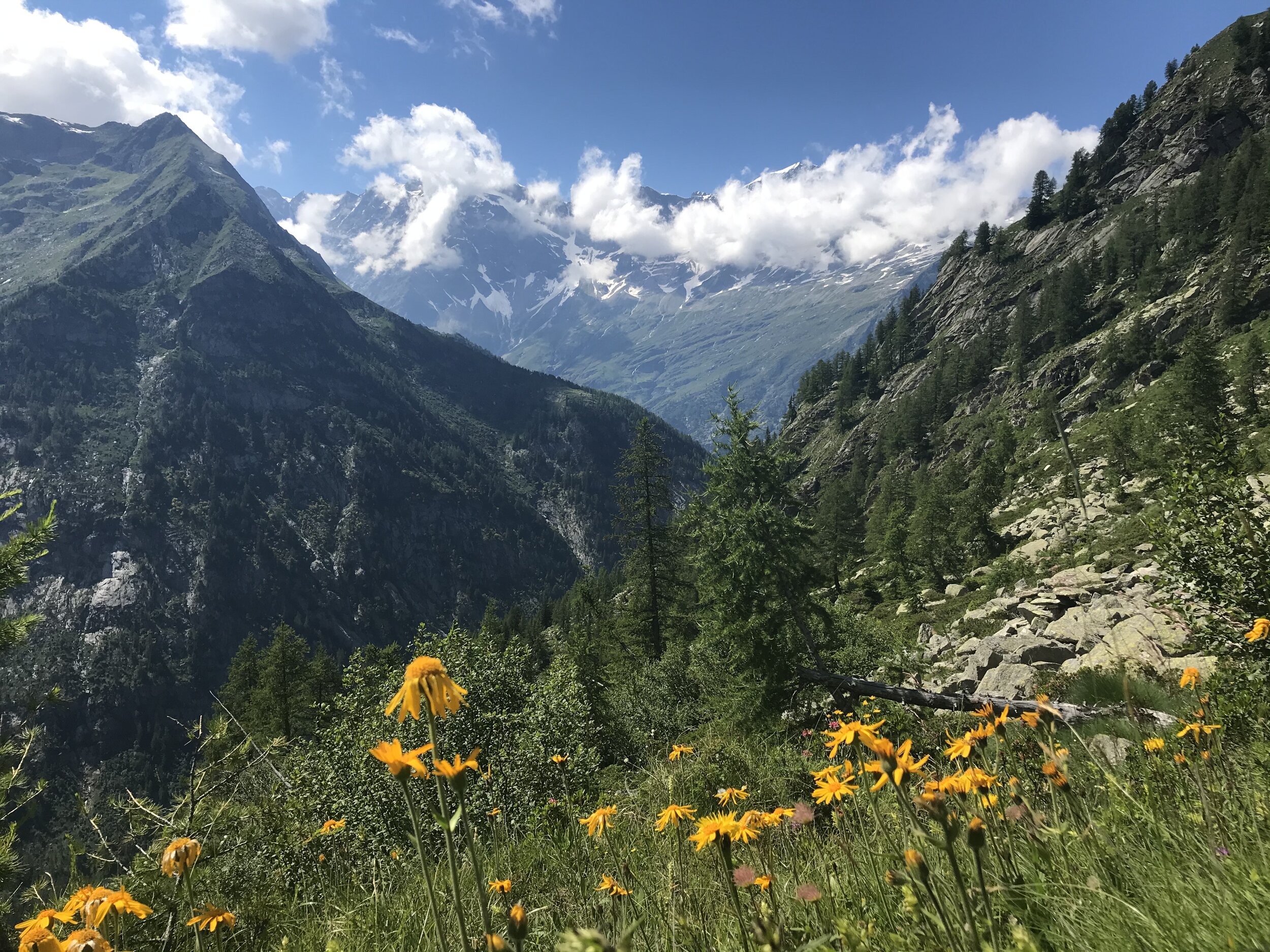 For hiking and skiing in Piedmont, it doesn't come much better than Macugnaga. As a parting tip, consider booking a cheaper hotel, as you won't be spending much time in the room anyway.
If you had a different itinerary for Macugnaga, share some of it in the comments below!
Note: All photos are taken by Andrew Corbley, who retains exclusive rights to all. The unauthorized reprinting of this article or any of the images is strictly prohibited.