Read Time:
4 Minute, 48 Second
Non fa niente senza la macchina negli Stati Uniti, I told my new Italian friend regarding the distance which my countrymen and I are so used to having to travel to go to work, go traveling, get to another state, etc. Of course we had only just got back on the road after a day trip to the Swiss Alps, so this question of proximity had been on my mind. Perhaps that is why I formed an entire sentence without stumbling over my words – because I had already been thinking about it. Rewind now a few weeks to a story where that most European of qualities, proximity, comes into full focus.
Bella Venezia, the city of lagoons and love and tourists and surprising amounts of flooding. Venice is a city I had never visited, but it was nothing for deciding one night that we would leave the day after tomorrow on a trip to the floating city. Sometimes in the stone-walled refuge of Mercallo on the borders of Parco del Ticino, the countryside hems in my mind a little bit, even though speaking of proximity, only a short drive from my house there is a roundabout with regular road signs pointing to Varese, Milan, and Como all on the same metal post. The sleepy hamlets and wood smoke that fills the air casts dreamy colors onto the extraordinary north Italian sky, as well as into the walls of my head. All at once I long for firing up my stove top and cooking a nice meal, always with aperitivi of cheese, sometimes salami or hams, sometimes with bread and honey. However this is not Virginia, this is a very small area perched on the watery precipice of the Lombardia/Piemonte border, and many sensational places, places which Americans might dream their whole lives of visiting, lie quite nearby. No place was as close, and no place as sensational as Venice.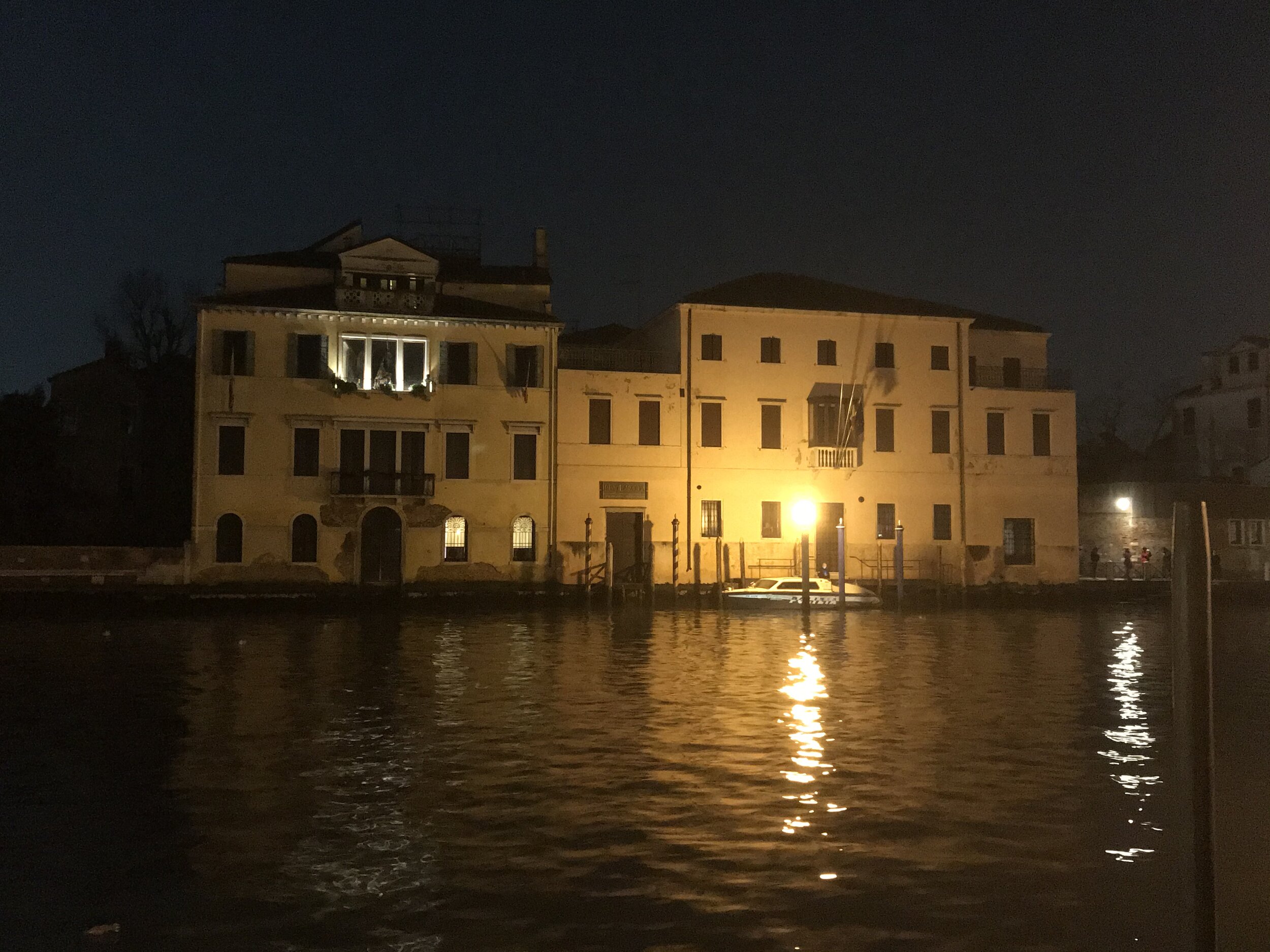 So making our way to the Milanese train station, and only slightly weighed down with an entirely unique and entirely crippling stomach virus, as well as the distraction of missing our first train, we were not to be turned away from our trip to Venice, and arrived in Santa Lucia at 7:30 or so. For those of you have never been to Venice, it's actually kind of like an island. Imagine the way you grew up thinking of New York City (unless you grew up in New York City), and then maybe you shared my surprise when you saw that New York is effectively made up of several islands. How strange to build a mega city on an island! Well Venice is basically a small spit of land intersected by rivers that is connected to the mainland by a land bridge, over which runs a railway line, that one day some crazy Italians decided to build one of the most beautiful cities in the world on. I had heard stories of it being so flooded with tourists that no Italians can afford to live there anymore, and that no one even speaks Italian in common parlance. I also heard stories of it being so flooded with, well, floods, and that global warming would sweep Bella Venezia away forever. I could not have cared any less, and if you've ever been to a music festival and been able to enjoy yourself despite constantly being elbow to elbow with human beings, you will be absolutely fine enjoying Venice. Speaking of music festivals, when I was planning the trip, I wanted to make sure that February was not the time of year when the Venice lagoon floods – when the streets and piazze go under a foot sometimes of water. Since it wasn't the case in February, I imagined it would be a relatively quiet time of year to visit the uber-destination. I was wrong and right at the same time.
There is a quality I talked about in my last dispatch that travel possesses – that life possesses, that doesn't seem real unless you are in the middle of its sometimes maelstromic effects. This quality is serendipity – the vicissitudes of life – coincidences which in day to day life can seem benign and noteworthy only if there is someone in the next few hours to regale. During travel they hit you harder, and it becomes a force that can make you question why we are here on this planet, or a hundred other considerations with varying degrees of intensity. Sure enough, as we touched down in Venice having not been deterred by missed trains or intestinal strangulation, the place was swarming with travelers and tourists, because it was on that blessed night that the celebrated month-long Venetian festival of Carnival was to begin with an opening ceremony of grand extravagance. The theme, quite iconically and once again coincidentally, was entitled "Amore, Giocce, e Follia" translated to Love, Games, and Folly.
These sorts of moments typify the life of the traveler. On some days the vicissitudes of a sometimes hostile and weary world can bare rather hard down on the shoulders of someone already in a heightened state of affairs. On others, unexpected moments and coincidences turns the lost into the leaders, the godless into the god-fearing, the wanderer towards a moment of gemutlichkeit, or in my case, the loveless into the lovers.